Share Thread:
3 Boxes of Crusade from the LCS
08-08-2013, 02:13 PM
3 Boxes of Crusade from the LCS
So Panini had me fooled. I have busted two boxes of this stuff over the past few months. I didn't hit anything huge, but I had fun. Pulled a few trade-able pieces, a few PC pieces, and have enjoyed the Crusade rainbow chases. I was very impressed that Panini seemingly had released a very well-balanced product with a low base card count (100), a focus on the key rookies, and good hit ratio, and some great parallels. Well today I was brought back to earth by how lame a box can be.
There is an average over the 5 boxes of a 24+% duplicate ratio leading to significant challenges in my attempt to compile the base set. And the number of quality GU's, AU's and parallels over the course of several boxes is much less than expected.
This break (everything I up in the Org and listed for trade:
Kobe: All base
Crusade Blue: Marcin Gortat, Cedric Maxwell (PC), George Hill, Metta World Peace, Thadeus Young, Andrew Bynum, Zaza Pachulia, JJ Hickson, Deron Williams, Dwayne Wade, Josh Smith, Alonzo Mourning, Calvin Murphy, Anfernee Hardaway!, Steve Francis
Crusade Red /99: Lance Thomas, DeAndre Jorda, Jeremy Lin
No other colors!
Inserts (1 per box): Dirk Nowitzki Nobility, Walt Frazier Royalty, Chris Paul Knight Court
Quest Autos: Tornike Shengeli, Jimmer Fredette, Lavoy Allen, Greg Stiemsma, Kent Brazemore, Robert Sacre, Doron Lamb Redemption, Lance Thomas Redemption
Majestic Auto: Mark Price
Quest Memorabilia: Raymond Felton, Ben Gordon, Tristan Thompson, Enes Kanter, Brook Lopez, DeShawn Stevenson
Majestic Memorabilia: LaMarcus Aldridge, Shawn Marion
Majestic Memorabilia Gold/ Prime /25: Tyreke Evans, I include a picture of this because I think it is a beautiful card, I just wish it was a different player.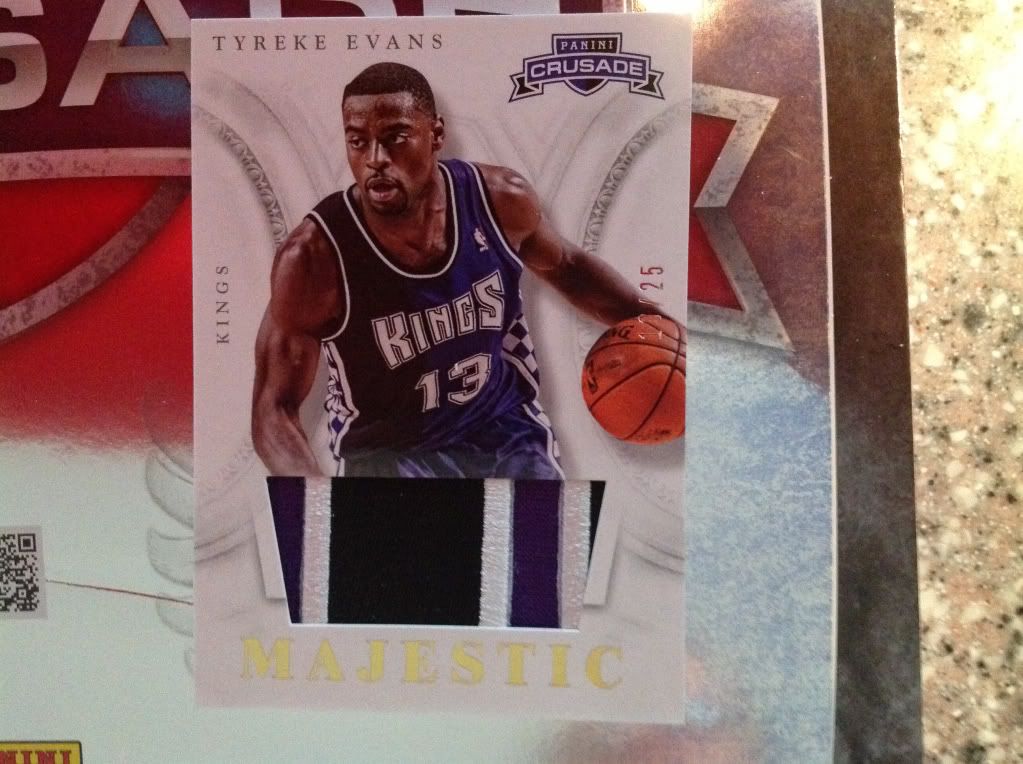 ---
08-08-2013, 02:57 PM
RE: 3 Boxes of Crusade from the LCS
could use the penny
---
I collect Penny (Anfernee) Hardaway, and my son collects Ty Lawson. Please let me know if you have anything rare of either player.

Photo Bucket = http://s1326.photobucket.com/user/bryandwells/library/
08-08-2013, 03:07 PM
RE: 3 Boxes of Crusade from the LCS
if the mark price is ft please check my organize
---
http://www.ebay.com/usr/ibuyselltradecards

*Instagram - IBuySellTradeCards

~If i COMMENT on your post then I'm Interested in what you have~

"NOTHING quality is cheap"

~Jordan, Bron, Kobes, HOFer Autos, Star Autos, Chrome Prospects, HOF/Star Rookies~

~EVERYTHING always has a price~
08-08-2013, 09:35 PM
(This post was last modified: 08-08-2013 09:37 PM by JMarchand1981.)
RE: 3 Boxes of Crusade from the LCS
You have done well with this stuff though over all. These boxes looked rough though. You hit a sweet kobe relic and base in previous boxes. The reke is a great card man.
---
Also I should hAve added this. Shoot me a list of your base needs. If I can be any help I will just send them. I think I broke 3 boxes all told so I might....might be able to help.
---
http://i1356.photobucket.com/albums/q728...232c31.jpg

I am typically a fast shipper and I ALWAYS use Delivery confirmation. Sometimes I forget to provide the number.
08-09-2013, 09:24 AM
TBarn291
Member


Posts: 2,448
Joined: Feb 2012
RE: 3 Boxes of Crusade from the LCS
Looks like a fun break! Sick patch on the Evans!!
---
08-09-2013, 03:50 PM
ndevoy
Jr. Member


Posts: 448
Joined: Apr 2008
RE: 3 Boxes of Crusade from the LCS
I would love the Wade and Mourning if they are available.
---
Always willing to trade for Dwyane Wade/Alonzo Mourning Cards
08-10-2013, 07:07 AM
vgqv
Member


Posts: 1,088
Joined: Dec 2004
RE: 3 Boxes of Crusade from the LCS
You're right, that Tyreke Evans patch is a beautiful card and has a sick patch.
---
Inconstancy is my very essence says the wheel Rise up on my spokes if ya like but dnt complain wen ya cast back down into the depths Good times pass away but then so do the bad Mutability is our tragedy but its also our hope The worst of times like the best are always passin away http://www.photobucket.com/vgqv
08-10-2013, 10:06 PM
RE: 3 Boxes of Crusade from the LCS
Would be interested in the Dirk
---
Always in the market to grow my PCs of: Brett Favre, Aaron Rodgers or Dirk Nowitzki. If I have something you like I'll always be willing to trade even for those guys! Send me a message!
08-11-2013, 07:39 PM
RE: 3 Boxes of Crusade from the LCS
Sick patch
---


STAN MIKITA CUP FOUNDATIONS
MATT SMABY CUP PRINTING PLATES

BUCKET LINK
User(s) browsing this thread: 1 Guest(s)