Share Thread:
1 Box Ignite, 1 Box Redline Racing...what do you think?
08-11-2013, 10:50 PM
I would like to know what kinda moiney takes them all?
08-12-2013, 07:19 AM
vannestjc
Jr. Member


Posts: 406
Joined: Oct 2004
RE: I would like to know what kinda moiney takes them all?
Well, I have a thread up on another site with all my NASCAR for sale. Here's the breakdown:
Press Pass Kyle Busch Burning Rubber #/50
Ignite Inserts and Denny6 Hamlin Top Speed Black Paraller #38/50
Redline Ricky Stenhouse Jr 2-color firesuit auto #/45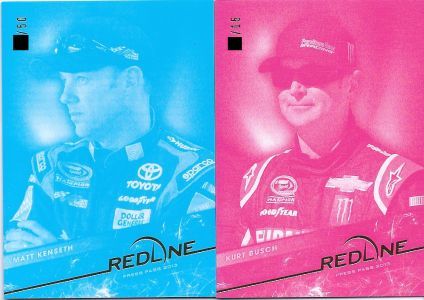 Redline Matt Kenseth Cyan #/50, Kurt Busch Magenta #/15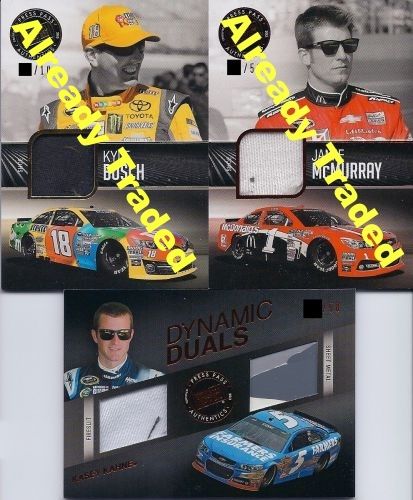 Redline Kyle Busch Relic Gold #2/10 Redline Kasey Kahne Dynamic Duals Firesuit/Sheet metal (3-color) Red #35/50
(The Jamie McMurray is traded and not part of this lot)
Fanfare Justin Allgaier Magnificent Materials #126/199, Juan Pablo Montoya Magnificent Materials Gold #27/50
Fanfare Denny Hamliln Magnificent Materials Dual (hat and shoe) Blue #11/50, Michael Waltrip Magnificent Materials Dual (glove and shoe 2-color) Blue #42/50
Fanfare Auto Brendan Gaughan Gold #43/125, Fanfare Auto Jeb Burton Red Die-Cut #25/99
Fanfare Auto Marcos Ambrose Red Die-Cut #4/5, Justin Allgaier Magnificent Materials Auto/Relic (2 color firesuit) Blue # 9/25
Fanfare Austin Dyne Silver #1/25
I have inserts from Ignite, Redline and Fanfare (Die-Cuts, etc) that I will throw into this lot. Would really love to move the entire lot in one shot...
Can do the entire lot for $175 dlvd (OBO)
LMK,
Jim
PS The Jimmy Johnson auto was already sold, that's why it is not in this list.
---
http://s14.photobucket.com/albums/a317/v...0and%20GU/
User(s) browsing this thread: 1 Guest(s)