Share Thread:
07-05-2013, 03:21 PM
gyrodata
Jr. Member


Posts: 173
Joined: May 2005
1998-99 SPx
I got a moderate price break on a couple boxes and here are some of the better cards. SORRY for the bad scans...these shiny, foil cards wreak havoc on my scanner and I really dont feel like going through to color/contrast/sharpen-adjusting them...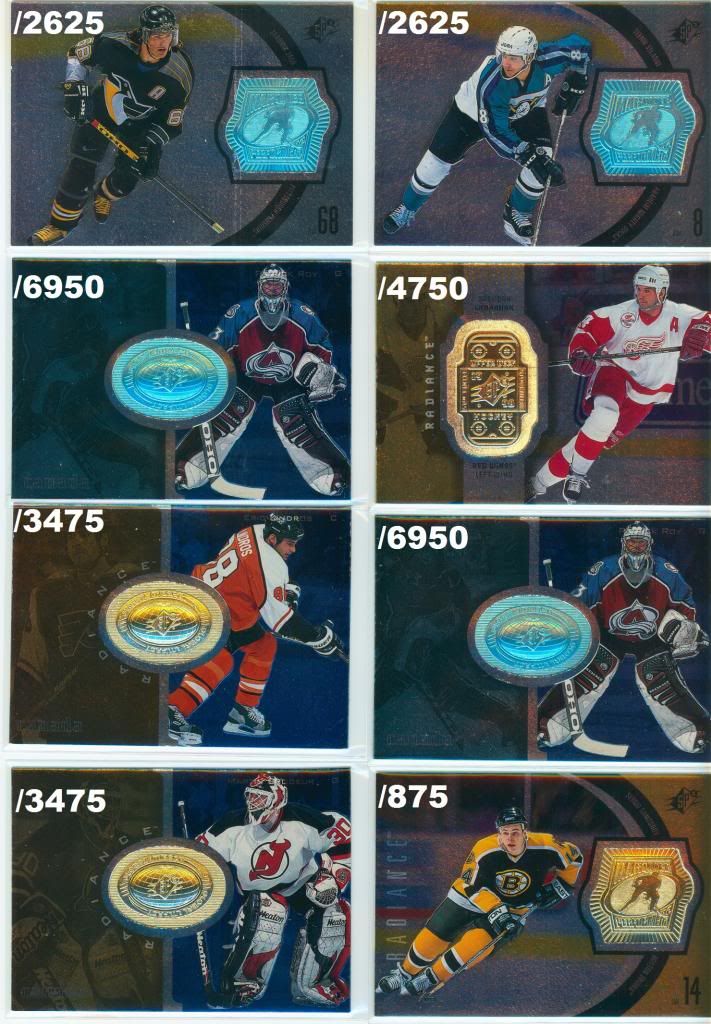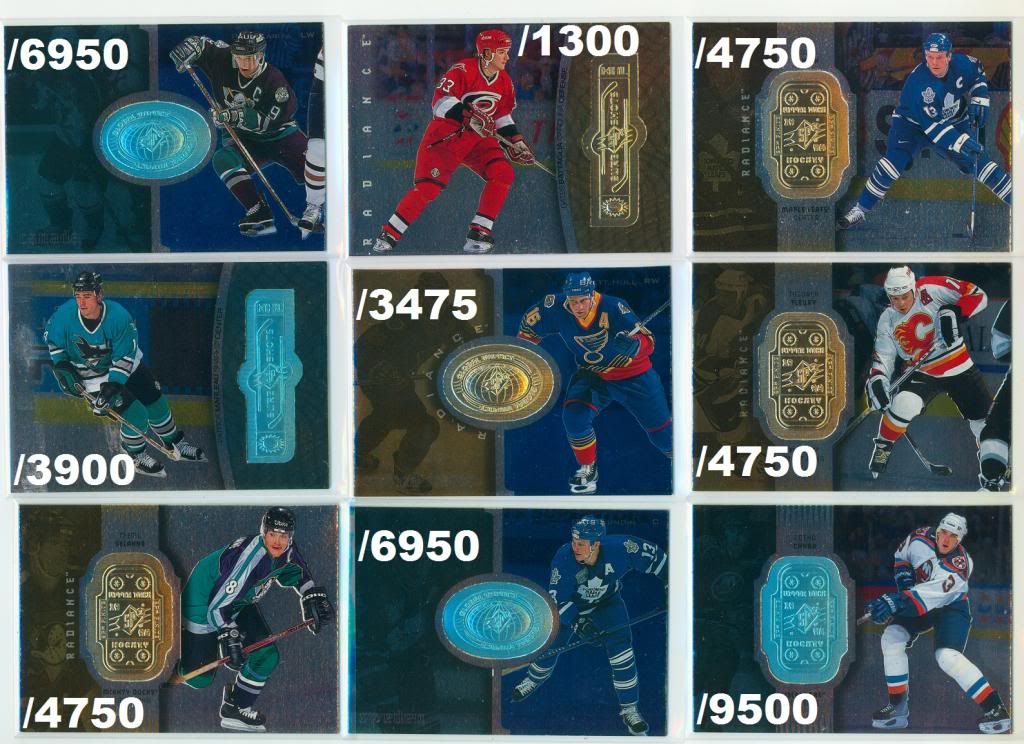 More Yzerman cards than anything else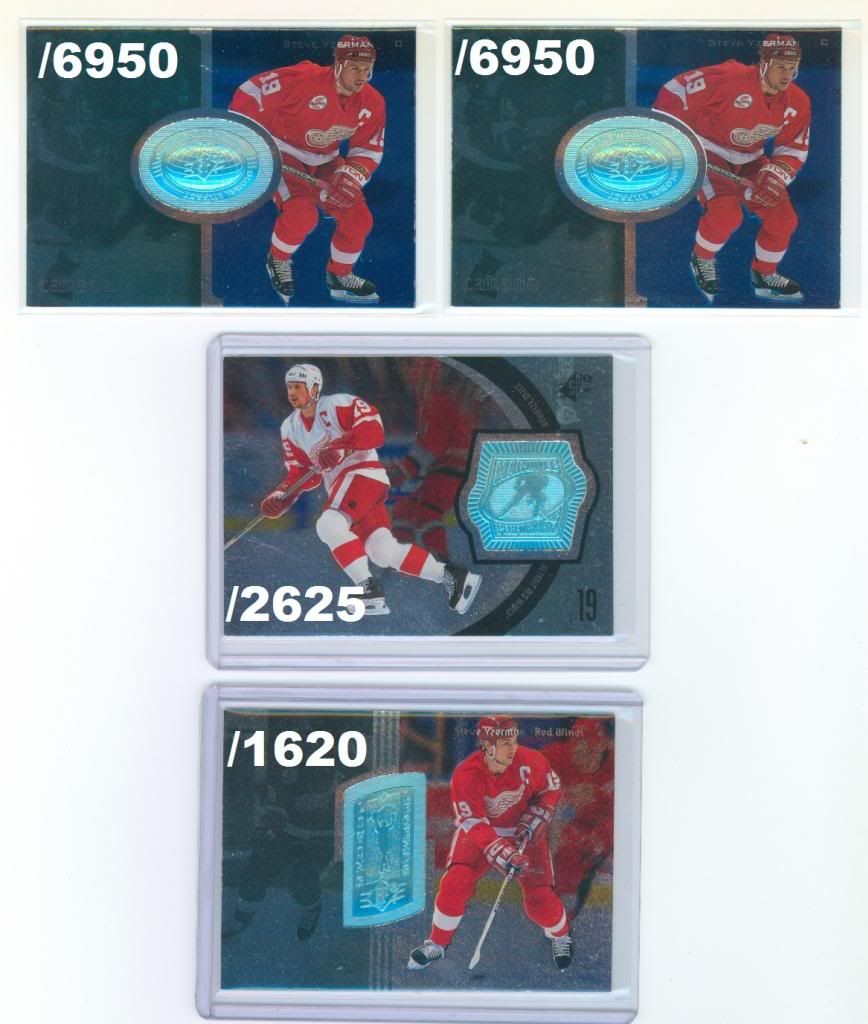 Better "hits"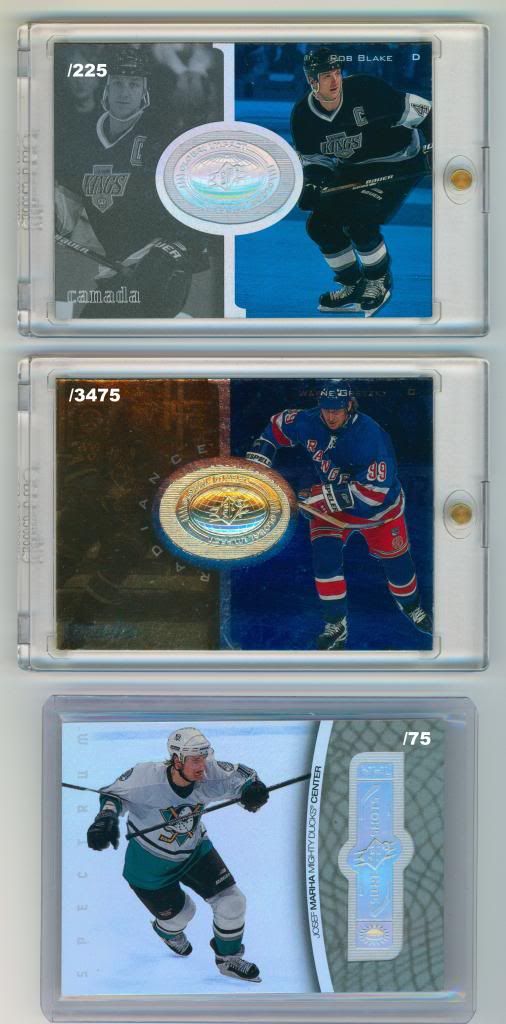 ...then noticed that one card didn't have a serial number, I dont remember if that was a known error or bad qa/qc.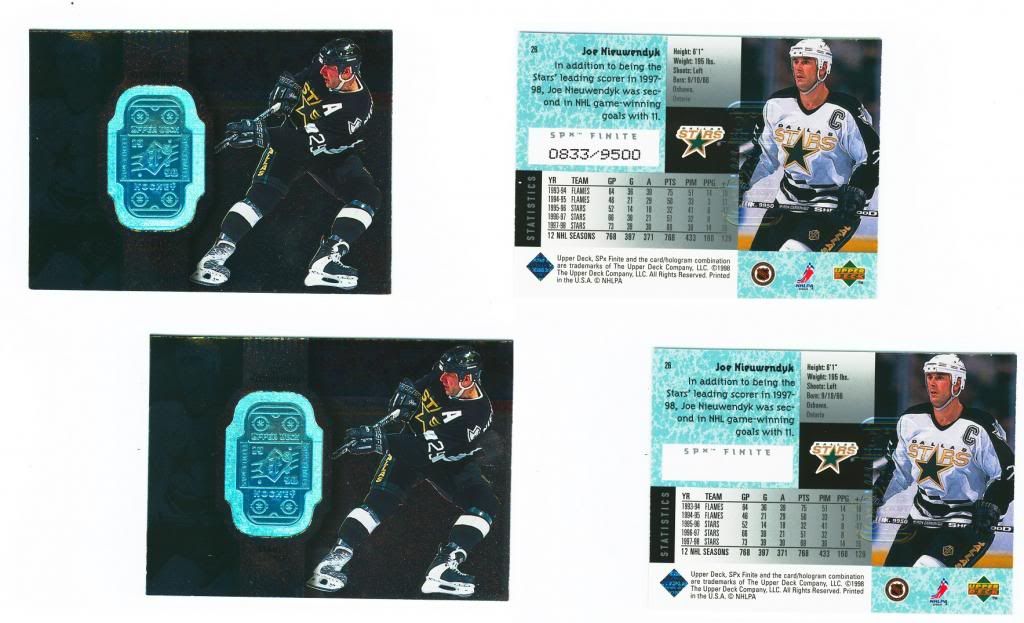 All are for trade, if I dont have a particular card listed then let me know so I can add it to my org.
07-05-2013, 03:45 PM
opcfan
Member


Posts: 932
Joined: May 2008
RE: 1998-99 SPx
Nice! I love seeing old school breaks!
---


Looking for: Patrick Roy, 80s OPC, 72/73 OPC
Photobucket
GO HABS!
07-08-2013, 12:48 PM
RE: 1998-99 SPx
Throwback nasty hits
---


STAN MIKITA CUP FOUNDATIONS
MATT SMABY CUP PRINTING PLATES

BUCKET LINK
07-09-2013, 10:33 AM
roussy35
Member


Posts: 810
Joined: Sep 2005
RE: 1998-99 SPx
Nice old school break. You got some nice stuff. Congrats!
---
Collecting


1. Mike Richter - 475/1641 28%
2. Eric Selleck - 21/30 70% (Incl. 1 Select Cracked Ice Not Listed)
3. Jeff Hoggan - 6/106 6%(Incl. 1 German Printing Plate Not Listed)
4. Guy Fieri - 9/19 47%
5. Sets - Listed in my organize, PC/Set Wants
07-09-2013, 04:40 PM
mnc99
Member


Posts: 1,162
Joined: Aug 1999
RE: 1998-99 SPx
Sweet cards, I love older SPx sets. It was like having a cool insert as a base card.
07-10-2013, 12:33 AM
RE: 1998-99 SPx
I'd be interested in any Sharks pulled or Thorntons. Also where did you obtain these, i cant find them anywhere!
---


Sig by tha_penguin

After Joe Thornton serial #1's

Joe Thornton PC: (515) 11.36% Joe Thornton #'d 01/xx: (37) 1.34%
Owen Nolan (260) 15.63%
Couture (37) Demers (26) Sateri (23)

AFTER: TOMAS HERTL, HARRI SATERI
07-10-2013, 04:55 PM
gyrodata
Jr. Member


Posts: 173
Joined: May 2005
RE: 1998-99 SPx
User(s) browsing this thread: 1 Guest(s)