Share Thread:
Fairwell! It's been fun. EDIT ADDED
04-02-2013, 11:42 PM
(This post was last modified: 04-03-2013 01:49 PM by dbroockerd.)
dbroockerd
Sr. Member


Posts: 8,184
Joined: Jul 2010
Fairwell! It's been fun. EDIT ADDED
My project is as close to complete as it can get and I've warn out my time here. Apparently I have rubbed a few the wrong way. A few others wanna accuse me of cheating in my own competition. I've been a great trader here and always tried to give everyone a fair shot. Sadly some people don't appreciate that.

Regardless I don't see what else I can get from being here. I've given a lot of cards away, had many people help me as well. There is a bunch of great people here who I truly feel blessed to have come across. For those people I wish you the best and thank you for all you have done to help me enjoy this hobby.

I'll always check my PMs if they come in and am happy to respond and help anyone I feel I can but my trading days here are done. I won't comment on the boards any longer either.

It's been a great ride and I wish you all the best.

Bella, you and you father are welcome to message me anytime. My daughters will forever be thankful to you for making this hobby something they can enjoy as well. We will save all our Brewers, Ryan, Lucroy, and Jeter cards for you.

Jeremy, your a great friend and I appreciate everything you did to help me make this project possible.

There are about 100 other people I feel I owe a thank you to but there just isn't space for that. I think you all know who you are.

To ceocards, Floydtown, and David campos, I appreciate the efforts you all put in. I know I have given all of you an ear full before but I respect you all and what you have done to try to help this site be what it is. It's headed back in the right direction for sure.

Enjoy the hobby guys/gals. It's something I'll forever enjoy myself.

EDIT: I felt the need to post one last little thing. I feel I owe it to all of you to still be part of this community but I just can't do that right now. The fun is gone for me. A member PMd me and really just told me bluntly how he felt about me leaving. He asked to remain nameless and I will honor that request. That said he pointed out me leaving is selfish and hurts this community that I have tried sogard to rebuild. He isn't wrong there. Maybe this is selfish. For that I apologize to all of you. As I said though, I have made the people here priority for a long time. It's not as fun for me now and sometimes I have to think about myself too. My PM is always open for anyone here. Please don't hesitate to drop a line.

On my way off the forums I will have one final post. Hopefully tonight. It won't be a contest like in the past but this time it will be a FAIRWELL GIVE-AWAY. I'll be posting a few cards every few minutes as time permits. They will all be flat out given away. All I will be asking is you cover shipping and share with the community. Don't hog it all, haha. If you need it for your PC then just let me know in the thread. Please don't try to make money off me or restock your bait. Just simply take things you really would enjoy for your PC. In doing this final thread I hope you all will remember this and pay it forward. Continue to give to each other and help keep the children involved on this hobby. Everything comes around in the end. I assure you generosity repays itself a million times over in the end.

I may return one day but for the time being and what may be a long time in the future I am walking away. I am leaving the drama and the lack of enjoyment behind and moving on. It's been a great ride and as I said before I was blessed to have met and dealt with all of you. If anyone ever needs anything don't hesitate to ask.
---

Kila Ka'aihue 133/138 Non 1/1s (96% complete) 13/64 1/1s (19% complete)
Auto Needs: http://www.beckett.com/forums/thread-1529244.html
04-03-2013, 12:01 AM
(This post was last modified: 04-03-2013 12:02 AM by tate31nym.)
RE: Fairwell! It's been fun.
peace, derek. if you want to pm me your email addy, I will let you know if I pick up any neat Royals rookie league stuff this summer.
---

Piazza supercollector: 3,052 different
04-03-2013, 12:39 AM
ryanmo5
Sr. Member


Posts: 3,087
Joined: Apr 2011
RE: Fairwell! It's been fun.
Well I'm sorry your leaving man, I remember when i first started here my first sale/trade was buying an auto of Luis Gonzalez off you! I remember when i first got it I loved it so much and it made me love the hobby all over again so for that I owe you a lot! You've been a very good friend and the board is losing a great member, when I think of beckett I think of you honestly! Your the most active person here and have done a lot for this site. Whoever is accusing you of cheating is just plain stupid and its them who should leave the boards!
---


LF Paul Goldschmidt, David Peralta, and misc cards.
If anyone has or spots anyone that has the 2012 Paul Goldschmidt finest red, atomic, or plates ft/fs please lmk
Thanks Zeprock for the cool sig!!!
04-03-2013, 12:54 AM
dontpray
Member


Posts: 807
Joined: Jun 2011
RE: Fairwell! It's been fun.
I second that!
---
04-03-2013, 01:17 AM
RE: Fairwell! It's been fun.
Sucks to see you go... Good Luck!
---
I collect "THE 27 CLUB" - Matt Kemp & Mike Trout RC's


~! KEEP THE HOBBY ALIVE !~
Props to jbel4331
04-03-2013, 01:19 AM
RE: Fairwell! It's been fun.
Great, another awesome member chased off of the site. I'm not sure what caused this, but it's a shame ... good members are hard to find. Those people making accusations should be ready to step up and manage some of the popular things on this site - Secret Santa, gift thread, etc. Because the guy who ran those is now leaving/gone. I never got the chance to hammer out a trade with him, but it wasn't through lack of effort. And on more than one occasion he'd send me links to Ebay auctions for players and cards I'd mentioned or commented on in threads and I can't imagine I was the only one he did that for.
---
04-03-2013, 01:44 AM
RE: Fairwell! It's been fun.
I would not let what a few people think make you stop trading here. I have only stopped due to being 10,000 miles away but I plan to start again in June or July. You have never done me wrong in trades and I have never heard anyone complain about you on the boards so I would not stop trading maybe you should just take a break for a little while.
---
Derek Jeter Collector from 1992-1996. 305 out of 306 99% complete.

1450/1919 1990's Jeter cards 76%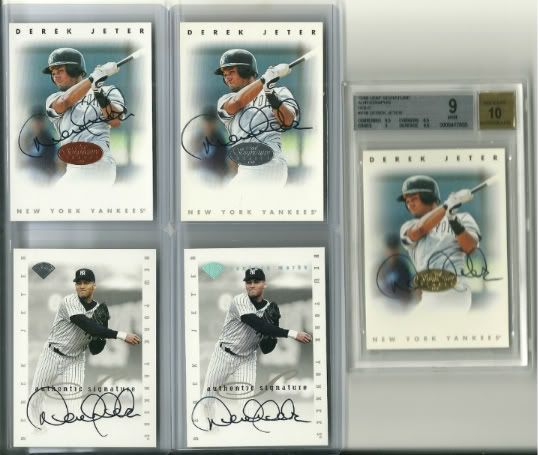 04-03-2013, 02:12 AM
RE: Fairwell! It's been fun.
I've seen you quit for good a few times now, each time I venture back onto the boards myself you are still here
don't let the actions of a few individuals ruin it for you- the fact you are still here and doing your thing and moving cards to and from folks and enjoying it is awesome. maybe just take a break and come back - I don't know who these naysayers who are against you seem to be but i know a lot of people enjoy you being around.
I know i check in to see what you are up to/what projects you are working on when i come back around, just usually keep to myself. I haven't traded on here in well over a year and a half now - anyway either way hope you continue to enjoy collecting regardless of if its here or not!
---
Jonny Venters - Super Collector
Overall Collection (113/157 72% Complete)
base/parallels (85/85 100%)
1/1's (28/72 39%)

always looking for venters 1/1's and 2008/2010 low numbered refractors
04-03-2013, 02:23 AM
rad_1205
Sr. Member


Posts: 2,884
Joined: Feb 2011
RE: Fairwell! It's been fun.
Best of luck to you... Im sure you will be back! Its hard to stay away! We had a few differences in the past, but since ive been back nothing but good things since. Even though we have yet to do another deal since last year i would hope we could do something in the future! Take Care Buddy!!!
---
WANT LIST

1. 2012 Bryce Harper Topps Chrome RC refractor (all colors)
2. 2009 Bowman Sterling Mike Trout Auto
3. 2010-2012 Bryce Harper Cards

http://s1375.photobucket.com/user/FreeKI...t=3&page=1
04-03-2013, 04:52 AM
phreakyq
Member


Posts: 1,226
Joined: Jul 2012
RE: Fairwell! It's been fun.
gonna miss you bud, hopefully we'll see you again.
---

Sig by: jbel4331 / STL Cardinals & Rams Collector
User(s) browsing this thread: 1 Guest(s)