Share Thread:
Let's hear your BOLD predictions for 2013
02-18-2013, 09:25 PM
RE: Let's hear your BOLD predictions for 2013
Arod hangs it up and the yankees miss the playoffs. Jeter continues to hit but struggles in the field, yankees refuse to move him from shortstop

Division Winners:Washington, Cincinnati, L.A. Dodgers; Tampa Bay, Detroit, L.A. Angels

Wild card teams: Atlanta, S.F., Texas, Toronto

The Angels beat the Dodgers in the World Series, even with Hamilton playing only around 120 games.

Miguel Cabrera repeats as AL MVP, Matt Kemp wins NL MVP, Strasburg and Verlander win Cy Youngs

Toronto's rotation ends up stinking but they limp into the playoffs with their hitting

Down years: Posey, Mccutchen, King Felix, Beltre, Gio Gonzalez, Napoli, both Uptons

Near MVP seasons: Longoria, Tulowitzki, Kershaw, David Price, Votto, Sabathia

And for my team(Mariners) Morse struggles, Morales and Seager together carry the offense with each having 30hr-100rbi years. Felix has a rough 1st half with the fences moving in but puts it together after the all star break. Smoak gets traded or waived either in spring training or first couple of months of the season. Ibanez hangs it up before the season starts or waived. Bay doesn't make the team, plays in AAA all year. Guti finally stays healthy and wins another gold glove in center. Brendan Ryan again hits .200 and again has defensive metrics waaaay better than any other shortstop, gets ignored again for gold glove. Zunino and Taijuan Walker come up mid-season and excell.
---
http://www.comc.com/Users/jayohhessaych
02-18-2013, 09:30 PM
RE: Let's hear your BOLD predictions for 2013
1- Mike Trout will come down to earth and everyone that paid over $400 for his Bowman Chrome Auto is gonna be mad when he has a .275/15/76 season.

2- Bryce Harper will win NL MVP.

3- Derek Jeter will win AL MVP and the Yankees will get number 28.

4- Billy Hamilton wins NL ROY.

5- Wil Myers wins AL ROY.

6- ARoid retires!!!!

7- Cubs make it to the World Series but lose to the Yankees...HAHAHA.

8- Tampa finishes 2nd in the east and Boston finishes in the toilet.

9- Matt Moore wins AL Cy Young...finishes with ERA under 2 for the season.

10- I will win the lottery and take the entire Beckett community to game 1 of the World Series.....(It could happen)
---
http://s1106.photobucket.com/albums/h362...k8/willie/
02-18-2013, 09:53 PM
RE: Let's hear your BOLD predictions for 2013
(02-18-2013 01:49 PM)

x5ofspades Wrote: Jeter and Arod retire after finishing the season. (not likely but....one can only wish to be rid of them)
What's your beef with Derek Jeter he has done nothing bad if anything he has been good for baseball.
---
Derek Jeter Collector from 1992-1996. 305 out of 306 99% complete.

1450/1919 1990's Jeter cards 76%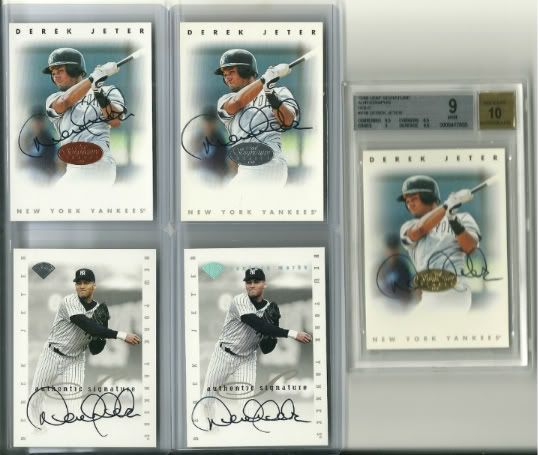 02-19-2013, 01:33 AM
RE: Let's hear your BOLD predictions for 2013
1. The Yankees move Jeter to 3B while Aroid is out. Aroid injures his other hip injecting himself with caribou antler spray marketed by Canseco industries and retires to Pete Rose-land.

2. The Yankees pull of a blockbuster trade for Troy Tulowitzki, Carlos Gonzalez, and Michael Cuddyer, sending David Aardsma, Eduardo Nunez, and ARod to the Rockies.

3. The Blue Jays run away with the AL East and win the W.S. over the Phillies on a Joe Carter...errr...the Blue Jays do win the AL East, with the Rays, then Orioles, then Yankees, then Red Sox all missing the playoffs.

4. The Rockies lose 100 games. Dan ODowd is an idiot. Instead of keeping Wilin Rosario's bat in the line-up, Torrealba and Ramon Hernandez combine to play 140 games, hit a combined .230 with 5 HR and 45 RBIs between the two of them. ODowd forgets that the Rockies play in the NL and pencils in Todd Helton at DH for the first week of the season. While Geivett, O'Dowd, and whatever this pitching experiment thing is continues, the Rockies bullpen wears out by June and the Rockies can't hold any leads, despite averaging 8 runs a game on the season. Walt Weiss resigns as manager after the 100 loss season, stating in his post-season resignation press-conference that the team will never win with Geivett and ODowd in house. And to be extra bold...the Rockies finally realize with Geivett as special teacher's pet pitcher manager, gm thing in the club-house and this whole 75 pitch limit thing, no pitcher or manager with half an IQ point would sign on for a 3 game contract with these yahoos...and my last bold prediction about the Rockies, I get over my bitterness. Come year's end, Tulo and Cargo are unloaded via trade, as is Michael Cuddyer. Meanwhile, Todd Helton has a good year, hitting .300, with 15 HR, 75RBI, 30 2B and announces his retirement at year's end.

5. Stephen Strasburg wins the NL Cy Young Award.
---
Collecting: Fred McGriff, Chipper, Griffey, and Todd Helton.
Website: http://zaccheus85cards.webs.com

02-19-2013, 01:53 AM
RE: Let's hear your BOLD predictions for 2013
profar wins AL ROY.
Hunter Morris wins NL ROY (brewers pretty much defaulted to having to have their 2013 1B make the jump from AA to majors)
dodgers win 80 games- below .500 and no playoffs
king felix mows down the entire AL wins CY.
Rangers win AL west- hamilton cries
---

Another great banner by jbel4331!

Also collecting Brewers prospects and Hall of Fame autos
02-19-2013, 02:45 AM
Socrkd55
Member


Posts: 1,119
Joined: Sep 2012
RE: Let's hear your BOLD predictions for 2013
Dodgers win WS
Kershaw/Greinke combine to go 40-12 (Kershaw 21-7, Greinke 19-5. Kershaw wins Cy Young)
Jesus Montero moves to full time DH and finishes year .289/37/126 5th in MVP voting
---


RC - 16/29
Auto - 39/213
Mem - 2/9
1/1s - 7
Total -89/476 / 18%
02-19-2013, 01:30 PM
DrMitchJ
Sr. Member


Posts: 6,240
Joined: Nov 2011
RE: Let's hear your BOLD predictions for 2013
The only bold prediction I'm going to make for 2013:
I'm going to spend waaaaaaay too much money on baseball cards
---

Avatar and Banner courtesy of jbel4331. THANKS!
02-19-2013, 02:06 PM
nolan5000
Sr. Member


Posts: 4,637
Joined: Oct 2002
RE: Let's hear your BOLD predictions for 2013
(02-18-2013 07:01 PM)

elfeo013 Wrote: thank you for not clicking on those i've gotten huge deals on Ryan autos, including several 1/1 of him in an Angels uniform
I primarily only buy BGS Graded Ryans anyway.
---

Special Props to pyr0punk for this Amazing & Killer Banner!!
02-19-2013, 03:45 PM
rossmaute
Jr. Member


Posts: 487
Joined: Feb 2011
RE: Let's hear your BOLD predictions for 2013
Division winners:
ALE: Toronto
ALC: Detroit
ALW: LAA
NLE: Washington
NLC: Cincinnati
NLW: San Francisco

Wild card:
AL: Texas and Baltimore
NL: Atlanta and LAD

World Series: Cincy over LAA in 7

Awards:
AL MVP: Mike Trout
NL MVP: Joey Votto
AL CY: R.A. Dickey
NL CY: Jordan Zimmermann
AL ROY: Manny Machado
NL ROY: Nolan Arenado

Ryan Braun hits 50 homeruns
6 no-hitters, 1 perfect game
Dodgers trade for Carlos Beltran at the all-star break to replace Ethier or Kemp (DL)
---

02-19-2013, 04:32 PM
RE: Let's hear your BOLD predictions for 2013
Manny Ramirez comes back (probably bought by the dodgers) rakes, im talking 60 homers 140 RBIs.

Darvish goes back to japan and we never hear of him again.

Red Sox see playoffs (not very bold but go YANKS)

in Arods time not playing he opens a drug store and sells roids to other MLB ers... make more money than his contract

I HAVE SPOKEN!!
User(s) browsing this thread: 1 Guest(s)