Share Thread:
OT. What else do you collect?
01-31-2013, 08:53 PM
RE: OT. What else do you collect?
I used to have one of the largest privately owned libraries of african-american literature in the country, but i donated them when i moved to boston (didnt have the space)

i still collect and archive every book on malcolm x i can find, and i still have my post-colonial african writers stuff
---
onedollardutch.blogspot.com

01-31-2013, 09:09 PM
(This post was last modified: 01-31-2013 09:25 PM by aprirr.)
aprirr
Member


Posts: 1,861
Joined: Aug 2012
RE: OT. What else do you collect?
I used to collect these, before my daughter was born and when I had more money:
All are FT for baseball! (Ha ha)
---
Collecting Nolan Ryan, Robin Yount, HOF autos and Jonathan Lucroy in a Brewers uni

Nolan Ryan Collection : 2093 different
Lucroy Brewers Collection : 578/588 non 1/1's (98.3%) and 60 1/1's
HOF Auto Collection : 169/323 (52.3%)

http://s1280.photobucket.com/albums/a488/aprirr/
01-31-2013, 09:16 PM
kata78
Member


Posts: 1,747
Joined: Sep 2003
RE: OT. What else do you collect?
Besides baseball, I am an avid reader. Love to read. Especially the D&D Forgotten Realms line of books. I have all of the originals minus the brand new ones that just came out this month. I have the originals, reprints, hardcovers, etc. I have about 350 books total but they are now stored away in the closet due to the boys taking both rooms. I also collect Conan books and comics as well, and some Lord of the Rings books. If I'm not on Beckett then I'm on my Kindle Fire HD reading.....
---


I be collecting BGS Jeter RC's & Tom Seaver (Mets Uniform) Autos/Patches

My PC Bucket.

http://s944.photobucket.com/albums/ad281/mjkata78/
01-31-2013, 09:53 PM
barry6124
New Member


Posts: 29
Joined: Jan 2013
RE: OT. What else do you collect?
I'm an LSU grad and I collect LSU bowl game ticket stubs. I have about 60% of them, with the oldest one being 1940 orange bowl.
01-31-2013, 11:32 PM
RE: OT. What else do you collect?
I have a few model trains and stamps, but the stamps are just baseball ones. I don't have many model trains or stamps. I focus on cards.
---


I collect Dirk Hayhurst.
Thank you jbel4331 for the banner!
02-01-2013, 12:03 AM
magneto2
Sr. Member


Posts: 2,920
Joined: May 2002
RE: OT. What else do you collect?
Sick Guitars @aprirr!! I collect Baseball cards, Basketball cards and Football too. My brother went to Kansas University so I collect current Jayhawk NBA players as well as past. Also Comics mostly Amazing Spiderman and X-men.
02-01-2013, 12:14 AM
krykslr
Member


Posts: 1,154
Joined: Aug 2010
RE: OT. What else do you collect?
I collect vinyl records....not nearly as seriously as I do cards/memorabilia, but I do enjoy vinyl, and just about anything I buy music-wise anymore is on vinyl. I don't get nearly as much enjoyment out of a mp3 download as I do getting the big tangible piece.
Here's an inventory of my collection...nothing super impressive, but I still love it:
http://www.discogs.com/collection?user=K...tist%2Casc
I also collect soda bottles, though not on a serious level. I like trying sodas from small soda producers, and every one I try I keep a bottle of, so I've got around 30 of those as well.
My mom collected soda cans when she was younger, and it currently covers the wall of my grandfather's garage, who now continues the collection. We all send him new soda cans when we find them, and he keeps them in the garage on a wall-mounted shelf system.
---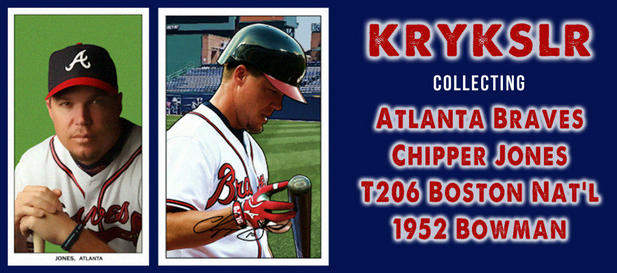 02-01-2013, 12:58 AM
rmpaq5
Member


Posts: 1,610
Joined: Nov 2011
RE: OT. What else do you collect?
I used to build models of World War II aircraft, but the space and shelf needs, + the fact after about 5 years the glue would start to break down and they would fall apart, got me off of that. I still have my literature on the actual planes, and most notably the nose art (My thesis was on WWII propaganda portrayals of gender ideals....Ya more interesting than it sounds).
---

Building Base sets and Collecting All Tigers
Looking for 1951 Red Back #36 Gus Zernial JUST ONE MORE TO GO!!!!!!!
02-01-2013, 11:26 AM
zeprock
Sr. Member


Posts: 2,935
Joined: Jan 2003
RE: OT. What else do you collect?
I collect vinyl record albums. I've been on the air nonstop as a DJ since 1981. I have approximately 6000 different albums, mostly from the 60s, 70s and 80s. I also have a couple thousand 45 singles, mostly from the 1980s. I have mono, stereo, quadraphonic, picture discs, colored vinyl, autographed covers, imports, bootlegs and recalled issues. The last album I bought was Pink Floyd's "Pulse" box set when it came out in 1995. I store them all in custom made shelving units that I constructed and keep them in alphabetical order. This picture shows artists A - M. Artists N - Z and my various artist albums and soundtracks are on another wall. I also have about 1000 CDs.
---
I collect Hall of Fame baseball player cards and cards of current and retired superstars.





My Huge Wantlist: http://www.zeprock.com/WantList.html
02-01-2013, 12:11 PM
RE: OT. What else do you collect?
I collect shoes. Not the typical Jordans and Nikes but just ones that stick out to me and everyone could get. Favorites right now is designer Jeremy Scott. Off the wall playful ideas.
---
User(s) browsing this thread: 1 Guest(s)