Share Thread:
Best card pulled from a pack..............
01-23-2013, 10:20 AM
RE: Best card pulled from a pack..............
Those are some great stories and some nice pulls. My case of 2012-13 Artifacts had a lot of nice cards for me. I pulled a Fowler patch/stick #/12, Kings triple fight strap #/6, and Nathan Horton Double Patch and Auto #/3. In the free box 2011-12 Pinnacle I pulled Ryan Nugent-Hopkins RC Auto. I have also pulled 2010-11 SPA Taylor Hall FW Auto which was traded to ricebondsmntna2young which he traded to land something huge for his PC. I think my favorite card I pulled was a 2008-09 SPx Triple jersey of Bourque/Roy/Sakic #/99. It is always nice pulling a PC card. Pulling that made me feel like I was 7 years old and why I started collecting.
---
Collect Ray Bourque, Ryan Miller, Patrice Bergeron, Dougie Hamilton
01-23-2013, 12:58 PM
washjeff
Jr. Member


Posts: 379
Joined: Oct 2012
RE: Best card pulled from a pack..............
Adam Larsson patch/auto out of 100 from 11/12 contenders. That card looked great. I also really like my Steve Mason dual patch /15 from 12-13 artifacts.
---
01-23-2013, 01:26 PM
azicet
Member


Posts: 850
Joined: Feb 1999
RE: Best card pulled from a pack..............
My best pull was from a box of 02-03 SP Authentic. I saw a box in the back of my LCS & picked it up. out of the 3rd pack was a Jason Spezza Autographed Rookie Patch #1/100. It's a white patch with a big black half circle with red trim, probably from the Senators logo. It still books insanely high & is still in my collection.

It's been 10 years & I haven't pulled anything even close to a hit like that, despite spending a truckload on packs & boxes that supposedly have "more hits" and "more value".
01-23-2013, 02:50 PM
rjcj2017
Sr. Member


Posts: 5,705
Joined: Nov 2011
RE: Best card pulled from a pack..............
Well, hockey makes up a very small portion of my collection, but I buy a blaster or two every season just to see if I can pull any Stamkos or Crosby singles.

Last year, I bought one blaster of Score for $9.99, and pulled the RNH SP RC.

I was stunned when the book first came out on 11-12 Score.
01-23-2013, 11:48 PM
scarrman
Jr. Member


Posts: 279
Joined: Aug 2009
RE: Best card pulled from a pack..............
A quick story before some show and tell. I bought 3 packs in Regina, Saskatchewan of 1994 UD Baseball and pulled a '94 Alex Rodriguez auto card. Barely knew who he was and called the LCS owner to ask - he said he is supposed to be a good prospect. Still have the card today - the 3 packs cost $5.07 total!
I pulled this card back in 1999, the card was chipped pretty bad so I sent it back to UD and they returned a hand numbered version in much better shape.
Pulled this card from a box of 99 00 UD MVP. Not the most valuable card, but I love it as it is number #99/100. One of my prize cards in my collection.
Got these guys while cracking some 02 03 UD Rookie Update, I'm pretty sure it was only a couple of packs I bought which made it even sweeter.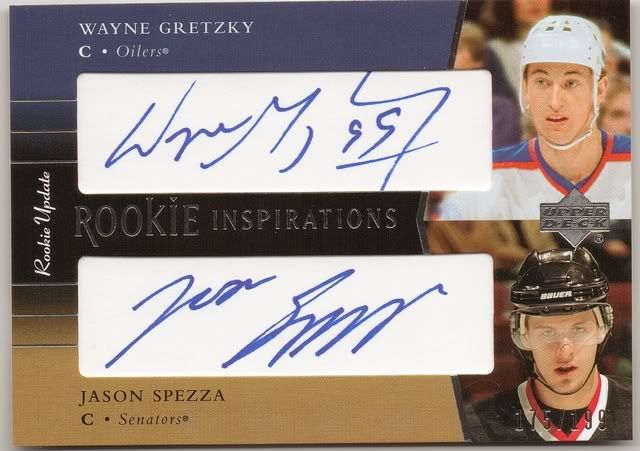 I pulled this card, while busting a box of 03 04 UD with my wife, and pulled this beauty - looks even nicer in person. Killer odds at 1:7500, plus a great player.
Really liked 07 08 UD Masterpieces, a couple boxes in I pulled this guy - black border 1 of 1!
Still with the 07 08 UD Masterpieces, bought a blaster box at Walmart and pulled this card - is also a 1 of 1!
Tried 1 box of 10 11 ITG Decades and pulled this dual auto which is a 1 of 1.
Cracked a box of 10 11 SPA and landed this card - dual Bobby Orr auto. Pretty unusual card, but a really awesome card!
Hopefully not showing off too many cards, tough to pull in the reigns for this post. All of these cards are still PC and none for trade.
Thanks for looking.
01-24-2013, 12:29 AM
phildo37
Sr. Member


Posts: 2,970
Joined: Apr 2002
RE: Best card pulled from a pack..............
scarrman - wow... just wow
---

Bucket - http://s251.photobucket.com/albums/gg286/phildonu37/ (I don't update my bucket when stuff is gone)
01-24-2013, 12:59 AM
RE: Best card pulled from a pack..............
bought the last four packs of 09-10 black diamond from card shop in sioux city...first pack had a kane hardware heroes, last pack had a cody franson triple diamond 1/1. not worth the most but was loving the bd!
01-24-2013, 08:42 AM
csamsal
Member


Posts: 1,559
Joined: Oct 2007
RE: Best card pulled from a pack..............
and one i did forget...... an 07-08 sweet shot signature sticks ray bourque #ed to 15. has some chipping on it so it stays in the pc for now
01-24-2013, 07:10 PM
mswatson
Member


Posts: 862
Joined: May 2009
RE: Best card pulled from a pack..............
Got three that come to mind.....
#3 - first Stick card I ever pulled, just really liked the card...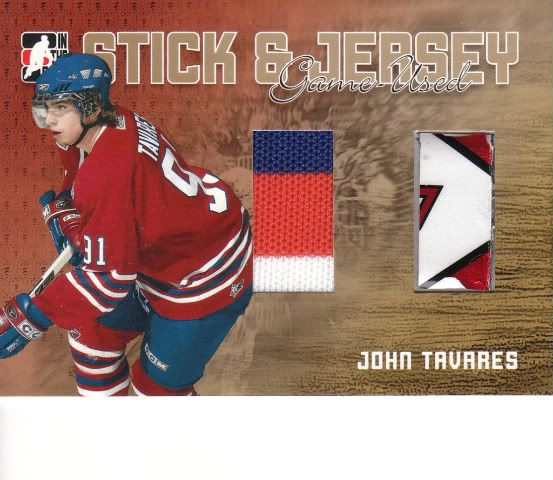 .
.
.
.
.
.
.
.
#2 - last pack in what was a mediocre box, blew me away, and started me on a path to build the master set....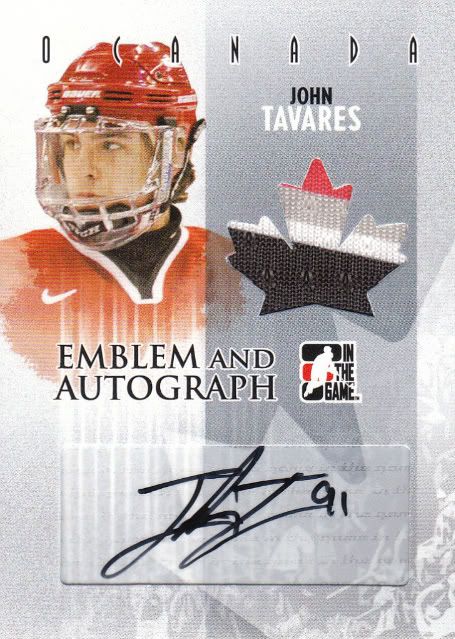 .
.
.
.
.
.
.
.
and #1 - pulled from a random pack in one of the dozens of boxes of OPC i'd opened, had to keep picking it up and looking at it to be sure I wasn't imagining it....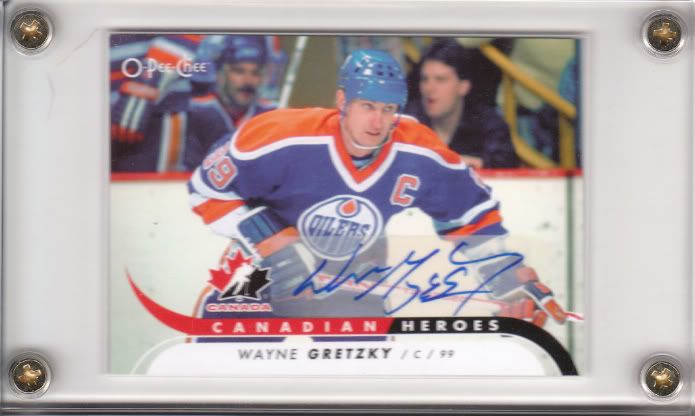 ---
Building sets, and collecting Ovechkin, Varlamov, Neuvirth, Calle Johansson and
Craig Laughlin... and now Marcus Johansson


01-24-2013, 07:28 PM
gmccarth
Member


Posts: 614
Joined: Oct 2005
RE: Best card pulled from a pack..............
By the time I was really into hockey, I was pretty much done with boxes and focused on singles.

I once bought a box of 2007 UD Spectrum baseball and pulled a Mickey Mantle / Ken Griffey Jr. dual auto buyback.

That might be when I got away from buying boxes. How could I top that?
---
I collect Dany Heatley, Nicklas Backstrom, all Red Wings and most Yankees.
User(s) browsing this thread: 1 Guest(s)