Share Thread:
Best card pulled from a pack..............
01-23-2013, 12:29 AM
shezdoni
Sr. Member


Posts: 4,206
Joined: Aug 2005
Best card pulled from a pack..............
Ok, let's try something new.

Tell us about your best pack pulling experience, the best card you ever pulled, what happened to the card, how you felt, etc.....

No ebay purchases and No group break purchases, must be from a pack you opened yourself.

Mine was back in 2002-03, BAP signature just came out, stopped at a card store on my way home from work, and he had just opened a box, I bought 2 packs.

First pack I opened had a Gretzky Sp auto, store owner wanted to buy it right then, he offered me $250 cash on the spot with the agreement that when the BV was released by Beckett's that if the card's BV was over a certain price, that he would make up the difference later, to equal him purchasing it at half BV.

If I recall when the pricing was first released it had a Bv of (dang not allowed to say ) it was more than 500 and less than 700, next time I went in, instead of the extra 50, he gave me $200 worth of unopened boxes.

I was excited at first when I pulled it, always wanted a Gretzky auto (back then, not now) However I have no regrets in selling it, $250 cash + a potential for more ,for a card I payed less than $2 for, I'll take that any day of the week.
---
the bucket
http://postimage.org/Shez

WANTED:


2006 FLAIR SHOWCASE SIGNATURES #/35
01-23-2013, 12:42 AM
swjrp10
Sr. Member


Posts: 6,180
Joined: Jan 2006
RE: Best card pulled from a pack..............
Hockey wise my favorite was buying a clearance blaster of MVP and hitting a one on one auto Brodeur/fleury. At first, i only saw the fleury and didnt even realize it was a dual, i was just so happy i hit a star auto. Then i flipped it over to see if it was numbered...and their was Brodeur staring right at me!
---



11-12 UD Hockey w/ YGs: 438/500 (88%)



DO NOT TRADE LIST: chargers2427, mrmagnum75
01-23-2013, 01:34 AM
RE: Best card pulled from a pack..............
Three years ago I started collecting hockey cards again. Upper deck 2010-11 was a reasonable price so i started that set. About 3 or 4 hobby boxes in i pulled a Eberle RC. At the time i was bummed because it wasn't a Hall! It turned out to be an exclusive /100!! Ive had it graded at 9.5. I hate to mention it because EVERYONE tries to buy it or trade for it! But that's my best card.
---
http://s894.photobucket.com/user/dan_dou_lea/library/
01-23-2013, 01:58 AM
wickabee
Sr. Member


Posts: 2,676
Joined: Jan 2010
RE: Best card pulled from a pack..............
Hmm, I don't know if I should go on about my Pro Set Lidstrom RC I pulled when I was 7 or the string of YG luck I've had with loose pack purchases Wal Mart since late 2009. Decisions decisions...

The YGs.

I have pulled the following from purchases of either 1 or 2 packs of UD Series 1/2 at Wal Mart.
John Tavares
Matt Duchene
Tyler Myers
Brad Marchand
Jordan Eberle
Jeff Skinner
Sean Couturier
Ryan Nugent-Hopkins
Scheifele Canvas
RNH/Couturier/Connolly Canvas YG CL
Kreider/Baertschi/Schwartz YG CL

That's just the notables...
---
Latest Entry: The Hockey Dad Survival Guide

http://blacknblueline.com
01-23-2013, 07:55 AM
csamsal
Member


Posts: 1,559
Joined: Oct 2007
RE: Best card pulled from a pack..............
i have a couple. ironically they all happened when i was deployed.. first was an 07-08 sweet shots signature sidney crosby. since have moved it. next was ud ice from the same year... pulled a niklas lidstrom black ice jersey/auto. still have it.and my favorite is an 09-10 artifacts tundra tandems yzerman/stamkos dual patch numbered 06/15 still have it also
01-23-2013, 08:17 AM
rayeates
Moderator


Posts: 6,594
Joined: Mar 2010
RE: Best card pulled from a pack..............
I had bought a box of 2010-11 Crown Royale from my LCS two years ago. While I was explaining the Silhouettes to him, and how gorgeous they were, I happened on a very thick pack. I opened it up to find a Nazem Kadri Silhouettes Patch #2/25! The patch was so insane as it had the RON from Toronto, and the APL from Maple in behind Kadri's photo! It drew some stares from everyone in the shop, and garnered a LOAD of interest at the card show on the weekend. It would have been insane if it was Subban or Hall, but the hype about Kadri was still in the air. I ended up selling it for $250 a couple of weeks afterwards. This is the best card I had hit.
My favorite card came from the LCS. I had just started my Jaroslav Halak PC, and had only a 2008-09 O-Pee-Chee base card of him. Mike happened to have a few blasters of 2007-08 Upper Deck kicking around, so he sold them to me for $12 each. I tore into them and opened the first pack... and staring back at me was this:
... a sure sign that Halak is the one that I should be collecting!!! Now, thanks to the AMAZING Beckett Community members, my Halak PC is a stellar one! Awesome thread, shezdoni, and great stories, Beckett Community!
Randi
01-23-2013, 08:19 AM
pens1fan
Member


Posts: 2,115
Joined: Feb 2010
RE: Best card pulled from a pack..............
Well not sure my best pull was in hockey. Back in '89 my LCS was one of the first stores to get Upper Deck Baseball and I was the first person to buy a box of it. Well in opening the box I pulled 8 Ken Griffey Jr. RCs for it, talk about collation problems. I ended up giving one to my best friend, selling / trading 5 more and I still have 2 of them.

As for hockey, last few years have been good. I have pulled Certified RNH RC, SPX RNH RC, Taylor Hall SPX RC, Magnus Paajarvi Limited Gold RC but I think the coolest was Brandon Yip Black Diamond Onyx 1/1 RC. I immediately got a hold of YipCollector on a different site and was able to work out a deal for it to him.
---
Collecting:
Current Penguins / Sidney Crosby / Penguins RCs




The mountains are calling and I MUST GO!!!!
01-23-2013, 08:27 AM
jaykayzee
Sr. Member


Posts: 2,798
Joined: Jan 2002
RE: Best card pulled from a pack..............
The year : 2005
The place : The local Flea Market
I was a football buyer, had bought a few hockey packs here or there, not really collecting. There were 3 other regulars who always chase the "big hit" there, cracking every box of 2005-06 UD ICE they could get thier hands on. I walked up to the one seller I always visited, (they were there), and bought one of the last boxes before they did. No luck.
They cleaned him out and walked away to the next card stand on the other side of the building. I stayed for a while talking to the vendor before continuing my rounds. I finally caught up with them at the next stand they stopped at, ripping through box after box of ICE.
I walked up and asked the seller how much for a box, he replies "75 dollars". I took one.
So as I'm opening the shrink wrap, some people come over and ask the "big spenders" why they're going nuts over this hockey stuff. One of them explains "There's a RC of this kid Crosby, it goes for almost $1000 dollars!"
As I open the third pack of my box I exclaim: "Oh, like this one??"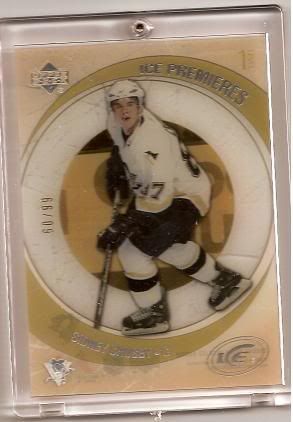 You could hear the air escape all three sets of lungs...The news spread like crazy. I was walking back to my car and being stopped by people wanting to see it..
Thanks to this card, and a few that came soon after, I now spend entirely too much money on little pieces of cardboard with pictures of sweaty men missing teeth on them...
---
''I've never been in style, so I can never go out of style." - Lillian Gish ( 1
893 - 1993)
01-23-2013, 08:39 AM
phildo37
Sr. Member


Posts: 2,970
Joined: Apr 2002
RE: Best card pulled from a pack..............
bought a bunch of 99-00 BAP Mem boxes on eBay MANY years ago, and like literally the last box, this pops out: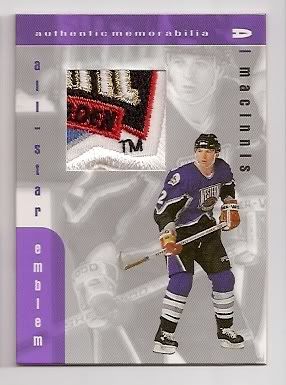 ---

Bucket - http://s251.photobucket.com/albums/gg286/phildonu37/ (I don't update my bucket when stuff is gone)
01-23-2013, 09:06 AM
(This post was last modified: 01-23-2013 09:09 AM by bruinsfan08.)
RE: Best card pulled from a pack..............
Not a single pack, but my biggest ever hit came from a box that my family opened together. I'll just re-post the text from the box break thread I posted when it happened...
(04-16-2011 05:38 PM)

bruinsfan08 Wrote: So this morning, after saving up cans & bottles for months, we took them to the redemption center to cash them in. I promised the boys that we would break some packs with our "winnings," so I headed over to the LCS to see what they had. Nothing new, but there was one box of Series 1, and one box of Series 2 sitting on the shelf, and for the price, I couldn't pass. I picked the Series 1 box, but it turned out to be the French version, so I opted for the Series 2 box instead. I think it turned out to be a solid decision on my part. I sat at the lunch table with my wife and our three boys, and we each pulled out a bunch of packs to open. It was a blast! We always have fun, but this one was unexpectedly excellent.

Anyway, here's what we ended up with...

Young Guns:
452 Nick Bonino
458 Jon Matsumoto
459 Evan Brophey
470 Matt Kassian
473 Linus Klasen
496 Johan Harju

Nothing spectacular, but six YG's, no complaints here.

20th Anniversary Retros:
259 Ben Eager
340 Alexei Ponikarovsky
396 Kimmo Timonen
428 Dominic Moore
431 Tyler Bozak
462 Justin Mercier Young Guns

Again, nothing mind-blowing, but still a decent box.

Here were the bigger hits of the box...

Henrik Lundqvist Game Jersey
James Wisniewski UD Exclusives #032/100
Dana Tyrell Rookie Exclusives
and my first UD Exclusives High Gloss of Ray Whitney #06/10

A solid box overall, despite none of those cards being for my PC.

But wait.

My 7-year old, Timmy, while opening the packs with us, blurts out the phrase "Hey, a Bobby Orr autograph" which I thought couldn't possibly be right.

I was wrong.



Now there's a sweet PC hit. To think, if that UD Series 1 had been the English version, I wouldn't have this card sitting in my hands right now. Timmy says that I can keep it for my collection, as long as I promise to get him a Brad Marchand autograph for his. I think I can manage that.
Although I thought I would hold that card forever, it was gone just a week later. The Orr went for thousands. Plural. There was a brief bidding war between a pair of set collectors, but it eventually found its way into the PC of a gentleman who had put together every complete set of Hockey Heroes since the very beginning, including all the autographs. This being the toughest card to land from that set, he made an offer I simply couldn't refuse, and no other buyer could match. I used the funds to build up my collections of Neely, Ovechkin, Lucic, Marchand, McQuaid and Seguin, as well as helping me to land several big autos for my all-time greats PC. As a bonus, along with the PayPal spent buying the card from me, the buyer generously "threw this in"...
In my book, that's a PC cornerstone, considering who I collect.
Not only did I get Timmy his Marchand auto, I picked up a few nice autographs and jerseys for all three of my boys' collections. I also bought the family tickets to a Bruins game and took everyone out for dinner before the game. Not bad for a box that I didn't really want to get in the first place, eh? Thank you Upper Deck for making a French version of Series 1, because although it may have been cool to pull a Taylor Hall Young Guns in French, at best, I think I scored bigger with the Series 2.
---



Collecting Cam Neely & Alex Ovechkin


Photobucket: http://s15.photobucket.com/albums/a372/p...or%20Sale/
User(s) browsing this thread: 1 Guest(s)