Share Thread:
01-14-2013, 08:51 PM
gmccarth
Member


Posts: 614
Joined: Oct 2005
New Project
I've been thinking for a while about changing up my collection. I'm finding it more difficult to come up with the money and time to collect every card that interests me, and I find I am often bored with them shortly after I get them. I had the fortune of growing up near the Red Wings' AHL team, and I think I'm going to start a collection of players I saw play at Adirondack, with a focus on autographed cards if available, and RC's if not. I'm narrowing down the time frame, but I'm thinking about focusing on the years I saw the most games...probably 90-91 to 95-96, or thereabouts.
Anyway, I was able to nab a few on the cheap with no research required. Sadly, I have to settle for some with the players in a uniform other than the Wings'. Here's the start to my new project: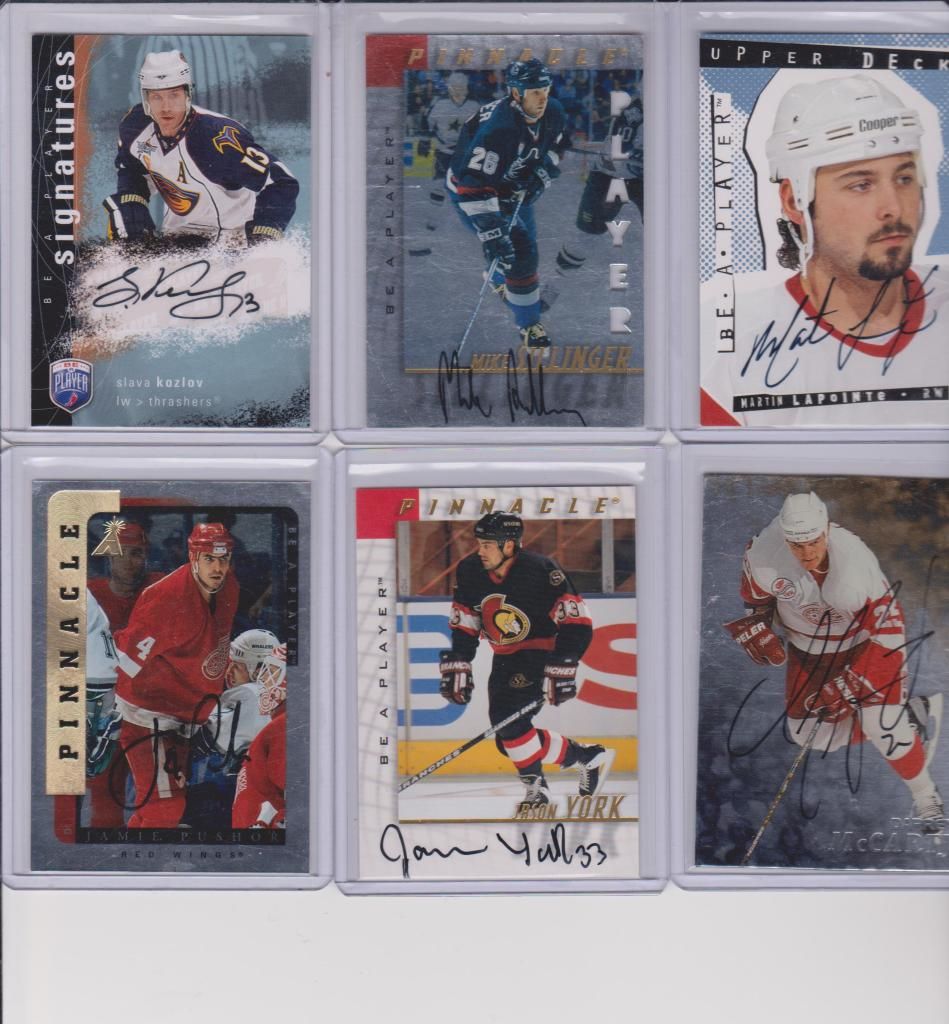 Thanks for looking!
---
I collect Dany Heatley, Nicklas Backstrom, all Red Wings and most Yankees.
01-14-2013, 09:31 PM
RE: New Project
Very cool, as a Michigan native, there are definitely some blasts from the past there.
---
Collecting: Kevin Hodson, Goaltender Rookie Cards, 1995-96 Fleer Metal Inserts.
01-14-2013, 10:19 PM
rayeates
Moderator


Posts: 6,612
Joined: Mar 2010
RE: New Project
Very cool stuff, Greg! If I have anything that you can use, you know that you can give me a shout!

Randi
01-16-2013, 07:56 AM
bonnev659
Sr. Member


Posts: 9,099
Joined: May 1997
RE: New Project
very cool project

I wish i was able to go to the games back then. where did they play Glenns Falls or the Springs?

i went to school in plattsburgh and have afew friends from around the adk
---
using tracking numbers (all US and some Can)
User(s) browsing this thread: 1 Guest(s)