Share Thread:
08-09 skybox 3-blaster break w/ scan
01-07-2013, 02:46 PM
buckunteer
Sr. Member


Posts: 3,287
Joined: Jun 2010
08-09 skybox 3-blaster break w/ scan
I checked out the blowoutcards deals for the "end of the world" on 12-21-12 and didn't have the cash to pull the trigger on anything big before Christmas despite some good deals. I did, however, pick 3 of these up for $12.12 each. Of the 3 blasters every hit below except the Steve Blake ruby /50 came out of ONE blaster! That blaster also had 9 packs instead of the usual 10, so it's as if they were compensating for that or something lol.
I got 4 GU pieces in all, the two rubies below, 5 Metal Universe inserts, so for $12 each I did well I think!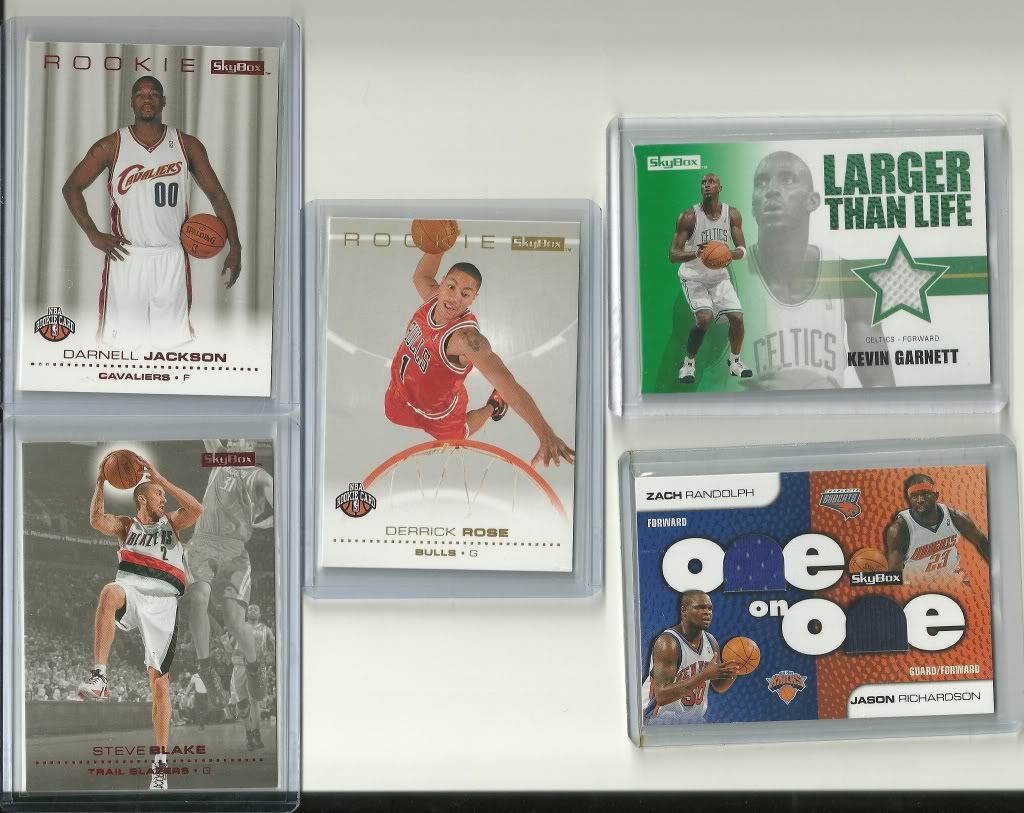 Also, amazingly enough, I broke two 48-pack retail boxes of these about a year and a half ago and pulled 0 D-Roses of any kind. Odd how things work out, eh? Anyways, everything's up and FT/FS!
---
I collect Michael Jordan, Mitch Richmond, and Ohio State players (football and basketball) in OSU gear. I strongly prefer 90's-era cards and use newer cards primarily for trade bait!



01-07-2013, 02:49 PM
kct1
Sr. Member


Posts: 2,876
Joined: Apr 1999
RE: 08-09 skybox 3-blaster break w/ scan
Sweet Break Man!!! Sweet Rose!!!
01-08-2013, 09:19 AM
cweiland
Member


Posts: 1,351
Joined: May 2005
RE: 08-09 skybox 3-blaster break w/ scan
Yeah, nice love that Rose. Thanks for sharing.
---
Currently collecting anything and everything Mike Trout. Also have a small PC of Bo Jackson. My life would be complete if I could find a 1998 Leaf Rookies and Stars Troy Glaus RC to complete my set.
01-10-2013, 04:07 PM
RE: 08-09 skybox 3-blaster break w/ scan
Nice rose
---


STAN MIKITA CUP FOUNDATIONS
MATT SMABY CUP PRINTING PLATES

BUCKET LINK
User(s) browsing this thread: 1 Guest(s)