Share Thread:
Does it bother you when???
01-05-2013, 07:18 PM
taffster74
Sr. Member


Posts: 3,143
Joined: Sep 2002
RE: Does it bother you when???
In which case, every upper deck-owned release from 2007-08 to 2009-10 will set you back about 300 cards.
---



Collect Patrick Ewing, Jalen Rose, Kevin Garnett, LaMarcus Aldridge, Jeff Green

if you have less than 25 trades, I will ask you to send first.
01-06-2013, 10:35 PM
RE: Does it bother you when???
It's like Panini putting the wrong teams jersey on Dominique Wilkins HOF Class card... doesn't make since.. the card says he played for the Jazz, which he was drafted by them, but never played a single game, since Jazz had no money to pay him, therefore traded him to Atlantic Hawks very fast... creating one of the most lopsided trades in NBA history...
I wrote a thread about it before..
I do agree with the combinations of players on "draft team cards" ... but putting players together that never played together, not even on the same team... don't make sense..
now, if two people played for the same team, but different eras.. that is good.. if both players are in the same team jersey.. like Kobe/shaqin lakers uniforms.... but a card with kobe/shaq, with shaq in a Magic's jersey.. now that is wrong.. even though they played against each other.. they were not actually playing against each other 1 on 1.. since they play different positions...
I love the Magic - Bird duo cards... brings back lots of memories...
if a card has a player in a certain team jersey, then the jersey patch should be from the same color jersey... not, a player pictures in a "home" jersey, then patch be of an "away" jersey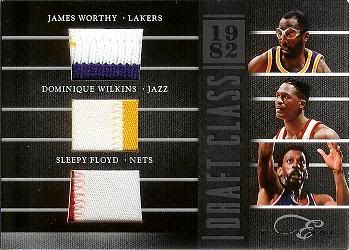 ---
NEED: SPA 08-09 "CITY NAME LETTERS" G, E, S 1/1 & /3 *ALL LAKAERS
NEED: ELITE BLACK BOX LAKERS AUTOS (KAREEM/10 & BAYLOR/24)
MY BUCKETT: http://photobucket.com/jpleazme
*United States Navy*
01-07-2013, 02:35 AM
briankort
Member


Posts: 1,096
Joined: May 2011
RE: Does it bother you when???
Thanks for all the comments. I know everyone is different and some things they like and others they don't. I am just saying the guys at the crd companies should spend a little extra time thinking before just putting any old players together on cards. And then when they do put them on cards make sure the team they play with and show on the card, matches the jersey they put on the card as well.
---
ebayID Brian60187 - Collecting PSA 10 RC's
http://s1238.photobucket.com/user/brianl...ll%20Trade
User(s) browsing this thread: 1 Guest(s)