Share Thread:
2011 Topps Magic print runs
12-30-2012, 10:28 PM
(This post was last modified: 12-30-2012 10:32 PM by joe callahan13.)
2011 Topps Magic print runs
I finally found the JJ Watt 2011 Topps Magic auto I needed. It is listed in Beckett as an SP, but I haven't been able to find the print run anywhere. I very rarely see them come up and I had to pay far more than BV to get it as a result. :-( I can't decide if it is so rare because it is a very short print or if it is just because it is a short print and they are still in Topps warehouses since no one bought that train wreck of a product. Maybe both?! Anyway, has anyone seen where they ever released print runs like they did with the 2010 set?
---

(Thanks to phinzphan1372 for sig!)

Always looking for Arian Foster, Josh Hamilton, and Walter Payton
Click HERE to see my bucket!
12-31-2012, 12:12 AM
jdetter23
Sr. Member


Posts: 4,250
Joined: Apr 2011
RE: 2011 Topps Magic print runs
Just be glad you picked it up. His BVs haven't went up yet but will after his ridiculous season. These things are hard to find now unless u wanna pay more than the original price of the packs. The autos of the sp's are rare, like him and AJ Green. Topps didn't release a print run saying they are numbered to 15 or something like in 2010 but just understand they aren't very easy to find.
---
http://sportscardalbum.com/u/jdetter23
12-31-2012, 01:58 AM
RE: 2011 Topps Magic print runs
I think they labeled it as an SP due to its scarcity in the population from auction sites and card shows. If you think JJ Watt is rare, try searching for Jacquizz Rodgers
Only recent one was when his name was mispelled as "Jacuizz" (-q). I've only EVER seen 3 of the autos since Magic came out, and I own 2 of them.
I'M waiting for a released print run as well
---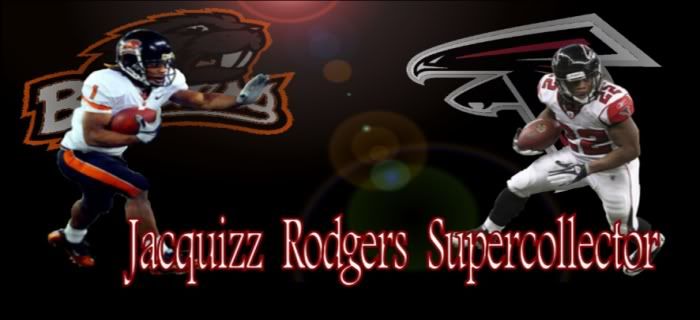 Jacquizz PC


Total = (259/354) 73%


Total minus 1/1 = (236/252) 94%
12-31-2012, 07:40 AM
RE: 2011 Topps Magic print runs
i still think your sig image is my favorite one I've done so far
---
PC - Dolphins, Daniel Thomas, Parker, Ajayi, Jordan, Landry & Phins 1/1's
User(s) browsing this thread: 1 Guest(s)