Share Thread:
LCS Pickups! Sanders, Spiller, Watt, Favre
12-29-2012, 04:23 PM
Socrkd55
Member


Posts: 1,119
Joined: Sep 2012
LCS Pickups! Sanders, Spiller, Watt, Favre
So me and my dad figured out that the LCS by our house is a complete joke...incredibly high prices and he doesnt trust anybody so he doesnt let you look around. You basically have to tell him the exact thing you are looking for and thats all you can look at. So we decided to make the 40 minute drive to one that we had heard was amazing. Turns out it definetly was...lol. He had deals on EVERYTHING! My dad got 240 cards for his 1960 topps baseball set (only spent $35), my brother got 4 cards for his peyton manning PC, one of which was a rookie, for $22 total and i ended up with these for a crisp $20 bill
(also bought a few baseball cards as well)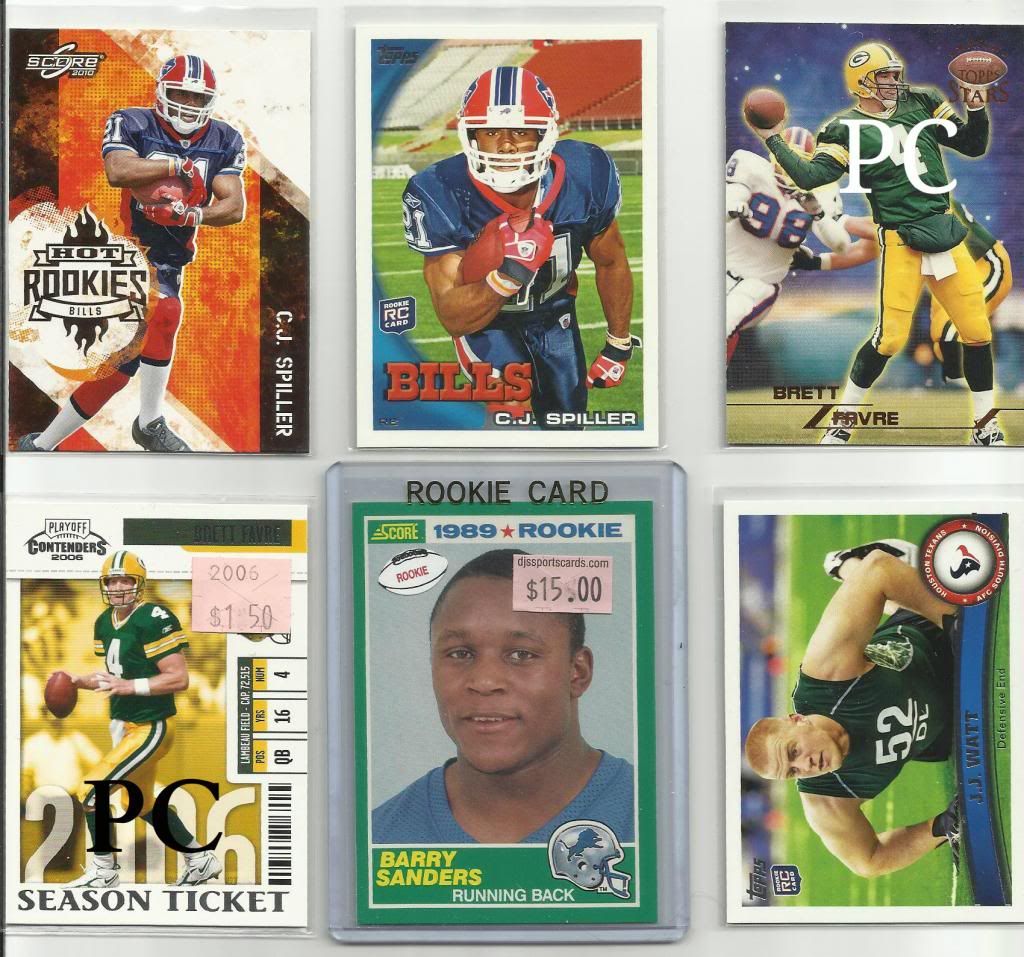 Centering is off on the Sanders but other than that its in amazing condition
sending that bad boy off to get graded. Kicking myself for not buying the Troy Aikman score rookie as well so im headed back to get it (he wants $8 lol).
Oh, and dont pay attention to the price stickers. Everything was 65% off
The Spillers and the Watt are FT/FS but im holding off on the sanders till its graded and the Favres' are for my GFs PC.
---


RC - 16/29
Auto - 39/213
Mem - 2/9
1/1s - 7
Total -89/476 / 18%
12-29-2012, 04:27 PM
jfrench91
Sr. Member


Posts: 3,655
Joined: Mar 2010
RE: LCS Pickups! Sanders, Spiller, Watt, Favre
nice pick ups.. like the sanders. looks pretty good condition too!
---

Collecting Terrell Owens,Tom Brady,Peyton Manning, Josh Hamilton, Alex Smith
If you don't have any HIGH end cards, please don't try to acquire one of mine. Thank you.
12-30-2012, 06:53 AM
nineof
Sr. Member


Posts: 7,880
Joined: Sep 2008
RE: LCS Pickups! Sanders, Spiller, Watt, Favre
Nice pickups.
---
Currently collect: NON-SERIAL NUMBERED autos, Topps, and Topps Chrome cards of players in Bengals uniforms.
12-30-2012, 01:35 PM
Socrkd55
Member


Posts: 1,119
Joined: Sep 2012
RE: LCS Pickups! Sanders, Spiller, Watt, Favre
Thanks! Aikman is in the mail as we speak, should be here by tuesday
---


RC - 16/29
Auto - 39/213
Mem - 2/9
1/1s - 7
Total -89/476 / 18%
User(s) browsing this thread: 1 Guest(s)