Share Thread:
12-29-2012, 03:27 AM
(This post was last modified: 12-29-2012 03:48 AM by swirly1007.)
Blaster crazy today 2012
I was in Toys R Us looking for cards today and they had a buy 1 box get second 50% off special. So I did some post holiday shopping. Nothing spectacular but some good solid cards.
Boxes Bought
Worlds Greatest Chase Baseball Babe Ruth (this was the biggest waste of money ever......... DO NOT BUY)
2012 Topps Cereal Box (5 retail packs 2 Heritage Hobby packs)
2011 Topps Update Hanger Box
2012 Allen & Ginter Blaster
2012 Bowman Blaster
2008 Upper Deck Spectrum Blaster
Enjoy.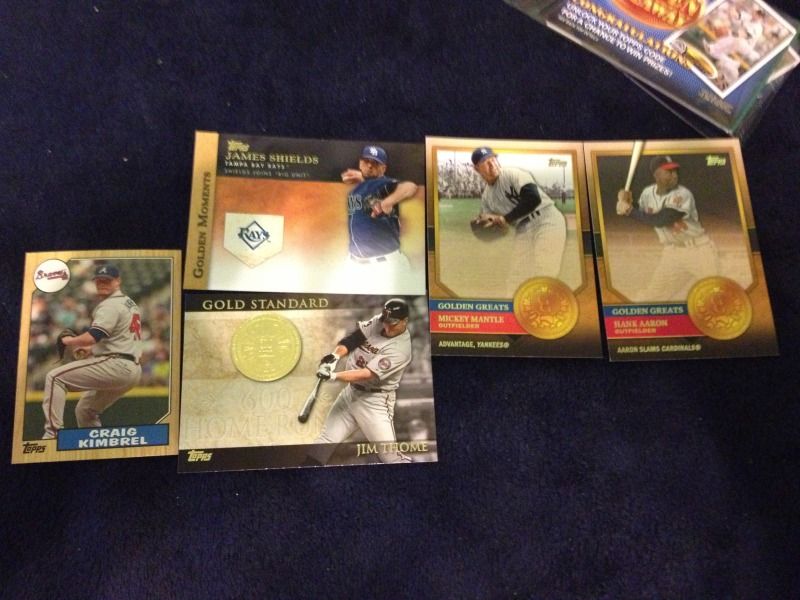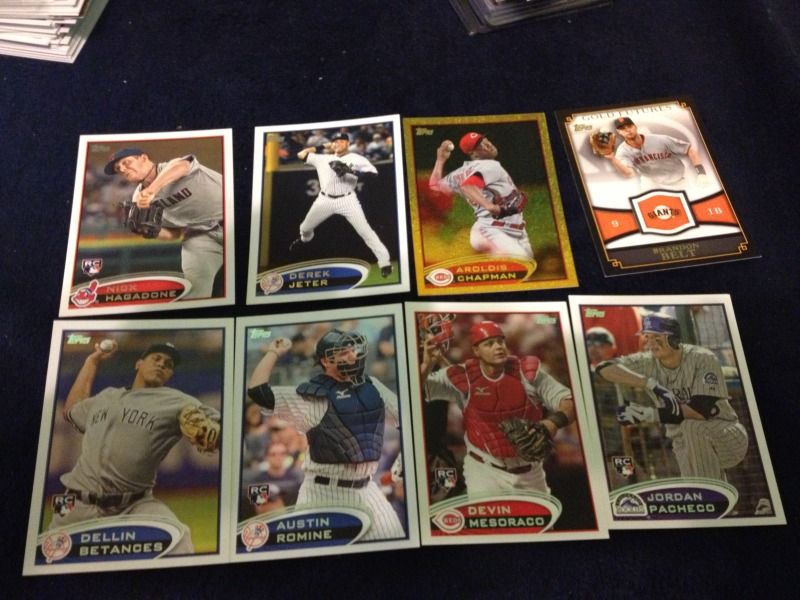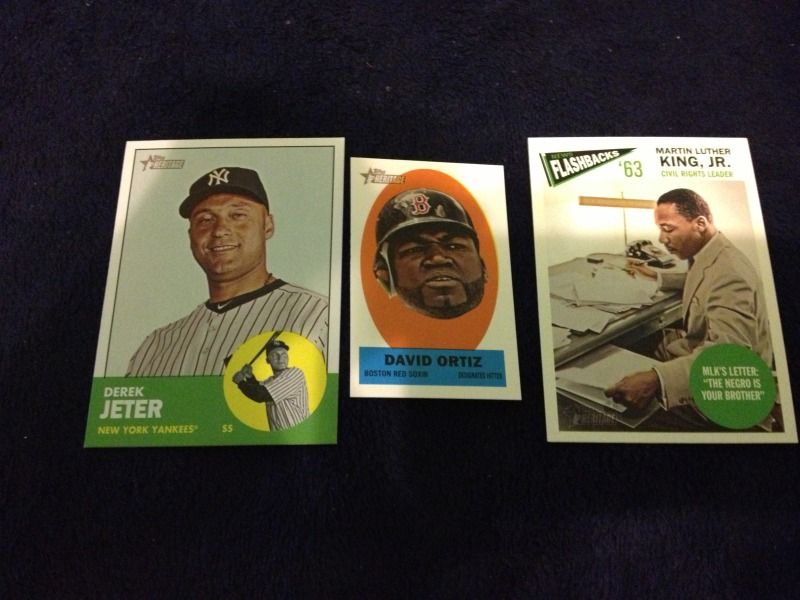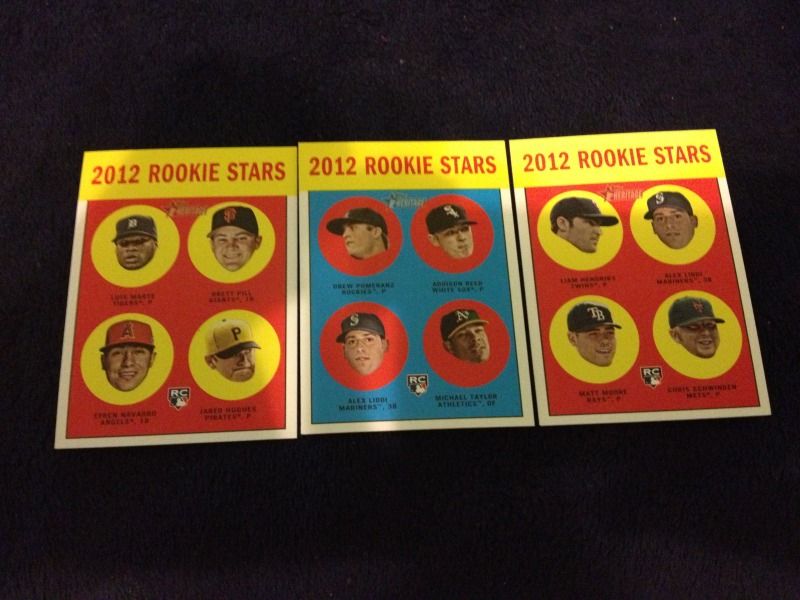 ---
and some more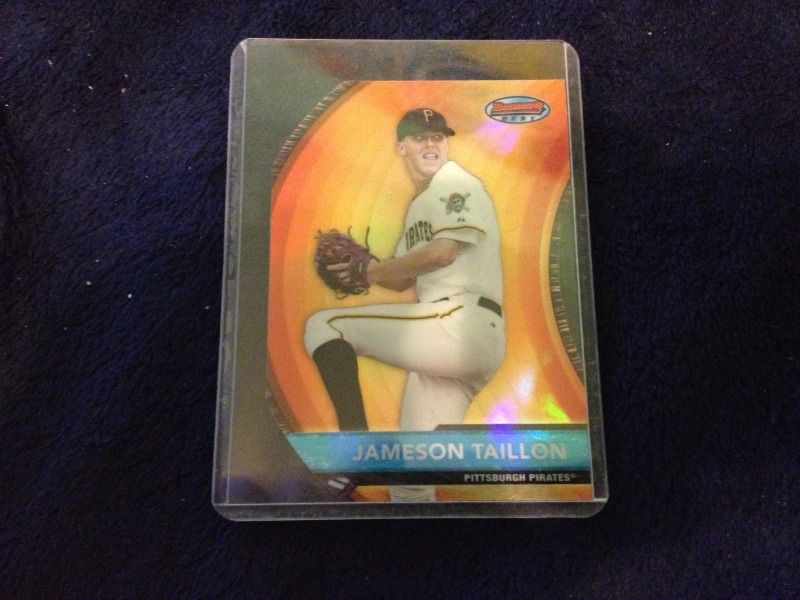 12-29-2012, 09:19 AM
RE: Blaster crazy today 2012
damn I brought my kids to Toys R Us last night but didn't look at cards cause I know how expensive they are there. Probably a good thing I didn't know about the sale... not a bad haul at all
---
take a look at my organize, I have something you like...


12-29-2012, 10:30 AM
stera8
Member


Posts: 794
Joined: Jul 2012
RE: Blaster crazy today 2012
How much was the bowman blaster? My toys r us wanted 35$!
---


COLLECTING ALL JOEY GALLO AND ADDISON RUSSELL !!!
12-29-2012, 11:12 AM
cweiland
Member


Posts: 1,311
Joined: May 2005
RE: Blaster crazy today 2012
Those are great pulls. Our Toys R Us closed last year. Until then I did buy a few boxes here and there when I had the urge.
---
Currently collecting anything and everything Mike Trout. Also have a small PC of Bo Jackson. My life would be complete if I could find a 1998 Leaf Rookies and Stars Troy Glaus RC to complete my set. That is the only card I need, and I have been looking for it since 1998!!!!!!!!!!!
12-29-2012, 11:16 AM
niener82
Member


Posts: 1,354
Joined: Jan 2004
RE: Blaster crazy today 2012
Nice pull on the Trout RC!
---


Looking for 2012 & 2013 Topps inserts and sp's

My bucket
12-29-2012, 11:57 AM
uvaspina
Member


Posts: 2,041
Joined: Sep 2011
RE: Blaster crazy today 2012
At the Toys R Us near my house they were selling 2012 blasters for like $27 or $29. Crazy! Never seen them for more than $19.99
---

Always looking for Verlander, Cabrera, Maybin, Mike Stanton (marlins), and Avisail Garcia.
*TRYING TO COMPLETE MY VERLANDER ROOKIE COLLECTION. 44/47. ONLY 3 TO GO!*
12-29-2012, 02:46 PM
RE: Blaster crazy today 2012
Woa! Great blaster pulls!
---


I collect Dirk Hayhurst.
Thank you jbel4331 for the banner!
12-29-2012, 07:50 PM
RE: Blaster crazy today 2012
They tend to be pretty expensive there for cards but with the 50% deal it actually came out cheeper then Wallmart/Target plus they often have random boxes from 2010 and 2011 so it is a good place to check. I would never pay Toys R Us retail for boxes as they are way over priced.
User(s) browsing this thread: