Share Thread:
12-27-2012, 10:03 PM
98rda
New Member


Posts: 13
Joined: May 2004
Strata case break
So I got my case of Strata today and here's what i got.
base rookies of notables- 9 lucks, 9 Martins, 9 Tannehills, 7 RG3s, & Richardsons, 9 Foles and 7 R. Wilsons
numbered parallels- D. Wilson /150, R Wilson 150, Fleener /99, Quick /99, Jeffery /99 and a Blackmon /10
Die cuts- Luck, Tannehill, Turbin, AJ Jenkins, N. Toon, Weeden, L. James, D. Allen, S. Hill, Jeffery, Quick, Givens
Reg. Relics- M. Floyd x2 /150, S. hill /296, Foles /99, Broyles /296, Turbin /296, Posey /150, Criner /296, Weeden /150
Patches- Hillman /41 Blackmon /41, Posey /65
Auto's- Hillman, Jermaine Kearse, Travis Benjamin, D. Poe, M. Kalil, Keenum, J. Adams /150, D. Still x3 one numbered /75, M. Barron redemption var.
Clear cuts-Turbin, Hillman, Fleener, J. Wright, TJ Graham, Broyles, Toon, and a B. Pierce Redemption
Clear Cut patches- Pead /55 Posey /55, and a Foles red /30
Signature relic- Turbin 40/40
The Posey Clear Cut patch is sick looking has parts of both numbers from the shoulder on it sucks it wasn't a better player.
The Blackmon patch is nice also has part of the Jag. on it
Here's a link to my PB showing the patches and Case hit
http://s1160.photobucket.com/albums/q497...7e2ce6.jpg
12-28-2012, 12:51 AM
biglump007
Sr. Member


Posts: 6,181
Joined: Jan 2011
RE: Strata case break
Not bad, didn't know D Poe was in this product
---



Tyson Jackson
Total Cards - 469/638 - 74 %
Autos - 164/249 - 66 %
Mems - 221/280 - 79 %
RC - 38/38 - 100 %
1/1s - 21
Total Tyson Jackson Cards Including Dupes 641
12-28-2012, 12:55 AM
gjhobbs
Member


Posts: 1,377
Joined: Aug 2012
RE: Strata case break
If you wanna move that turbine let me know.. I'm interested
---


http://s274.beta.photobucket.com/user/bu...de%20items - click link for photobucket

DO NOT TRADE LIST:

FREDDYLOVESSHAUNA
12-28-2012, 05:11 AM
ndevoy
Jr. Member


Posts: 448
Joined: Apr 2008
RE: Strata case break
Some nice pulls in there! Very interested in the Blackmons
---
Always willing to trade for Dwyane Wade/Alonzo Mourning Cards
12-28-2012, 02:34 PM
kct1
Sr. Member


Posts: 2,876
Joined: Apr 1999
RE: Strata case break
Those are some sweet looking Patches...
12-28-2012, 03:43 PM
RE: Strata case break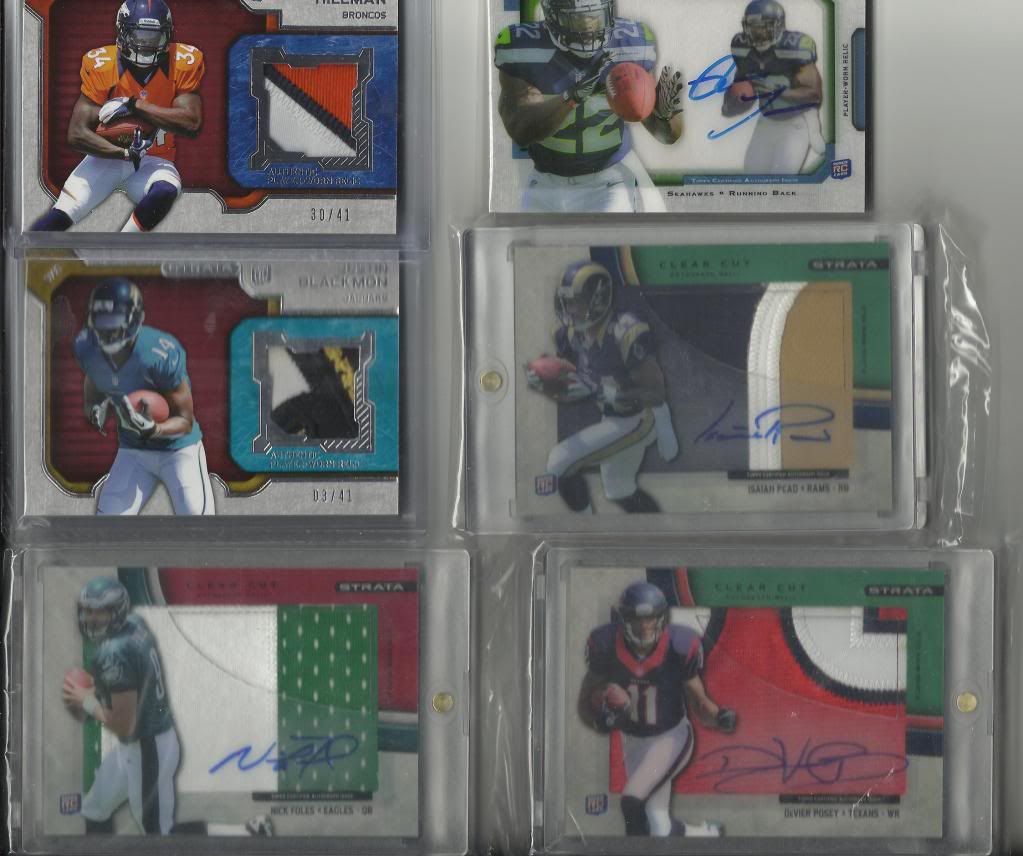 There ya go. Some really sweet stuff there!
---

Atlanta Braves (Heyward, Beachy), Dallas Cowboys (Dez, Claiborne), Iowa Hawkeyes, Georgia Bulldogs (AJ Green), collecting them all!

Bucket: http://s1075.photobucket.com/albums/w430...r%20Trade/
12-28-2012, 05:57 PM
gjpoll1
Member


Posts: 893
Joined: Jul 2002
RE: Strata case break
Interested in trying to trade for some of the rookies, plmk.
---
Looking for all types of rookie cards. Only trade with a d/c #. If you have less than 25 trades you must ship first. Thanks.




Banner Thanks to CoolBrees.
01-04-2013, 02:44 PM
RE: Strata case break
Sick blackmon patch
---


STAN MIKITA CUP FOUNDATIONS
MATT SMABY CUP PRINTING PLATES

BUCKET LINK
User(s) browsing this thread: 1 Guest(s)