Share Thread:
12-27-2012, 12:30 AM
aktlingit
Jr. Member


Posts: 419
Joined: Sep 2011
2012 Bowman Sterling
I got a box for myself for Christmas.

Pretty disheartening break, but it got a touch better today, not much, just a touch.

Zero color autographs. Yep. Zero. Some ok players but to get zero color is just a horrible experience.

1 gold /50 base card. Yep. That's it. Everything else in this box was base. No inserts/subsets either.

Oh, and to top it off, pulled a redemption for a David Vidal BSAP-DV. Nevermind I already got a David Vidal BSAP-DV in the box... Went to enter it online yesterday, code not valid. Needless to say I was pretty pissed.

Didn't get a chance to call today and complain, but out of curiosity I went back to the site to redeem the card a few minutes ago and it at least now redeemed the card. Lists it as Prospect Autograph of David Vidal so I'm pretty sure it really is going to be just a second copy of the card I already got in the box but I'm holding out a small hope that they screwed up the redemption and maybe it'll be a numbered auto of his. Curious why it was a redemption though, his auto is actually on card (not all are in this set) so it's not like they ran out of stickers...did he get carpal tunnel signing and have to schedule another session?? lol

I doubt I'll ever buy another box of Sterling...unless you go with the theory that there is no way any other box I buy of it could be that bad.
---
AKTlingit's Collections on Tumblr
12-27-2012, 09:33 AM
anagel
New Member


Posts: 16
Joined: Jan 2000
RE: 2012 Bowman Sterling
I also had a box that was just as bad that I opened for Christmas.
But, I also had a box coming from BO that I never would have bought if I knew how bad it could get.
That box came yesterday and again I had no color, and base autos except for this: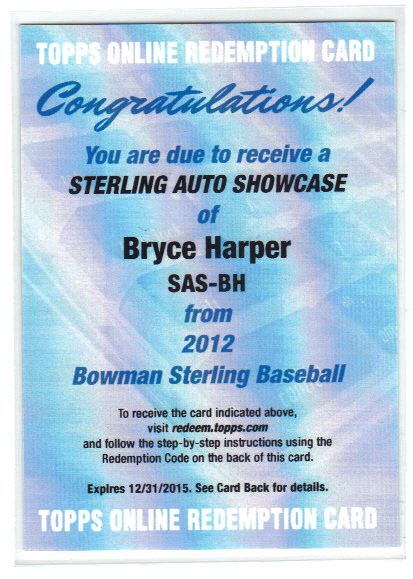 Yes, it will be numbered to 25 and have a Sterling Silver frame.
I do feel better now.
12-27-2012, 08:26 PM
RE: 2012 Bowman Sterling
Sorry to hear about the bad break, especially for what Sterling costs.
---


I collect Dirk Hayhurst.
Thank you jbel4331 for the banner!
User(s) browsing this thread: 1 Guest(s)