Share Thread:
MJ Collectors: What's your focus and why?
12-18-2012, 09:23 AM
RE: MJ Collectors: What's your focus and why?
My MJ collection goals have changed over the years. Originally I tried to have a well balanced PC, with a bit of everything Autos/GU/Parallels and some of his 90s inserts. I had a pretty nice PC but it got to the point where I couldn't afford what I wanted anymore, so I shifted my PC to BGS on-card autos. I was lucky enough to pick up a few 90s autos before they exploded! I currently sit at 23 autos, several that I've gotten graded myself. I pick up new ones when I find something that I like, and when I see something that I like that's a bit out of my budget, I sell one of my others to use towards better ones.
---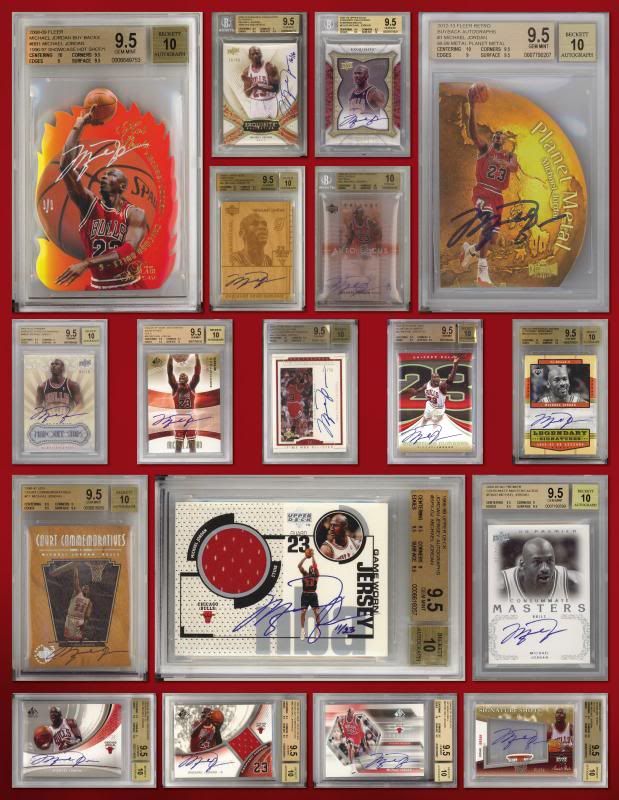 12-18-2012, 04:04 PM
RE: MJ Collectors: What's your focus and why?
(12-18-2012 03:03 AM)

hegotgame1515 Wrote: Hey Jun, You always make sense and 99% of the time your right on the money with your view on the entire MJ market!
I respect your opinion and always enjoy reading what you have to say,not only that, i'm on your site more then ever now, but i do miss seeing all the other inserts that you had up(cheaper ones) and oh PLEASE move the PMG sales to the bottom of the page!!!
Now, back on topic....
Maybe you overlook one simple thing.....
That is....
95% of the market can't afford to drop $5k+ per card on these limited numbered inserts you mention....
So i think that the mid-end $100-$850 90's inserts will always be the cards that change hands the most, with the rare low numbered cards, only changing hands when a very select few come along and buy them....
I agree about the pop of most of them exploding over past year or two, but i think most people would still feel better droping $500 on a $500 BV card when its graded BGS 9.5....
I never pay full BV on cards unless the card is described as MINT+ to GEM-MINT....
I have no issue paying a little extra for BGS 9.5's even if the pop is over 20!
I feel its worth it, simply because i want my cards in mint+ or better..
I can't stand paying good money on cards discribed as "MINT" only to be disappointed in their condition!
However,
If BGS continue to drop their grading standards, then i may rethink my hobby future!
Also,
I have noticed that new collector's from the Jordan era, that get back into the hobby, start with early 90's inserts that they had as a kid, then they move onto the same cards but in BGS 9.5 form, but after that, they all seem to move toward the mid-late 90's inserts and those guy's are the people that will continue to keep the drive for 90's BGS 9.5's alive...
MJ auto's are everywhere but they will always be sort after just like his rookie cards...
Now these are some rare UN-numbered inserts that get overlooked, with insane odds, I have the set of 10(ungraded) and just got these 1/1 pop BGS 10 Pristine.....( got them for a steal! )
Enjoy, Gary
Thanks Gary. Appreciate the kind words as always. I will take your advice and move the PMG sales to the bottom and keep the new Jordan market sales on the top.
And you're right. I'd ALWAYS rather have a BGS 9.5 insert but I'm just a bit hesitant now to pay the high premium especially with so much shady stuff going on in the grading business. I just can't trust it anymore. All this trimming business too. I mean... a BGS 8.5 card just turned into a BGS 9.5 when NOTHING has changed. Still blows my mind how many people keep re-submitting the same cards until they are happy with the results.
There are always risks of buying raw ungraded cards with it being dinged or not in the condition you want it... but I always ask for better/clearer pictures of both front and back Hi-Res. Most of the time, they come in exactly the same condition as I pictured it and at half the cost of a Gem Mint copy too. I've been surprised plenty of times to find the ungraded card I receive in MINT to GEM MINT condition. Better than what I usually expect. I've gotten a few graded myself and came back a Gem Mint so the investment was a lot better than starting off purchasing a graded Gem Mint card at a much higher price.
I agree with you about the high end vs mid end cards. Most of the market will always participate in the low/mid ends. High Ends have a smaller group that participates but that's where the BIG money get's thrown around. I guess instead of purchasing and selling a bunch of mid end cards, selling one BIG ticket item always yielded the most profit for me. It was the easiest too as it was just one card at a time and potentially thousands could be made in just one transaction. I'd have to sell a bunch of mid-end cards at a good profit margin on each one to be able to make a few thousand profit. It's just a lot more work and time to do that. That's one of the reasons why I chose to focus on the really high end ones. And I was pleasantly surprised to find quite a lot of collectors around the world that are willing to spend $5k+ on high end Jordan cards. So they're definitely out there and always looking for those specific cards.
BTW, those Hologrfx Jordans are sweet! They do have incredibly high odds and look fantastic in the light too.
---
http://www.Rare23Air83.com
User(s) browsing this thread: 1 Guest(s)