Share Thread:
12-16-2012, 09:32 PM
Crisstyjo
New Member


Posts: 12
Joined: Dec 2012
Error cards
Hello! :-)
I was looking thru my cards and found an error. I am new to the online stuff and was wondering if anyone could tell me where to look to see if it is a new error (unfound) or if there is a really good updated list of error cards?
the card is a Topps Gold Josh Beckett and the error is regarding the wins and innings pitched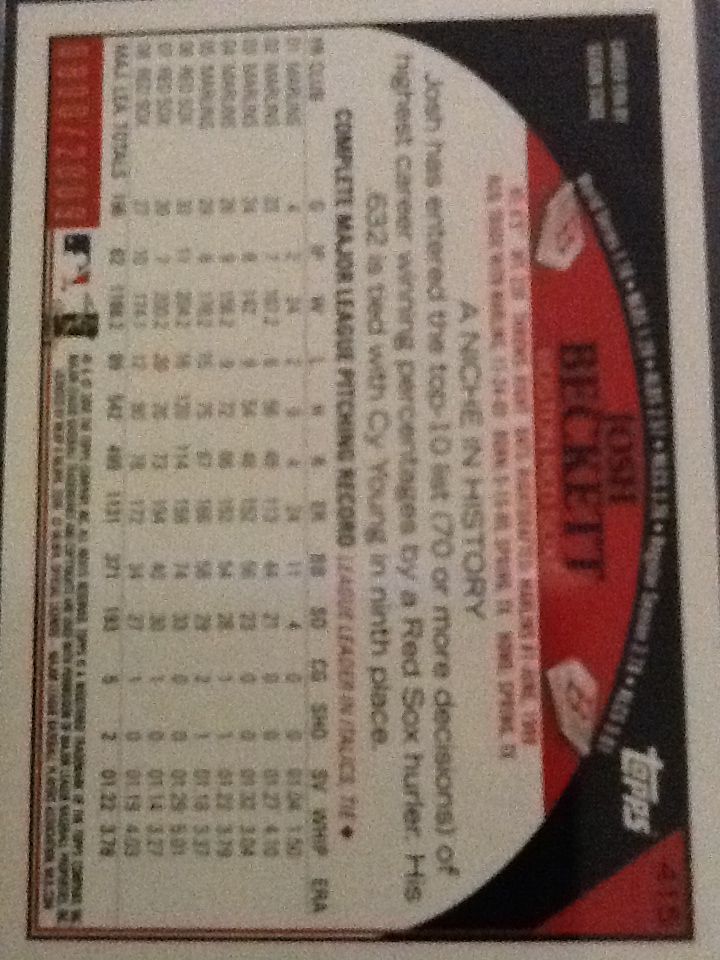 Thanks a head of time for all the help!
12-16-2012, 10:38 PM
RE: Error cards
Not worth more than it would be corrected as they are all that way.
---


I collect Dirk Hayhurst.
Thank you jbel4331 for the banner!
12-17-2012, 10:00 AM
aktlingit
Jr. Member


Posts: 419
Joined: Sep 2011
RE: Error cards
Searching Beckett this card is not marked as an ERR so it would appear all print runs of that card contain the error. In fact, 2009 Topps, 2009 Topps Gold, and perhaps 2009 Topps Chrome (I couldn't confirm this one in 5 minutes and didn't try harder lol) all contain the same error.
Google "2009 Topps Josh Beckett error" and you'll find several hits describing the error such as this one:
http://www.thebenchtrading.com/showthrea...kett-error
I know it's a lot of work but it would be nice if all known error cards were marked with ERR (corrected error) or UER (uncorrected error) like you see a lot of the older cards were:
http://www.beckett.com/search/?term=1989+score+uer
---
AKTlingit's Collections on Tumblr
12-17-2012, 11:53 AM
Crisstyjo
New Member


Posts: 12
Joined: Dec 2012
RE: Error cards
Thank you both
User(s) browsing this thread: 1 Guest(s)