Share Thread:
Box Break Part 1 11-12 Pinnacle
11-22-2012, 02:24 PM
Box Break Part 1 11-12 Pinnacle
Hello Beckett Community!
I am pleased to say that I was able to get a few boxes at a discount price and have a mom who loves me. Haha! First, 1 box of Pinnacle, here's the hits:
Milan Lucic Breakthrough (NFT)
David Backes Breakthrough
Keith Yandle Breakthrough
Claude Giroux/Jarome Iginla Team Pinnacle
Marty McSorley Tough Times
Alex Ovechkin Revolution (NFT)
Maxime Macenauer RC
Henrik Zetterberg Rink Collection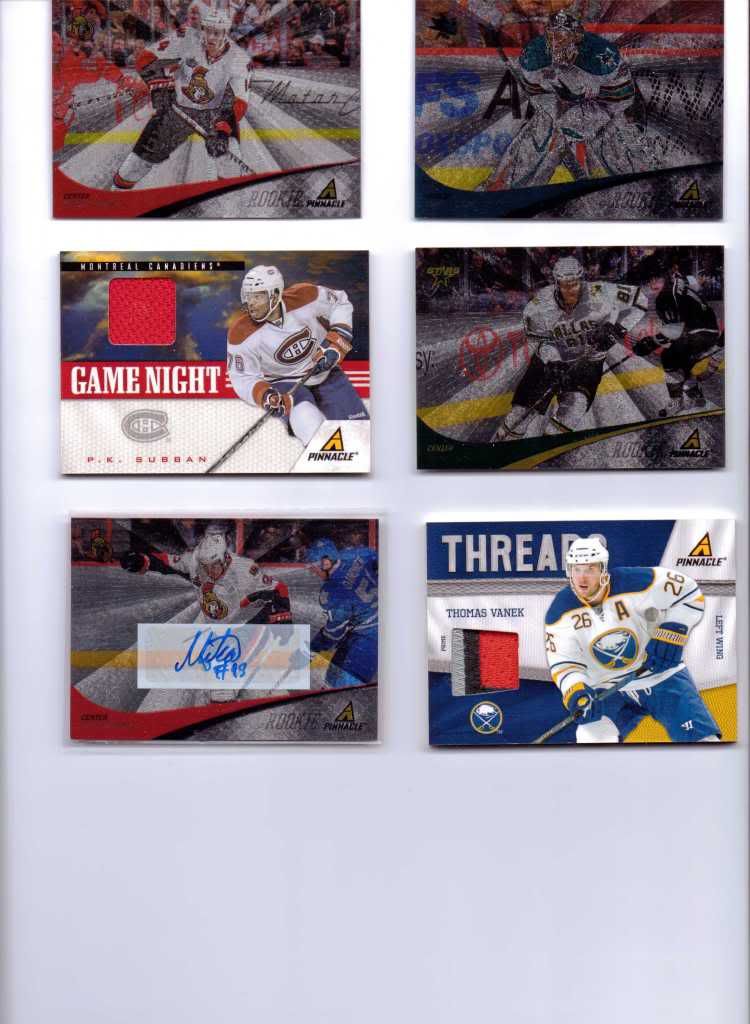 Harri Sateri RC
Tomas Vincour RC
Colin Greening RC
P.K. Subban Game Night Jersey
Thomas Vanek Patch (old Sabres jersey) 32/50
Mika Zibanejad RC Auto
Not too bad a box. All are FS but are FT only for PC players.
-Ashley
---



http://s624.photobucket.com/home/Bloodinmyeyez82

My Collection Website:

http://www.offthepipe.weebly.com
11-23-2012, 06:49 AM
rayeates
Moderator


Posts: 6,612
Joined: Mar 2010
RE: Box Break Part 1 11-12 Pinnacle
Nice hits, Ash! Glad to see that you were able to snare some stuff to break!

Randi
11-23-2012, 12:34 PM
RE: Box Break Part 1 11-12 Pinnacle
Sweet patch
---


STAN MIKITA CUP FOUNDATIONS
MATT SMABY CUP PRINTING PLATES

BUCKET LINK
11-23-2012, 06:14 PM
bonnev659
Sr. Member


Posts: 9,099
Joined: May 1997
RE: Box Break Part 1 11-12 Pinnacle
welcome back Ashley and very nice hits

congrats
---
using tracking numbers (all US and some Can)
User(s) browsing this thread: 1 Guest(s)