Share Thread:
11-19-2012, 12:02 AM
hlc1949
Member


Posts: 528
Joined: Dec 2002
1957 Topps Pick-up
Thought I'd share my latest pick-up. Earl Lloyd was the first African American to play in the NBA, October 1950. The 1957 Topps is his RC.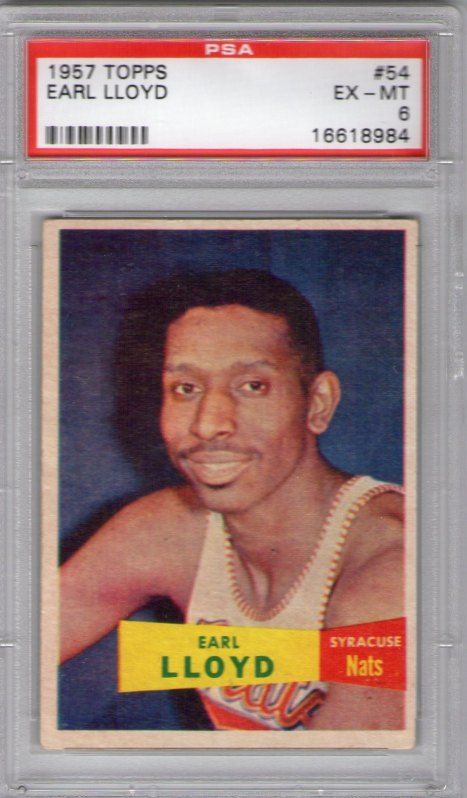 11-20-2012, 09:39 AM
RE: 1957 Topps Pick-up
Good looking card! Ive recently started a vintage kick of my own. Just picked up my first set in a trade here and looking for more
---
Players I Collect:



[/URL]

Henderson Auto PC Stats:
Non 1/1's Autos: 193/202 95.5%
1/1's: 22/37 59.5%
Jersey #'d - 65
12-12-2013, 01:12 AM
RE: 1957 Topps Pick-up
I have picked a few of these up. I will do the set once im done with the 1953 Bowman color set. I plan on doing both in nothing but PSA 5 NQ.
---

WHO-DEY
11-10-2014, 08:46 PM
altz11
Member


Posts: 700
Joined: Oct 2011
RE: 1957 Topps Pick-up
Very cool! Its nice to see the cards of players who had a significant meaning to their sport (besides being talented).
02-01-2015, 10:38 AM
jonathani
Member


Posts: 2,453
Joined: May 2003
RE: 1957 Topps Pick-up
Nice pick-up. You win with that grade.
---
I appreciate Chicago players that begin competing with the city's sports organizations in whichever league they play and stay with their teams through their careers.
User(s) browsing this thread: 1 Guest(s)