Share Thread:
3 box break and show pick-ups from Chicago Show last night
11-17-2012, 11:11 AM
rvelligan
Jr. Member


Posts: 418
Joined: Aug 2007
3 box break and show pick-ups from Chicago Show last night
Never been to the Expo, but I will soon. Attended the Chicago Sun-Times Show last night in Rosemont. Hockey is scarce, but dealers selling it had plenty of deals. Onward to the scans.......
First box 2010-11 Pinnacle Blaster
Rink Collection Duchene
Team Pinnacle Mike Richards / Pavel Datsyuk
Chemistry on Canvas Steve Stamkos / Martin St Louis
Alex Urbom RC
Threads Steve Downie /499
Second box 2011-12 Pinnacle
Rookies - Matt Frattin, Justin Faulk, Zac Rinaldo, Erik Gudbranson
Rink Collection David Booth
Tough Times Wendel Clark
Breakthrough - Jeff Skinner, James Van Riemsdyk, Loui Eriksson
Team Pinnacle Corey Perry / Martin St Louis
Game Night Jersey Zac Dalpe
Threads Corey Perry
Black Jonathan Toews
Game Night Auto Marc-Andre Fleury
Thrid Box 2011-12 Score
RC - Adam Henrique
RC SP - Matt Read
Gold Matt Stajan
Black Travis Moen
Score B Alex Ovechkin
Franchise Daniel Alfredsson
Making an Entrance - Alex Ovechkin, Joe Thornton, Marc-Andre Fleury
RC not pictured
Bouma, Nemisz, Kubalik, Sceviour, Hartikainen, Palushaj, Geoffrion, Katic, Campanale, Greening, Condra, Wick, Da Costa, Strait, Talbot, Klingberg, Colborne
Inserts not pictured
Net Cam - Crawford, Quick, Reimer
Sudden Death - Ovechkin, Stamkos
First Goal - Fowler
Playoff Heroes - J Thornton
Now for the show pickups.......
2002-03 UD Piece of History Tribute to Greatness Bobby Orr /2999
(2) 2009-10 Ultimate Collection Booby Orr /399
2002-03 Upper Deck Superstars Gold Henrik Zetterberg /250
2009-10 Upper Deck Ice Glacial Graphs Jamie Benn
2011-12 Upper Deck Clear Cut Red Kelly /100
2006-07 ITG Heroes & Prospects Autograph Al Montoya
2011-12 Black Diamond Dual Jersey Zdeno Chara
2007-08 Be A Player Auto Shea Weber
2011-12 Upper Deck YG Tim Erixon
Upper Deck Exclusives /100
06-07 Turgeon, Nagy
08-09 Nylander
09-10 Shelley, PM Bouchard, Penner
10-11 Fleischmann, McClement, Moulson
UD Exclusives /100
08-09 Ellis
10-11 Clowe, Gorges, Handzus, Tyutin, Visnovsky
11-12 Clarkson
2010-11 Donruss Die Cut Chris Mason /30
2011-12 Elite Gold Status Jimmy Howard /99
Canuck cards
1993-94 Stadium Club 1st Day Issue #323 Sergio Momesso
2003-04 Pacific Prism Jersey Brendan Morrison /685
1995-96 Upper Deck Electric Ice #214 Pavel Bure
1970-71 Topps Pat Quinn
2009-10 The Cup Roberto Luongo /249
2009-10 SPA SP Essentials Luongo /1999
Last cards for my PC
2011-12 Luxury Suite Jsy / Stick Saku Koivu
2011-12 Limited Stanley Cup Autos - Scott Gomez /99, JS Giguere /100
Everything not PC is available.
Thanks for looking.
11-17-2012, 11:42 AM
rayeates
Moderator


Posts: 6,611
Joined: Mar 2010
RE: 3 box break and show pick-ups from Chicago Show last night
You snared some very cool stuff! Congrats!

Randi
11-17-2012, 12:22 PM
mq13
Member


Posts: 2,285
Joined: Sep 1999
RE: 3 box break and show pick-ups from Chicago Show last night
Not bad for a show with not too much hockey. I'd be interested in the Red KElly card if it is for trade.
---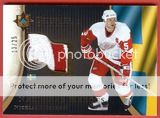 Collecting; Flyers-Red Wings-Brodeur-Cujo-Hasek-Shanahan, 04-05 Franchises Memorabilia
11-17-2012, 02:18 PM
washjeff
Jr. Member


Posts: 379
Joined: Oct 2012
RE: 3 box break and show pick-ups from Chicago Show last night
wow i would love those fleury cards for my pc. shoot me an offer.
---
11-17-2012, 04:01 PM
RE: 3 box break and show pick-ups from Chicago Show last night
Nice stuff
---


STAN MIKITA CUP FOUNDATIONS
MATT SMABY CUP PRINTING PLATES

BUCKET LINK
11-17-2012, 07:41 PM
bonnev659
Sr. Member


Posts: 9,097
Joined: May 1997
RE: 3 box break and show pick-ups from Chicago Show last night
some sweet cards there

national will be in chi town this year i think
---
using tracking numbers (all US and some Can)
User(s) browsing this thread: 1 Guest(s)