Share Thread:
11-10-2012, 01:04 AM
(This post was last modified: 11-10-2012 01:13 AM by jplarson.)
jplarson
Member


Posts: 1,565
Joined: Sep 2007
2 Boxes of Topps Finest
I like the design of the base set and the refractors make better sense this year than they did in 2011.
Box 1
47 of 150 - 31.3% of set
Rookies - Kirk Cousins, Chris Rainey, Rueben Randle, Nick Toon, Brian Quick, Justin Blackmon, Coby Fleener, Jarius Wright, Luke Kuechly, DeVier Posey, Ryen Broyles, Matt Kalil
Refractors - Patrick Willis, Peyton Manning, Rob Gronkowski, LaMichael James (RC)
Xfractors - LeSean McCoy, Mohamed Sanu (RC)
Blue Refractors - Jason Pierre-Paul 59/99
Finest Moment - Blaine Gabbert, Colt McCoy
Finest Atomic Rookie - Brock Osweiler, Nick Toon
Auto Jersey - Chris Givens 890/1368
Auto Patch Yellow Refractor - Jarius Wright 10/75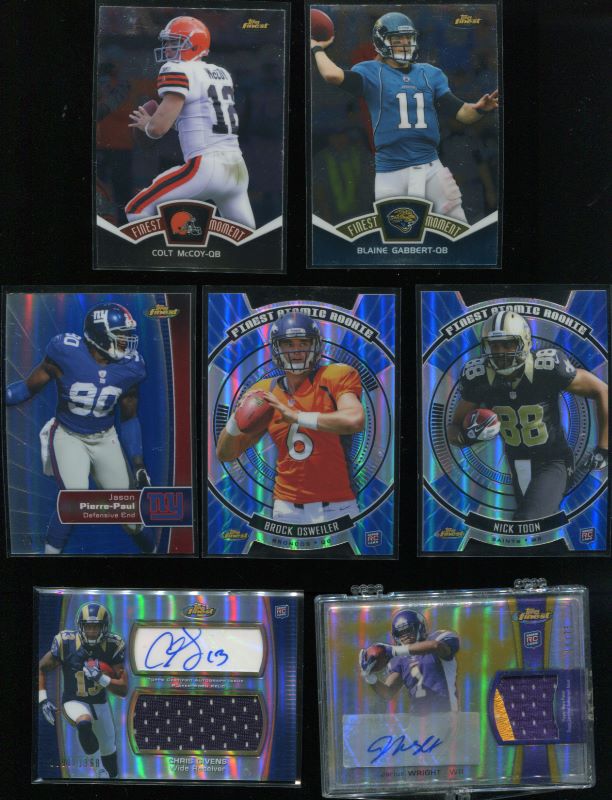 Box 2
47 of 150 - 31.3% of set
Rookies - Brock Osweiler, Brandon Weeden, Isaiah Pead, LaMichael James, Cyrus Grey, Kendal Wright, Alshon Jeffery, Trent Richardson, Joe Adams, Juron Criner, Vick Ballard, Robert Turbin
Refractors - Mike Wallace, Ryan Mathews, Matthew Stafford, Alshon Jeffery (RC)
Xfractors - Cam Newton, Joe Flacco
Pulsar Refractor - Josh Freeman 3/10
Finest Moment - Drew Brees, Mark Ingram
Finest Atomic Rookie - Andrew Luck, Stephen Hill
Auto Jersey - Michael Egnew 638/1368
Auto Patch - Chris Givens 1334/1353
Looking to complete the base set and I'm unlikely to move the Luck at the moment, thanks!
Update: I noticed that I didn't get one dupe when combing both boxes, nice!
---


2000 Absolute Leather & Laces | Blog | 1999 Finest
11-10-2012, 12:01 PM
jplarson
Member


Posts: 1,565
Joined: Sep 2007
RE: 2 Boxes of Topps Finest
pm sent
---


2000 Absolute Leather & Laces | Blog | 1999 Finest
User(s) browsing this thread: 1 Guest(s)