Share Thread:
Your best (or worst) trade ever
11-02-2012, 11:31 PM
RE: Your best (or worst) trade ever
trading a 2003 Pros and Prospects Drew Brees auto for a few Braves auto's for my collection, bad thing is none of them really panned out. Really wish I had that one back.
---

Braves certified auto count: 114 different players
HOF auto collection: 10 players
Looking for Braves auto's of current and former players.
11-02-2012, 11:44 PM
rjcj2017
Sr. Member


Posts: 5,850
Joined: Nov 2011
RE: Your best (or worst) trade ever
(11-01-2012 11:05 PM)

stera8 Wrote: karma haha never trade your own team

---

as for my best/worst

I was trying to complete the Allen and Ginter set... last card I needed was lets say $3...

I traded away 33$ worth of A&G SP cards...womp
The only reason I did it was that I already had a Miggy auto through their Autographs for a Cause fundraiser ... basically, for $20, you could send in any card and he would sign it, with a LOA from the team. It went up to $40 this year, no telling what it will be next year after the Triple Crown LOL
I sent in a 2010 Bowman Chrome base card and asked him to sign it in blue Sharpie. It really pops off the card.
Of course, that ALWAYS happens to me ... I buy an auto and then pull one.
Last summer I shelled out $400 for a Bryce Harper redemption for his base Bowman auto, then a couple of months later I pulled this out of a blaster ...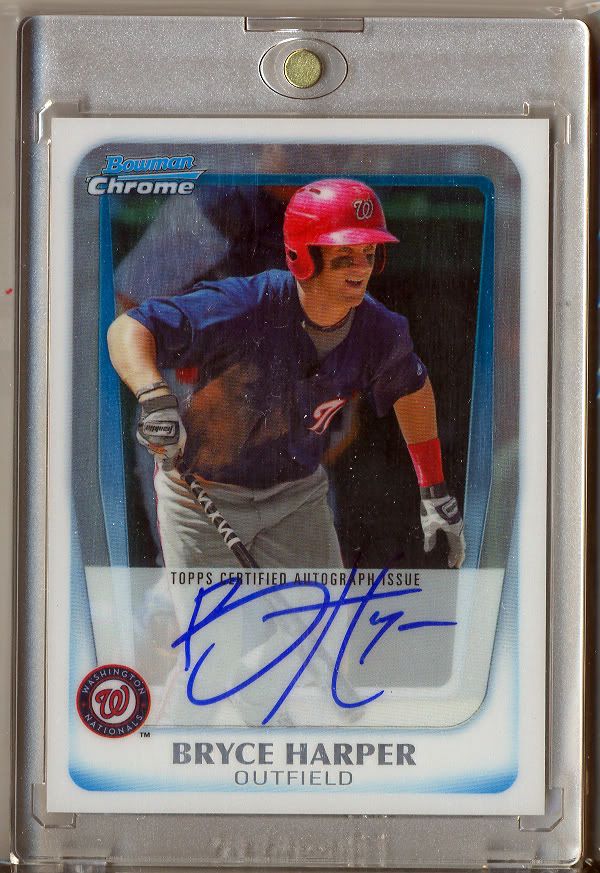 Refractor auto, 341/500 ...
User(s) browsing this thread: 1 Guest(s)