Share Thread:
1 Box of 2012-13 Artifacts
10-20-2012, 09:14 AM
dlcarst
Member


Posts: 526
Joined: Apr 2011
1 Box of 2012-13 Artifacts
I'm mostly a baseball collector, but hockey is my favorite sport so I like to bust some hockey on occasion. Last year I loved this product and only bought 8 or so loose packs, didn't even pull anything exciting but I loved the look of the cards and loved what others were pulling. I had to buy a box this year: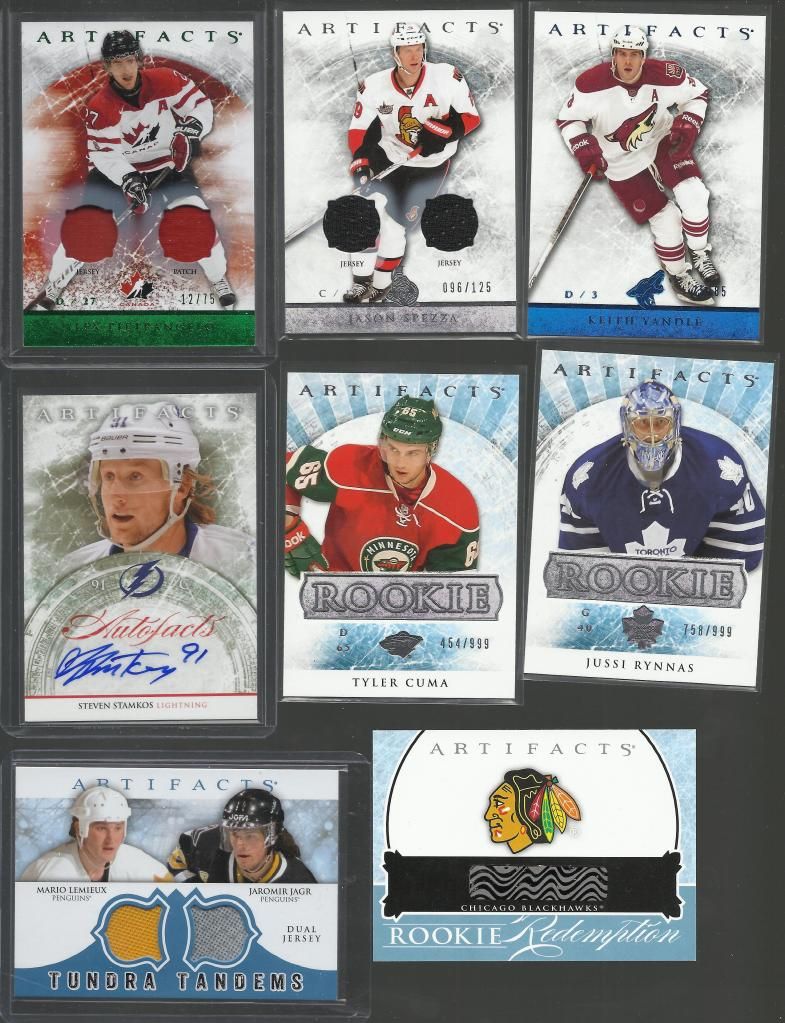 Since the names are tough to read, from left to right: Alex Pietrangelo Patch, Jason Spezza jersey, Keith Yandle Blue Parallel #d/85, Steven Stamkos auto, and at the bottom Lemieux/Jagr dual jersey.
I'm a Blues fan, so the Pietrangelo is a nice PC card, though obviously I'd prefer a Blues jersey. And it is inevitable that I pull some Blackhawks hit, parallel, or something, I always do. I was happy to get Stamkos, and also can't go wrong with Lemieux and Jagr. Nothing spectacular, but a nice PC card, a solid auto, and a nice dual jersey, seems like a solid box. Nothing is for trade at the moment, except I'd consider trading Pietrangelo for a Blues patch. The others will likely be for sale. I really love the base set and I'd like to build it, if anyone who busted a lot of this has a bunch of base, rookies, and Canada cards that they'd be willing to sell for cheap, please let me know, I think it's a great design. Thanks for looking!
Dan
---


Always collecting Ozzie Smith!
10-20-2012, 09:53 AM
RE: 1 Box of 2012-13 Artifacts
Nice stamkos dan pm sent
---


STAN MIKITA CUP FOUNDATIONS
MATT SMABY CUP PRINTING PLATES

BUCKET LINK
10-20-2012, 03:32 PM
RE: 1 Box of 2012-13 Artifacts
I also thought last year's Artifacts were amazing. This is is very very nice but last year was absurd. Anyways, I like your box and congrats on the AlexP hit...the only way the break could've been better is multicolor on the patch.
---
LOGAN COUTURE | MARTIN ST. LOUIS | JEREMY ROENICK | JONATHAN TOEWS
Malkin | Iginla | Datsyuk | Kane | Larionov | Thornton | Fedorov


(Link) Gimme Your: 09-10 SP Authentic | 09-10 Ice | 07-08 O-Pee-Chee
10-20-2012, 03:49 PM
washjeff
Jr. Member


Posts: 379
Joined: Oct 2012
RE: 1 Box of 2012-13 Artifacts
i'd love to get that lemieux/jagr off of you, pm me!
---
10-21-2012, 08:40 AM
rayeates
Moderator


Posts: 6,594
Joined: Mar 2010
RE: 1 Box of 2012-13 Artifacts
Awesome box break! Congrats!

Randi
10-28-2012, 05:30 AM
bonnev659
Sr. Member


Posts: 9,099
Joined: May 1997
RE: 1 Box of 2012-13 Artifacts
you did very well for the box

you should get some nice PC in return for a few of your bigger hits
---
using tracking numbers (all US and some Can)
User(s) browsing this thread: 1 Guest(s)