Share Thread:
Experienced opinions needed!
10-15-2012, 02:25 PM
TBarn291
Member


Posts: 2,448
Joined: Feb 2012
Experienced opinions needed!
So awhile ago I did a search on Photobucket for Michael Olowokandi and found pictures of some extremely rare cards. Infact I believe it is his most valuable card which is the 1998-99 SPx Finite Radiance #ed to 25. The guy who had the pic also has the pic for his 1998-99 Fleer Brilliants 24K Gold RC #ed to 24. I messaged him and at the time he had no interest in parting with them. Apparently he collects those two sets (Amazing collection of 98-99 Spectrums and 24K Golds) ANYWAYS, he messages me today and says hes giving it up because it's to difficult to collect in Austria where he's from. He wants $350 for the two cards.... That is A LOT for Olowokandi but I've never come across these two before and probably never will again. For those of you who collect players that don't have high BVs would you pay $100 extra for two of the players most valuable cards? I'm torn right now, I'd really like to keep going with the Jordans I've started picking up.... I just don't know, any opinions?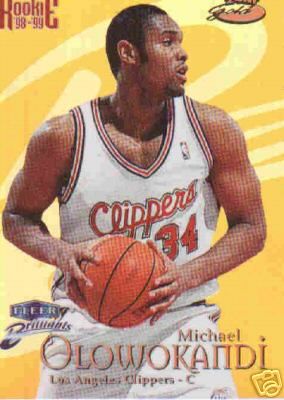 ---
10-15-2012, 04:00 PM
RE: Experienced opinions needed!
hard to say... I am not familiar with that player, but I do like those two sets that the cards talked about are from...

If it was me, I would not pay that much... maybe $10-20 over BV, because they are scarce, but not much more than that... I didn't check BV.. so not sure how valuable they are according to Beckett... but with them being hard to find... it is even more hard to decide to buy them or not.... maybe, if they were for a trade.. then give a premium & trade in their favor...

but remember, if you ever want to sell those two cards in the future (for any reason).. you will more likely get the money you paid for them...

Thanks for sharing the pics & background story on those two cards.. hopefully, other collectors can locate cards that they been looking for... through other picture/image websites... I found a couple Bynum & Farmar SPA 08-09 letter/patches that way, but the collectors never responded to the comments I left... not sure if they seen them or not... anyways, good luck !!

If you want those cards that bad.. I'd recommend BV & maybe a cost of shipping...
---
NEED: SPA 08-09 "CITY NAME LETTERS" G, E, S 1/1 & /3 *ALL LAKAERS
NEED: ELITE BLACK BOX LAKERS AUTOS (KAREEM/10 & BAYLOR/24)
MY BUCKETT: http://photobucket.com/jpleazme
*United States Navy*
10-15-2012, 04:39 PM
jonathani
Member


Posts: 2,402
Joined: May 2003
RE: Experienced opinions needed!
One hundred dollars over book? Maybe if I need those two to nail down a collection. Otherwise, I would really have to think about it. I do not have $350 lying around that I would not miss, though. If you do, go get them and enjoy them.
---
I appreciate Chicago players that begin their careers with the city's sports organizations in whichever league they play and stay with their teams through the temptation of free agency.
10-15-2012, 04:52 PM
(This post was last modified: 10-15-2012 04:57 PM by TBarn291.)
TBarn291
Member


Posts: 2,448
Joined: Feb 2012
RE: Experienced opinions needed!
Thanks for the responses guys. JPleazme I saw you were in a similar situation not to long ago what was your outcome? It is so hard to say whether or not it is worth it. These are two cards I have looked for since I started his collection back in 1998. Unfortunately Olowokandis story is not a good one. He is considered to be one of the top 5 most disappointing #1 draft picks, but I started collecting him when he first came out and with the decrease in his cards value, I was able to pick up a majority of his cards cheap.
Jonathani, yes it is outrageously overpriced, it makes it even harder because I do have the money I could spend, but thats $350 I could put towards buying my first Jordan Auto... or tons of other great cards.... I just started collecting again in February and have been trying to amass a collection of great cards to trade and sell. So I'd really like to pick up some nice Jordans or Kobes to trade/sell. I just don't know..... thanks for the thoughts guys!
---
Also, JPleazme I found lots of cards I needed by doing the Photobucket search, most people didn't respond to the comments I left, but quite a few did. Most of the ones that did weren't interested in trading/selling, but I found a few who were. I actually got a deal going with a guy right now for the 1999-00 Topps Gold Label Red Label Class 1 Olowokandi, the guy collects Red Labels but was willing to trade it to me if I bought him a more expensive one to replace it. I found one in the marketplace that books like $15 more for $30, just waiting to buy it and do the trade.
10-15-2012, 05:40 PM
buckunteer
Sr. Member


Posts: 3,286
Joined: Jun 2010
RE: Experienced opinions needed!
First off, I do not have that kind of budget anyways, so my argument is moot!

That said, I wouldn't do it. I collect Mitch Richmond and a lot of his stuff can be had very affordably, which is the point. I picked up a $25 parallel for $.99 on the 'bay, as well as a $60 auto for $4.50. That's the appeal in collecting someone other than MJ is that I can get nice stuff affordably.

Those are two exceptionally tough cards to get to be sure, but 40% over high BV is crazy. I'd offer somewhere close to high bv, stay firm. Odds are few others are collecting those sets or Olowokandi so he'll have to take your offer or nothing at all.
---
I collect Michael Jordan, Mitch Richmond, and Ohio State players (football and basketball) in OSU gear. I strongly prefer 90's-era cards and use newer cards primarily for trade bait!



10-15-2012, 06:26 PM
TBarn291
Member


Posts: 2,448
Joined: Feb 2012
RE: Experienced opinions needed!
Hey buckunteer! It's funny you'd bring up Mitch Richmond, I have been trying to get his preferred red auto for awhile now and every one seems to want a ridiculous amount for it. There is one on ebay right now with a BIN of like $55 or BO. I offered 20 and he countered with $37. I like Mitch Richmond but if I could just find one starting at .99 I know I could get it for like 10-15. There is one on COMC for $18. I'll probably end up getting that one. But back to the topic if you could get the most valuable Richmond in his whole collection would that make a difference? Most of Kandimans rare cards I get super cheap. The most Ive ever spent on one was $135 for the 1998-99 Stadium Club Co-Signer with Vince Carter. That and the 1999-00 Dominion 2 Pt play Warp Tek with Shaq are the only two I've ever paid over $100 for. This could be a once in a lifetime opportunity as far as my PC is concerned. I really do NOT want to spend that money...... but whats the point of trying to collect a player if you have an opportunity to get his "best" card and turn it down. It kind of feels like if I turn down this offer I might as well give up Olowokandi cards. The seller is not very reasonable as far as negotiating. I offered him $250 which is still outrageous but it's like he could care less whether I buy it or not. I am not a fan of dealing with overseas collectors. Especially ones with money because they seem to be so unreasonable.
User(s) browsing this thread: 1 Guest(s)