Share Thread:
10-14-2012, 04:07 PM
stera8
Member


Posts: 794
Joined: Jul 2012
RE: Ok, I'm done
(10-14-2012 09:01 AM)

jacobystealshome Wrote: oh for god's sake, no it isnt. he's an old player with multiple championships. i wont even bother with comparing this to real tragedies, so let's keep it within the baseball sphere: a prospect coming up and getting hurt before he can make an impact or make a good living...that's a tragedy. Tony C getting beaned in the eye was a tragedy. dave dravecky coming back from cancer only to have his arm break while pitching in his comeback was a tragedy. ryan westmoreland is a tragedy



the fact is this:

The stress of moving more than 2 steps to jeter's left for the first time in a decade was simply too much for his body to take

he has had a great career. he'll most likely be ready for spring training. he has won multiple times.

there are hundreds of injuries every year. almost none of them are tragedies. and that includes jeter

im sorry he got hurt - one of the few modern yankees i begrudgingly respect (along with mariano). id rather see the tigers beat the yankees with jeter, so yankee fans wouldnt be able to use it as an excuse
Sorry for using the word tragedy, I meant it in baseball terms not real life.
Jeter was one of few who were hitting and consistent this year. Also he is the leader so with him getting hurt the morale goes down
I apologize if I offended you by saying tragedy
---


COLLECTING ALL JOEY GALLO AND ADDISON RUSSELL !!!
10-14-2012, 07:27 PM
RE: Ok, I'm done
(10-14-2012 07:58 AM)

stera8 Wrote: Jeter getting hurt is a tragedy, not just because he was batting well but just being the soul of the team. As for replacing him, I would assume they will put Nunez (activating him to be on the roster) at SS. Giradi said in the post game interview that Alex wouldn't be a viable option at the position because it has been so long.

This is Arod's time to step up and shine. He has become a better teammate and this is just his time. He is my least favorite yankee but he will always get blamed for his attitude but you can see he has changed. It is just annoying so much money and he is doing horribly. As you said, same with Granderson and Cano.

I drove my girlfriend home in the 8th (luckily I got back for the 9th) but John Sterling on the radio brought up a good point. Alex got replaced because their is Chavez who can hit but also he is a gold glove third baseman. You're not going to sub in Gardner or Nix in for Granderson or Cano unless you have to (which proved to be in the later innings)

What to do? Granderson needs to start getting on base...not even homeruns because those have been his only hits it seems.. He needs to run those bases. Cano just needs to be Cano. ARod needs to step up and lead. The first and second inning killed me (you must have been pulling your hair out at the game)

Lets just hope if/when batting turns around that pitching doesn't go sour.
Agree to some infinite percent.
---


I collect Dirk Hayhurst.
Thank you jbel4331 for the banner!
10-14-2012, 07:43 PM
mgruber2
Sr. Member


Posts: 5,949
Joined: Dec 2005
RE: Ok, I'm done
(10-14-2012 05:59 AM)

aprirr Wrote: I agree with the small ball concept. Cabrera is a liability at 3rd base that the Yankees need to exploit by dropping bunts down the line when anyone gets on. Can anyone actually bunt consistantly, though? Haven't seen too much of it from the Bombers.
I watch most of the Tiger games during the course of the season and while he may not be a Gold Glove 3rd baseman Cabrera is FAR from a liability!
---

Collecting Tigers, HOFers, Nolan Ryan and Will Clark.

**If you are not able use one penny sleeve per card when shipping your trades do not bother sending me any trade offers.**
10-14-2012, 10:24 PM
RE: Ok, I'm done
(10-14-2012 07:43 PM)

mgruber2 Wrote: I watch most of the Tiger games during the course of the season and while he may not be a Gold Glove 3rd baseman Cabrera is FAR from a liability!
Crap......I wish the Cubs had a "liability" like that at 3rd!!
---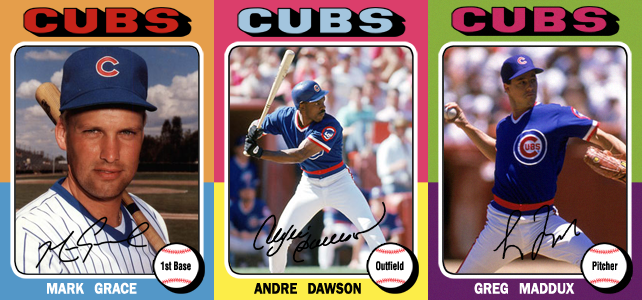 a big shout out to jbel4331 for the AWESOME '75 cards!!
PC:TRIBUTE & HERITAGE & CHROME.GRADED '75 TOPPS & VINTAGE
10-15-2012, 06:07 AM
RE: Ok, I'm done
Jeter getting injured and being out was the death knell to the Yankees season. The starters are doing awesome, but you can't pitch no hit shutouts every day against playoff teams; even the weakest record playoff team.

With the demise of Cano, Swisher, and Granderson trying to hit homeruns every at bat and Girardi refusing to reign them in and make them play some small ball in between, the Yankees are doomed. I think part of the problem is these crappy umpires and their inconsistent strike zones. (Before anyone says I am a Yankees whiner, I have noticed the same thing from umpires in every game I have watched in the playoffs!). The Yankees are patient hitters who rely on a consistent strike zone when they are up there. When the umpire is calling that ball over the opposite batters box a strike one minute and a ball the next and that low pitch a strike one time and a ball the next, the hitters just have no idea what to do except swing. The Tigers (and Orioles before) have taken advantage of that (especially the low pitch by starting the ball out over the heart of the plate and then dropping it down to that questionable strike zone or below) hence we swing at pitches we normally wouldn't swing at.

Yankee fans need to blame Cashman for the dumbest contract every given out ala Crap-Rod. We are now stuck with a washed up, old player who can't play anymore for the next 5 years unless A-Rod does something it he will never admit (he sucks and can't play anymore) and retire gracefully before making a bigger fool of himself in years to come. He couldn't even hit a fastball from a little league pitcher right now. He looks like he has no clue how to hit a baseball.

Swisher sealed his fate in this playoff run too and will no longer be a Yankee next year. I'm not even going to blame the pathetic horrible call at 2B in yesterday's game as more than likely if it was called correctly, we would have lost 1-0. Now Verlander will probably set a playoff KO record on Tuesday night and we will end up with a World Series with the 2 teams with the worst records of playoff contenders in there. Wasn't the new post season format supposed to eliminate this?
10-15-2012, 07:33 AM
RE: Ok, I'm done
Fire Girardi and Cashman
10-17-2012, 10:27 PM
RE: Ok, I'm done
It's about time the yankees had to deal with crap other teams have been dealing with for years. I hope they run off a string of under .500 seasons. Tired of hearing all yankee fans boohooing now that Jeter's hurt. Makes up for all the crap they talk all season long. The team leader's out and we can't win, cry me a river. Put Nunez at short, Jayson Nix at 3rd if you don't like Arod and Chavez. Girardi sucks as a manager anyway. Let him lead a team with no talent and he'd be gone in less than a season.

My guess is they would've lost to the Tigers anyway. They blew their wad against the O's. If the O's would've hit like they did the last week of the season, the Tigers would've had to play in Baltimore and the yanks would be fishing somewhere.

By the way, Not an O's fan, not a Tigers fan.....I just HATE the yankees! hahaha
---
10-19-2012, 12:11 AM
RE: Ok, I'm done
Bye-bye Yankees! I'm looking forward to a 2006 World Series Rematch.
Also, I can't wait to see what NYY and Boston do in the off-season. It should get interesting.
---
Always looking for: Ozzie Smith/Stan Musial/Lou Brock/STL Cardinals, NFL-CAR/GB/NE and NASCAR-Jimmie Johnson/Mark Martin

10-19-2012, 05:18 AM
RE: Ok, I'm done
The two teams with the worst records to make the playoffs are definitely going to be in the World Series now. I submit to Mr. Selig that his tweaks to the playoffs to avoid making it easy for the wild card or the worse teams to beat up the best record teams has failed. Time for another change next year!
10-20-2012, 01:52 PM
RE: Ok, I'm done
They like the money it creates at the the end of the season and during the playoffs. I'd like to see this:

No inter-league play
Just the two leagues, no divisions....old school baseball.
Top two teams play in the world series, no playoffs unless teams are tied at the top of their league.
Salary Cap plus profit sharing so every team has the ability to get any player.
Front office people will only win if they know what they are doing, not because they have deep pockets.

How would the Yankees finish if this were the case?
---
User(s) browsing this thread: 1 Guest(s)