Share Thread:
Rainbow Complete - SPX Style
10-10-2012, 12:32 AM
nickm1123
Sr. Member


Posts: 3,752
Joined: Jun 2009
Rainbow Complete - SPX Style
Finally completed this series of cards. It took me a long time to find the Gold card at a price I liked and graded. Happy to finally have all the cards. This is one of my favorite sets of all time! Enjoy!
---

10-10-2012, 12:40 AM
nba50
Jr. Member


Posts: 135
Joined: May 2004
RE: Rainbow Complete - SPX Style
Congrats on the completion, they look great! Is one of these serial numbered? I think there's one #'d to 50?
---
I am "THE" Elgin Baylor collector. Collecting basketball cards since 1992. You may know me from other places as "SportsItUpCards" or "Gio"

Collecting:

Elgin Baylor

NBA 50 Greatest GU

Basketball Legends GU

Steve Francis 1999-00 Rare cards #'d to 100 or less
10-10-2012, 01:11 AM
RE: Rainbow Complete - SPX Style
those are great looking cards, i love the design of that set. but what is the grand finale /50, ive never seen that card.
---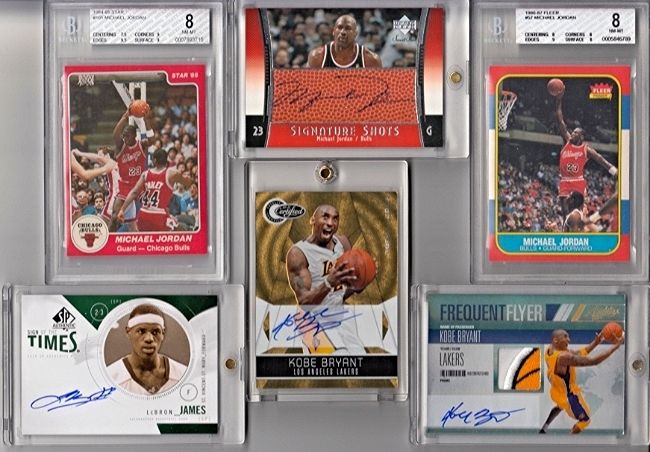 10-10-2012, 10:21 AM
RE: Rainbow Complete - SPX Style
Grand Finale will cost you a pretty penny. Just a little more gold on the front as compared to the Gold version and the all important /50 on the back :
---
Players I Collect:



[/URL]

Henderson Auto PC Stats:
Non 1/1's Autos: 193/202 95.5%
1/1's: 22/37 59.5%
Jersey #'d - 65
10-10-2012, 10:43 AM
kesscards
Jr. Member


Posts: 300
Joined: Aug 2003
RE: Rainbow Complete - SPX Style
By just looking at the front of the card, there is an easy way to tell the difference between the gold and the grand finale. If you look at the head shot in the bottom right quadrant of the card, the color of the background of the hologram is gold on the grand finale versus silver on the gold. For those who are interested in seeing what one looks like, there is a grand finale Kobe on the bay right now.

BTW, the color difference also holds for the baseball and football sets.
---
Collecting Doug Waechter (118/149), Jared Sandberg (107/125), 1994-95 BB Michael Jordan (69/89), 1977-1997 Eddie Murray (877/943), and Bo Jackson BB/FB 1986-1995 (447/486), 2007 Fleer Mini Gold (126/370). Only completing trades with something on my lists.
10-10-2012, 09:49 PM
nickm1123
Sr. Member


Posts: 3,752
Joined: Jun 2009
RE: Rainbow Complete - SPX Style
Ha ha boooo! You guys are right. I wasn't aware of the grand finale card but looked and there is one more card in this rainbow. Since it is a 90's card and /50 I doubt I will ever get it! Ha ha
---

User(s) browsing this thread: 1 Guest(s)