Share Thread:
Need some opinions, card show haul....
09-30-2012, 02:14 PM
Haze28
Member


Posts: 2,492
Joined: Jan 2012
Need some opinions, card show haul....
So I had a rough week at work logging almost 70 hours and since i'm salaried I don't get any kind of compensation for the extra hours, I ended up sleeping almost all day yesterday. I woke up really early this morning and was looking on some local websites and saw a little ad for a card show real close to home so I figured I would go out grab a cup of coffee and head over right when it opens to see if there was anything good.
After walking through about half of the show and bumping into a couple of acquaintances I came across a table that had a ton of 2012 Topps Chrome on it, kinda scattered without any method of the maddness so I started picking up piles and looking through trying to find refractors that I needed for a couple of rainbows I am attempting. The guy that owned the table came over as I was sorting through a pile of xfractors and asked me if I was putting the set together, I told him no, just the base set and a couple rainbows. He said he would cut me a hell of a deal on all of the xfractors if I would buy them all. I said I would think about it. Just then I noticed a card that looked a little different than the rest of the xfractors, I turned it over and this is what I saw-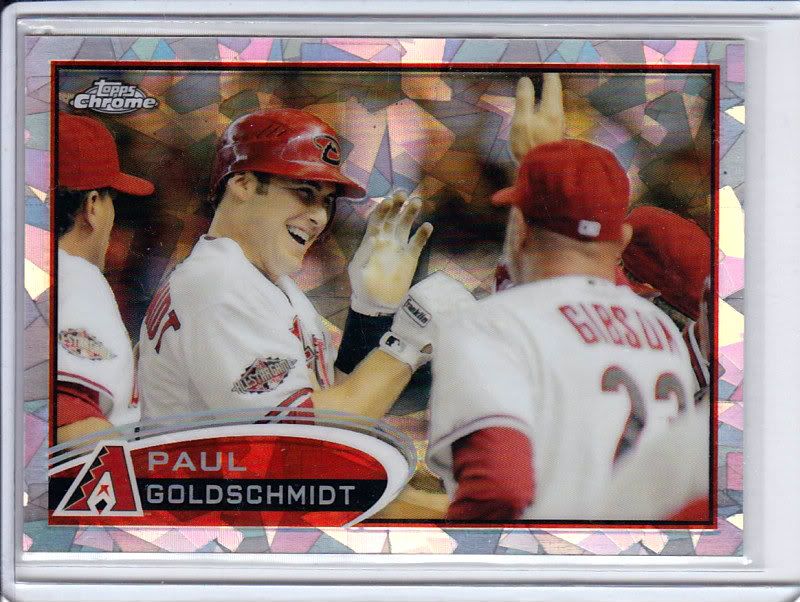 I couldn't believe that was sitting in a pile of penny sleeved "commons"! So I put it on top of the pile and asked the guy how much. He picked them up, made a quick sort through them counting them up(41 total) and says "How does 14 bucks sound? And if you make it an even 22 I'll throw in these 11 blues and 3 blacks."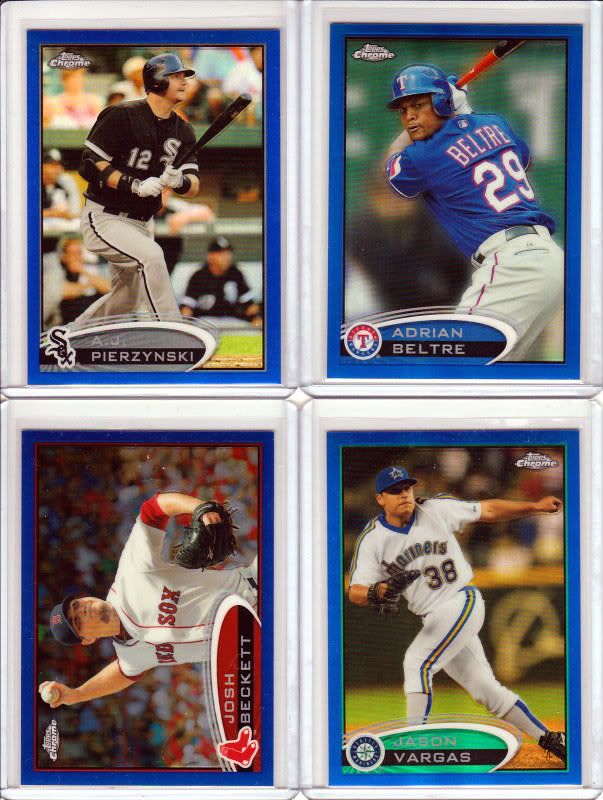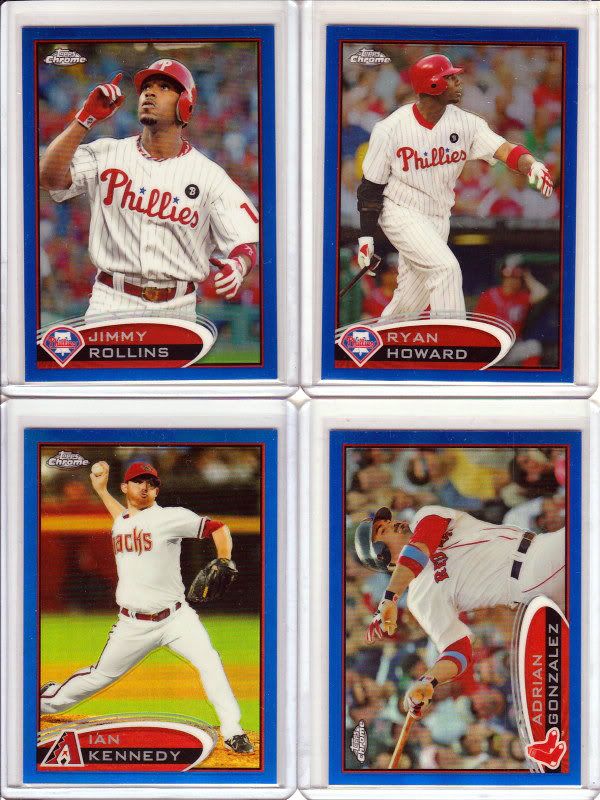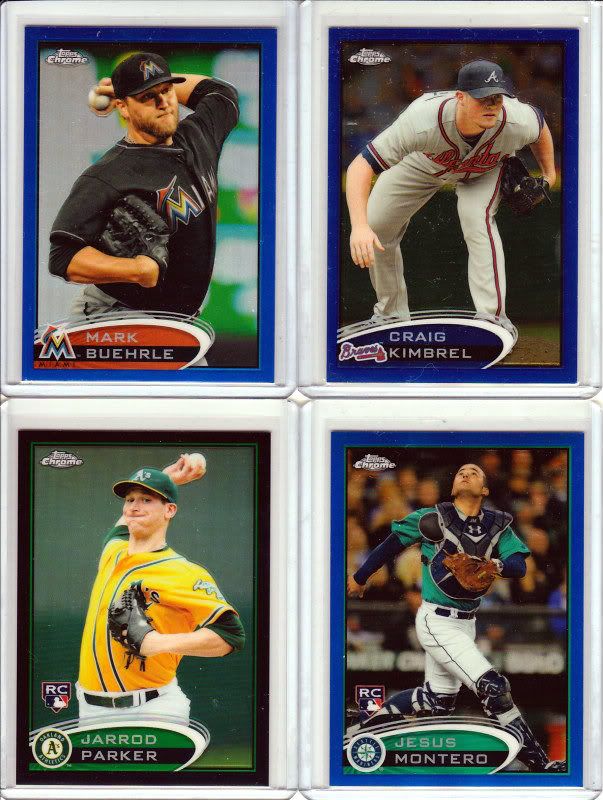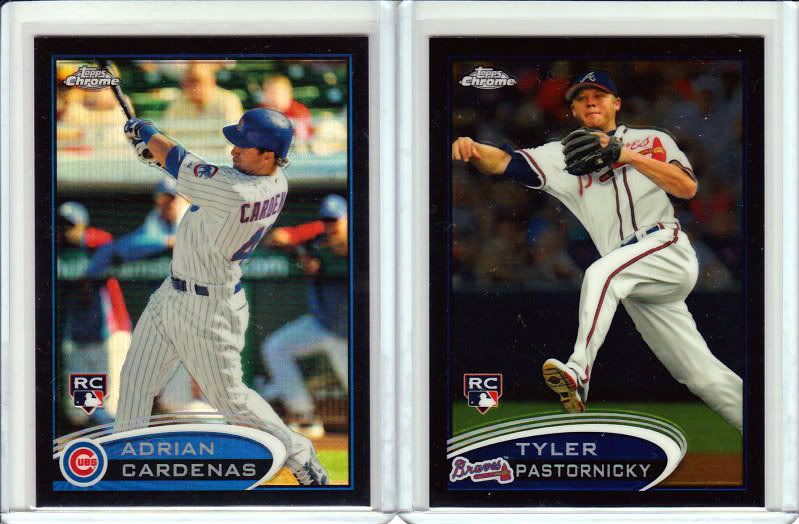 I gave him a minute to see if he would notice the Atomic Goldschmidt and then excepted his offer, paid up and excitedly went on my way!
Does this make me a little bit of an A-hole not telling the guy that he was overlooking something? I couldn't help but feel a little bad but at the same time I feel you should know what you are selling beforehand.
I kinda wish I hadnt just traded away the red Goldschmidt earlier this week because I would have a great start at a nice rainbow right now lol.
I also was able to pick up 3 more Archives autos, a couple GQ black minis and a couple red refractors. Here are all of this years reds that I have acquired through trade, ebay, and the show.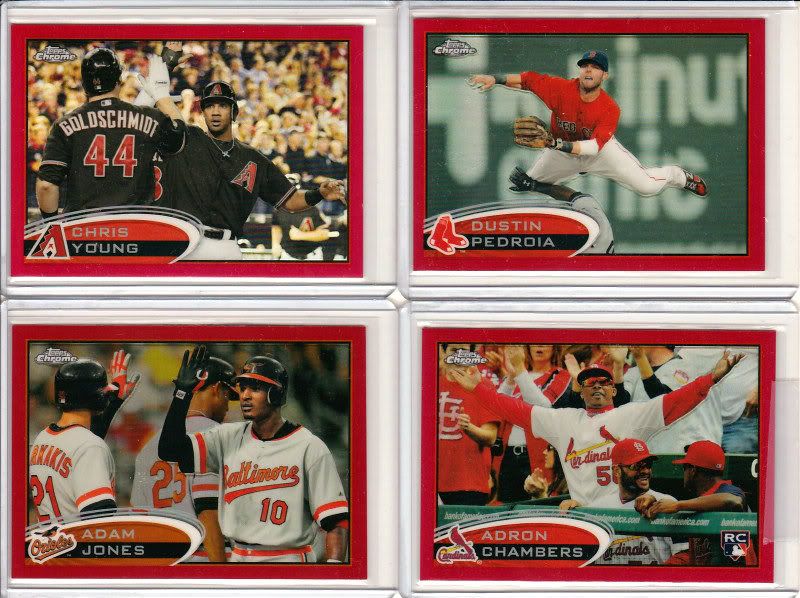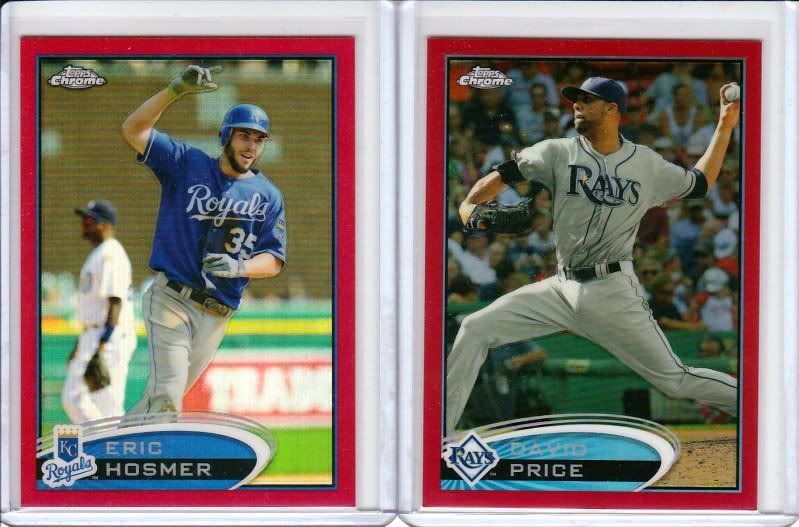 ---
09-30-2012, 02:26 PM
RE: Need some opinions, card show haul....
Nice haul and I wouldn't feel a bit bad about the deal. He's the dealer and should know the values. Wish I could be that lucky!
---
It does no good to get on the right track if you are headed in the wrong direction.


09-30-2012, 03:16 PM
zeprock
Sr. Member


Posts: 2,869
Joined: Jan 2003
RE: Need some opinions, card show haul....
Card shows are the best for surprise deals like that. It's happened to me many times. Don't feel guilty. Feel really lucky.
---
I collect Hall of Fame baseball player cards and cards of current and retired superstars.





My Huge Wantlist: http://www.zeprock.com/WantList.html
09-30-2012, 03:32 PM
lefou66
Jr. Member


Posts: 158
Joined: Apr 2012
RE: Need some opinions, card show haul....
You dont have to feel bad about it,things like that happens all the time.A few months ago i bought 4 boxes of 2012 Heritage on Ebay and the guy sent me 8 boxes...i didnt know what to do but my girlfriend said i should keep it because i spent a lot of money in baseball cards and its time to see a little return on it.
User(s) browsing this thread: