Share Thread:
09-27-2012, 12:36 PM
TBarn291
Member


Posts: 2,448
Joined: Feb 2012
2004-05 Ultra Question
I have a 2004-05 Ultra Platinum Medallion Michael Olowokandi, (I know, impressive right?). My question is, according to beckett and other Platinums from this year the print for my card should run to 100. Mine has no number? Here is the pic front and back. I am not sure, but if it's not a legit Platinum then I'm gonna have to find a real one. Any info would be great!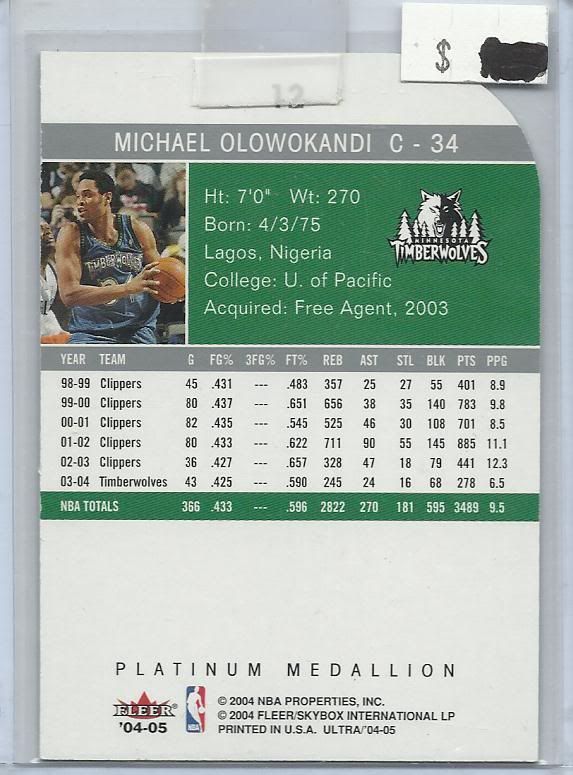 09-27-2012, 12:57 PM
kesscards
Jr. Member


Posts: 300
Joined: Aug 2003
RE: 2004-05 Ultra Question
You likely have a card from the Fleer bankruptcy auction. Cards like this were put aside to replace damaged cards. They could be serial numbered to whatever number they were replacing, hence no number on the back.

There likely aren't very many of these out there as they were intended to be replacements. What you have is a legitimate card, possibly tougher than a numbered platinum. It just did not come from a pack. Whether you want to get a numbered one is up to you.
---
Collecting Doug Waechter (118/149), Jared Sandberg (107/125), 1994-95 BB Michael Jordan (69/89), 1977-1997 Eddie Murray (877/943), and Bo Jackson BB/FB 1986-1995 (447/486), 2007 Fleer Mini Gold (126/370). Only completing trades with something on my lists.
09-27-2012, 02:00 PM
TBarn291
Member


Posts: 2,448
Joined: Feb 2012
RE: 2004-05 Ultra Question
Thanks for the responses! I'd have to agree with Kesscards, the replacement card makes sense. I will still buy the one with the printed # if I can ever find it. I really didn't think it would be a fake as the craftsmanship was superior, and the time and cost of making a counterfeit $6. Olowokandi would seem absurd.
09-27-2012, 02:45 PM
RE: 2004-05 Ultra Question
Ya there are all kinds of these around. I personally would rather have the numbered one. The numbered ones seem to go for more too. The whole back-doored thing just stinks it up IMO.
---
Players I Collect:



[/URL]

Henderson Auto PC Stats:
Non 1/1's Autos: 193/202 95.5%
1/1's: 22/37 59.5%
Jersey #'d - 65
User(s) browsing this thread: 1 Guest(s)