Share Thread:
09-15-2012, 06:45 PM
Big Jordan find!!
So i am going through my Michael Jordan collection and I come across this 97-98 Game Dated Memorable moments card numbered 18. So i pass over it the first time while looking up the inserts I have and decided to look it up in my new Beckett and its worth 300, crazyness. I am going to try selling it .

Wow
09-15-2012, 08:07 PM
RE: Big Jordan find!!
Are you sure its bout just the base...many cards from that set have the game moment on them. Only the very shiney looking one is actually the rare one.
---
Players I Collect:



[/URL]

Henderson Auto PC Stats:
Non 1/1's Autos: 193/202 95.5%
1/1's: 22/37 59.5%
Jersey #'d - 65
09-16-2012, 12:46 PM
RE: Big Jordan find!!
99% sure you have the base version, the true game dated card is not a card that is easily passed over. do you have scans?.
---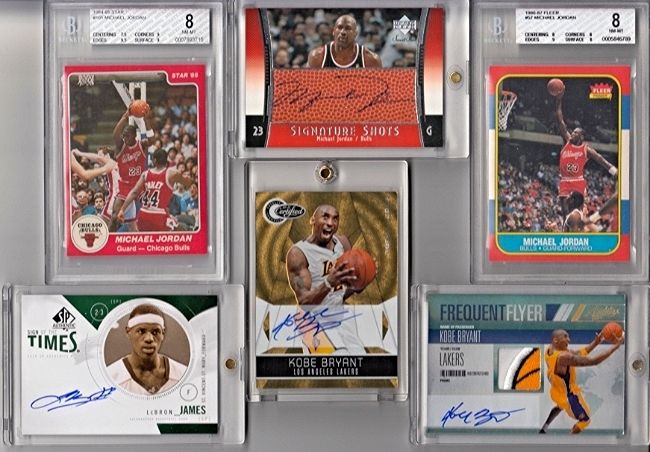 09-17-2012, 12:46 AM
RE: Big Jordan find!!
scan the card or take a picture & post it... we're all interested to see what version you have... also, search ebay see if you can find another card that looks like it.. see what the they are currently selling for.. check completed auctions too...

make sure you have it in a toploader or onetouch holder & not just a box..
---
NEED: SPA 08-09 "CITY NAME LETTERS" G, E, S 1/1 & /3 *ALL LAKAERS
NEED: ELITE BLACK BOX LAKERS AUTOS (KAREEM/10 & BAYLOR/24)
MY BUCKETT: http://photobucket.com/jpleazme
*United States Navy*
User(s) browsing this thread: 1 Guest(s)