Share Thread:
Finding Nemo (1 Card Update)
Finding Nemo (1 Card Update)
This came in just the other day…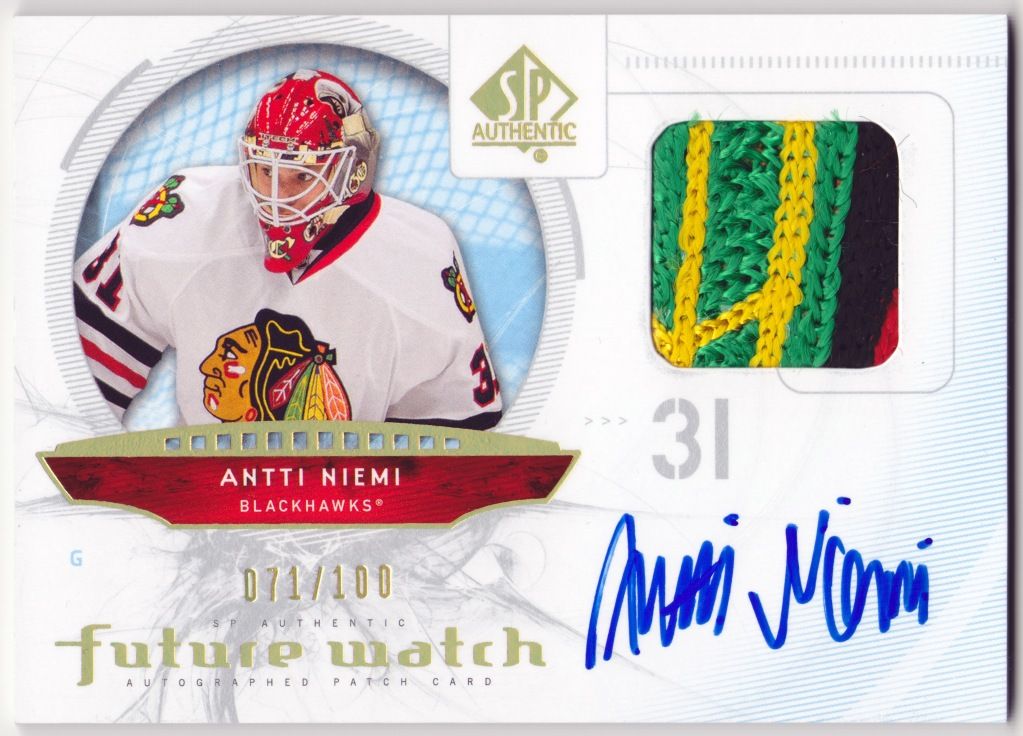 .
.
.
The allure of breakin the law
Is always too much for me to ever ignore
I got a thing for them big body Benzes, it dulls my senses
In love with a V-Dub engine
-Allure
Poet Jay-Z imagines a character who is driven to criminal pursuits by the allure of material possessions despite recognizing the self-defeating quality of his choices.
I don't have to imagine at all. I am that guy, except instead of cars, the objects of my affection come in the form of 2009-10 Future Watch Autographed Patches. And while my pursuits aren't exactly criminal, they're no less shallow - these cards are shiny, scarce, and highly sought-after - and as I'm finding, nor are they any less self-defeating.
The allure of haven 'em all
Is always too much for me to ever ignore
I gotta thing for them lithe lovely lenses, it dulls my senses
In love with the 3-hue MEMses
Those lithe lovely lenses can be found throughout the 09-10 vintage, a design choice that holds up well against strong competition from other years: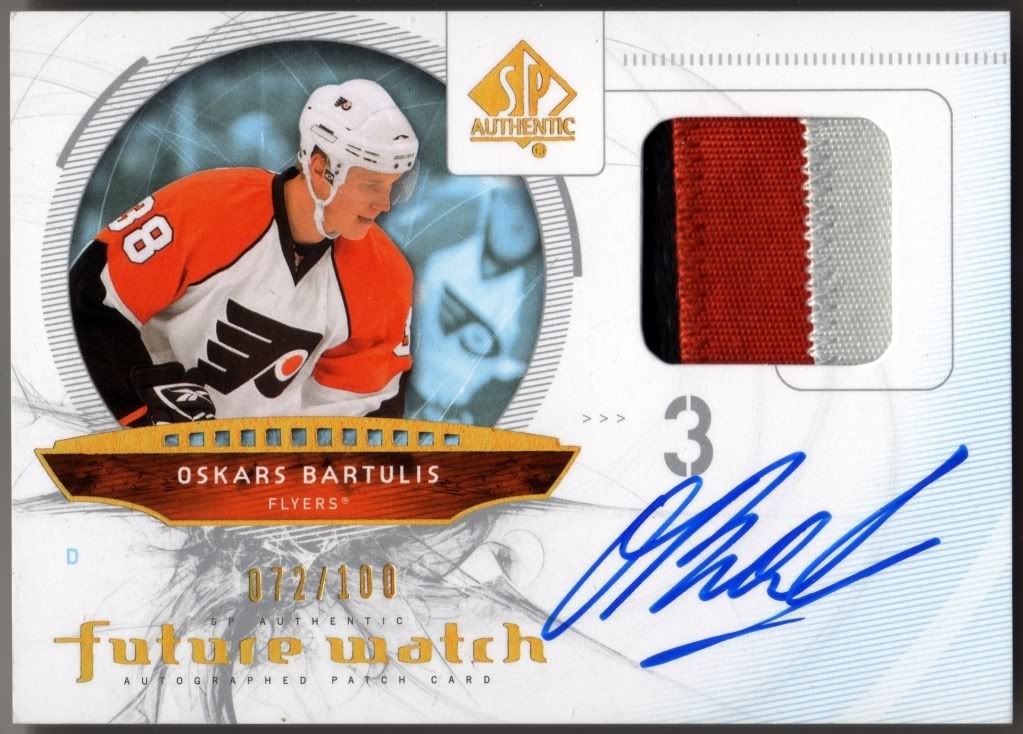 .
.
.
That's not to say that other years are hard on the eyes. These are not ugly cards:
.
.
.
But from Sign of the Times...
...on through to Marks of Distinction...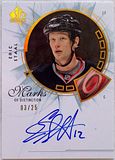 …a familiar halo creates the illusion that you're gazing through a camera lens at a moment in time amidst the frantic pace of an NHL event. The card design tells you - as if you hadn't figured it out already - that you're looking at merely a reflection of real life approximated in two dimensions. Here's the difference though: with 09-10 SP Authentic you're the photographer behind the camera, while with most everything else, you're just a bystander. Something this self-conscious done clumsily could spell disaster. But execute and you feel as if you're peering through the eyehole of the sleekest of telescopes.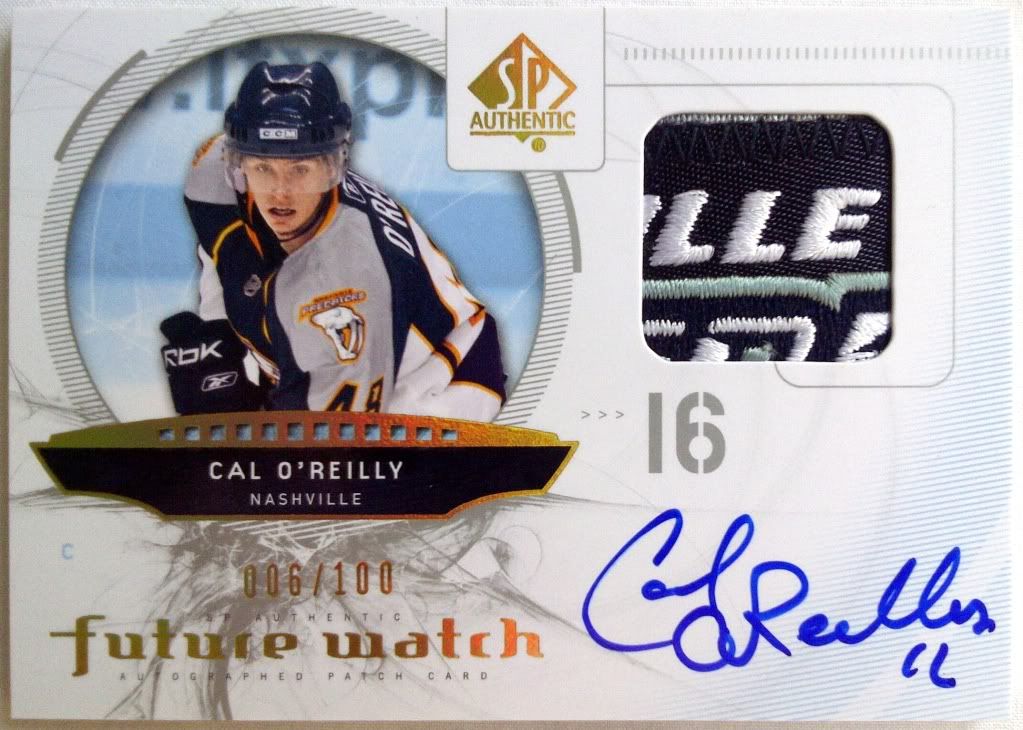 Observe also how the patch, particularly one of the 3+ hue persuasion, plays off of the surrounding card. I imagine a magical device hidden away inside the cardstock which captures a two-dimensional image only to transport a three dimensional swatch into the window; and suddenly, a card that could once be savored only by the eyes becomes just as indulgent to the touch. That may be taking things a bit far, but I guess what I'm trying to say is: these are purty, me like them lots.
.
.
.
Finding 3+ hued memorabilia only makes these prettier of course. Have I had to compromise my standard just for the chance to crawl pitiably closer to set completion? I'll let you decide:
Look (or look away, in this case), I think that single color patches - even white ones on the right card - can be underrated at times. But white on white's a different story. That's glass half empty. Glass half full? I've already knocked off wholly half of the possible colors.
.
.
.
This isn't much of an upgrade, though I'll take some comfort in the fact that it's JVR and technically a 2-color. VERY technically: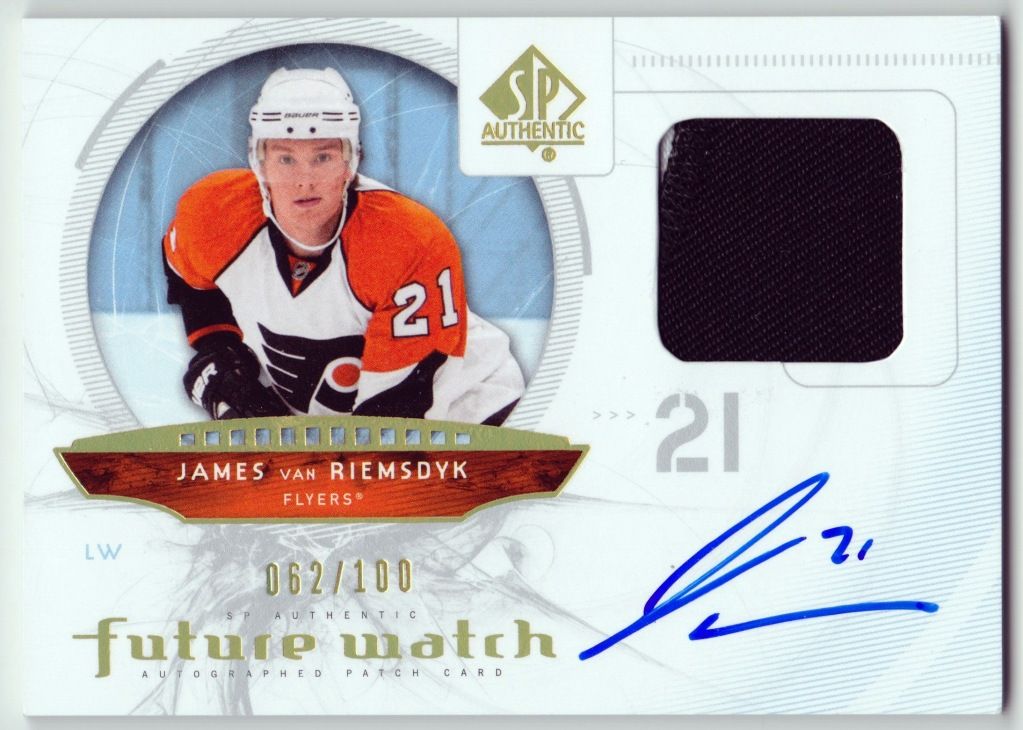 Sure I'm two-thirds of the way home but boy do I wish that magical contraption I was going on about earlier could swap Bartulis' swatch in for JVR's. It's still a nice card to have though…after all, they can't all look like the Cal O'Reilly.
.
.
.
And let the backtracking continue on that 3+ color patch standard since it's another player I like: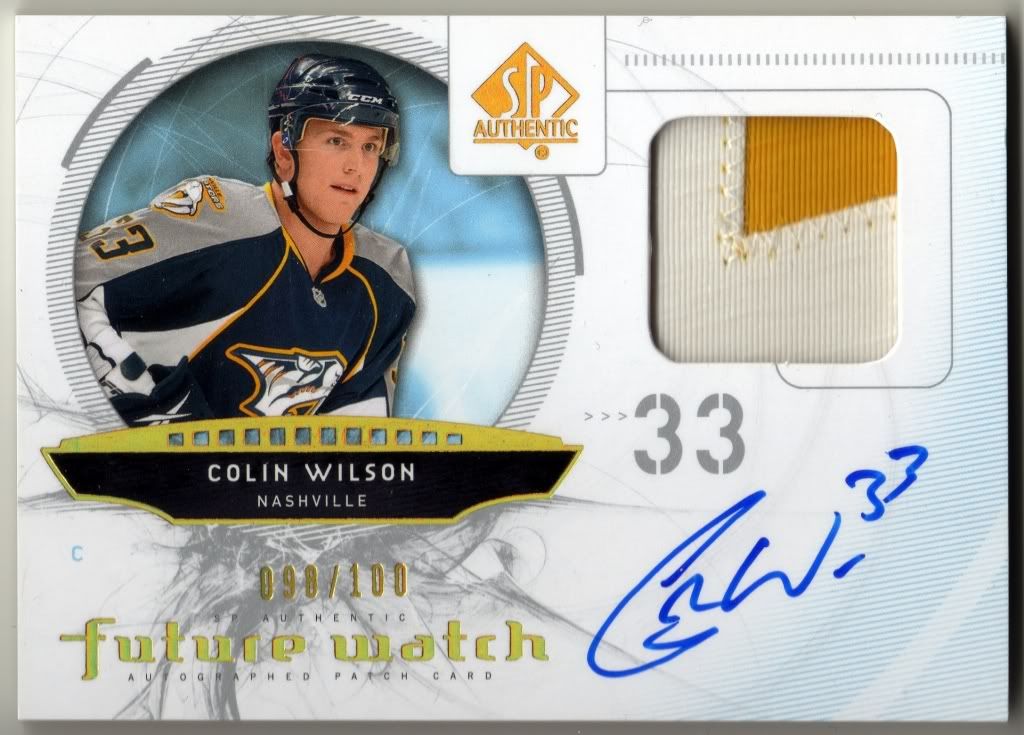 It's definitely a strong 2 but we all know that Nashville produces some of the nastier patches. Hopefully the swatch quality will track the course of his development as a player: up.
.
.
.
Upgrade the number of colors you say? Of course, but then I have to downgrade the player's numbers: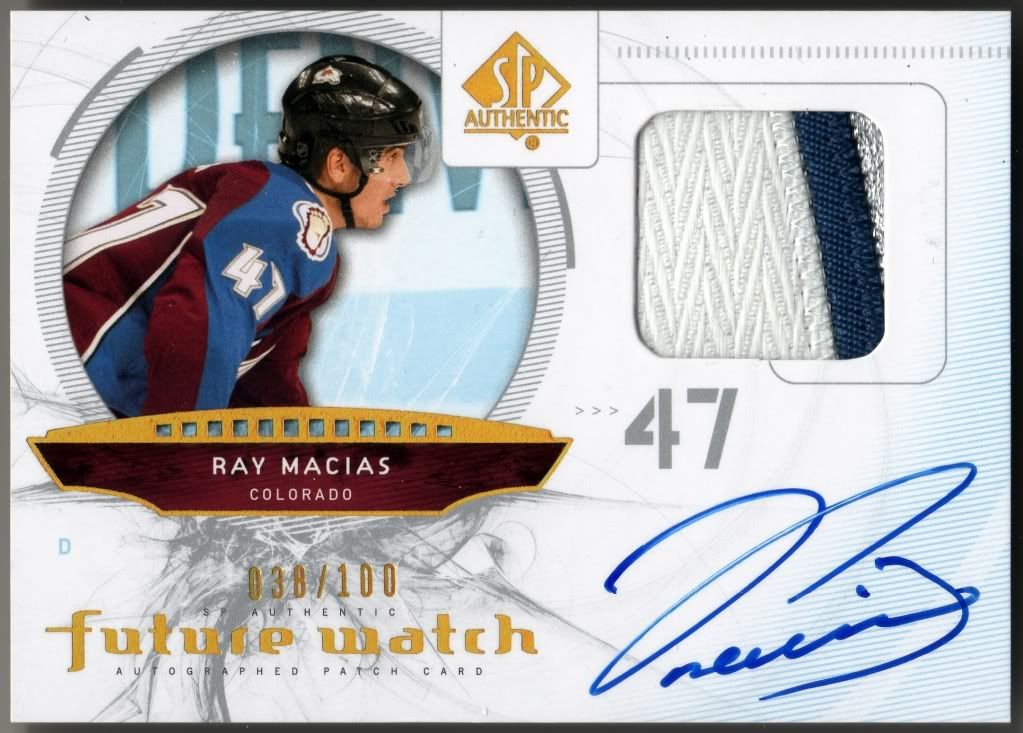 "Real dodgy set," you might be thinking to yourself, "like you could justify a swatch like that on a Duchene…but Macias? Hey, 3 colors…all I gotta say.
.
.
.
And another one that squeaks by just barely…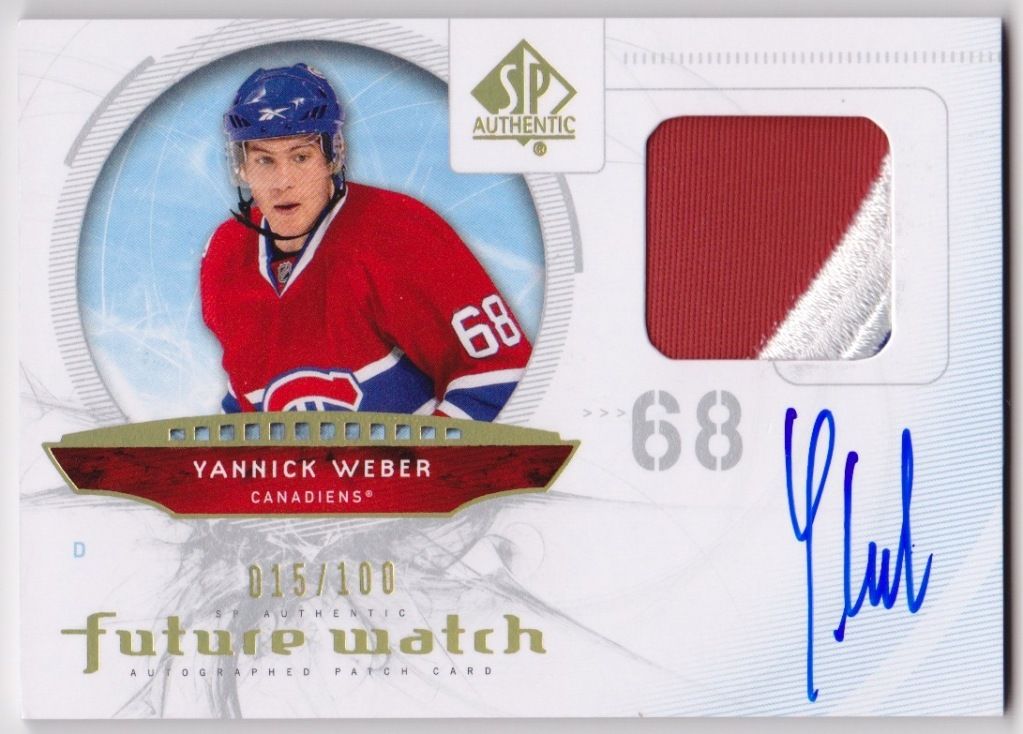 Cramming 100% of the colors on a Habs jersey into a small window isn't the easiest thing to do, and considering the Montreal fanbase, snagging a 3 color can be downright difficult. So I'm gonna go ahead and give myself deux pouces soulevée for this one. (Ah the miracle of the internet. Did I embarrass myself French speakers?)
.
.
.
And finally, a slam-dunk tricolor and deserving former headliner, which should help out a show & tell that started off strong and then faceplanted, otherwise knows as "Pulling A Christian Hanson."
Bet you thought I was never going to get to a quality patch on a quality player. Anyways, there's no shame in being knocked off by the new goalie on the block up top and I think O'Reilly The Younger looks just fine here, anchoring the color progression.
.
.
.
When it's a top player you're going for though, sometimes this is the best you can do: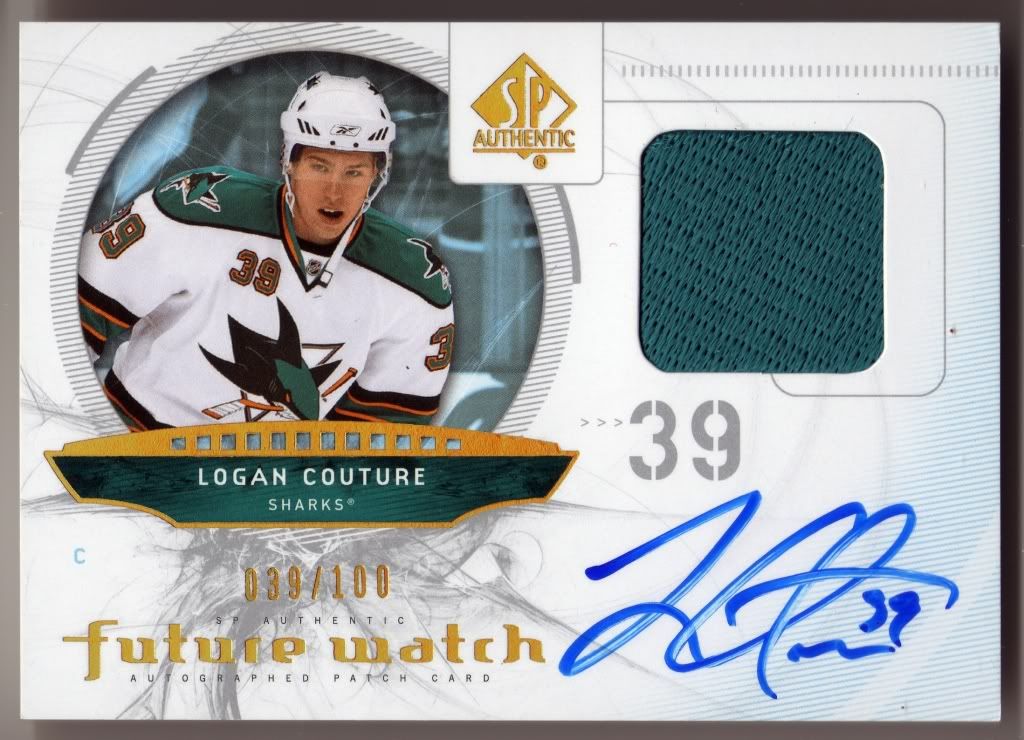 This card's still a gem, partly because I realize how much of the Shark is teal, partly because light plays off the patch nicely in person, and partly because of its numbering. You might say that 39 carries some significance when it comes to Couture.
The Couture is one of my favorites, sure, but I think the 3 stars should showcase better eye-candy.
.
.
.
3rd Star
Continuing with the (former) Sharks theme, here's a somewhat unique piece:
It's a shard of broken stick and it looks pretty cool in person. Homer pick?
How about another...
.
.
.
2nd Star
One of the newest Sharks: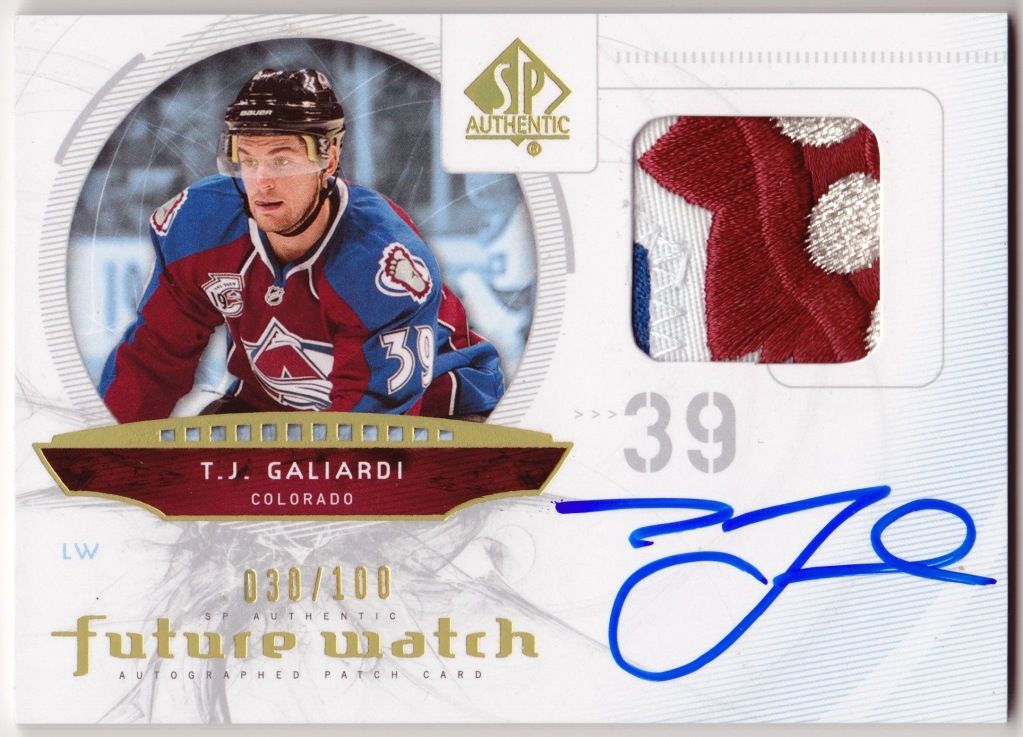 It's possible I'm blinded by the teal coursing though my veins but I think it warrants its position. For now I'll toe (get it?) the company line and hope his game is almost as nice.
.
.
.
1st Star
And the best marriage of player and card so far…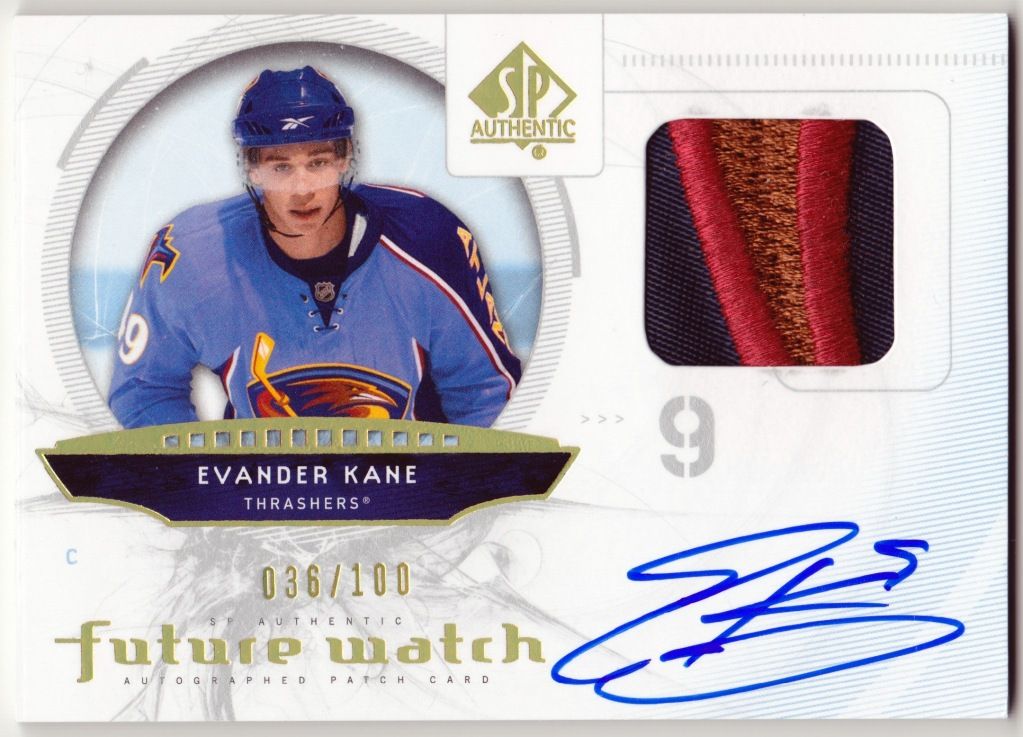 I've been building a pretty solid PC of this guy going without even really planning on it. By the way, is it unbecoming to drool over your own card? Oh right, you've made it this far so I guess it's a little late to be asking that.
.
.
.
There you have it. That's all I'll be able to show you for some time since my traders have been all but exhausted. For those of you who weren't keeping count, that's
12/60 or 20%
13/60 or just over 20% complete. Only
48
47 more to go...what's self-defeating about that?
08-27-2012, 08:36 PM
RE: Mailday or Love Letter?
You are a crazy whacky dude man, very nice cards!!!!
08-27-2012, 08:43 PM
RE: Mailday or Love Letter?
I enjoyed the story that came along with the pictures. Very nicely done. I'm not sure what i want more of at this point, Sweet ***** cards or the story that comes along with it.
---
Looking for: Brandon Nolan, Manon Rheaume
Trilogy Ice Scripts / Ultimate Collection Premium Patches
2011-12 Upper Deck Ice / 2008-09 Upper Deck Ice
1995-96 Bowman / 1995-96 Select Certified / 1995-96 Playoff 1 on 1
2014-15 Upper Deck MVP / 2005-06 Upper Deck Ice Fresh Ice Patches
08-28-2012, 10:13 AM
RE: Mailday or Love Letter?
Incredible patches
---

08-28-2012, 11:20 AM
pens1fan
Member


Posts: 2,118
Joined: Feb 2010
RE: Mailday or Love Letter?
Very nice pickup Alan and great, great read. I love the Future Watch Auto Patches also and was collecting them myself for a time. I just have to many PC players with the Pens to try and collect them anymore. Good luck on your quest to pick up more.
---
Collecting:
Current Penguins / Sidney Crosby / Penguins RCs




The mountains are calling and I MUST GO!!!!
08-28-2012, 03:46 PM
RE: Mailday or Love Letter?
Awesome cards Alan and a great read.
---
Collect Ray Bourque, Ryan Miller, Patrice Bergeron, Dougie Hamilton
08-29-2012, 08:53 AM
RE: Mailday or Love Letter?
Loveletter
---



PC's
Patrick Roy PC 966/7,265 = 13.30% Complete
Brandon Yip PC 101/183 = 55.19% Complete
Nick Palmieri 93/150 = 62.00% Complete

Unique Avs Cards = 1303
Unique Nordiques Cards = 1054
08-29-2012, 09:04 AM
rayeates
Moderator


Posts: 6,611
Joined: Mar 2010
RE: Mailday or Love Letter?
Those cards are brilliant and the read was great! Haha! I do have to say that you are quite imaginative with your writing. The reference to the Jay-Z song is fantastic! Congrats on the amazing PC progress thus far. I hope that we all get to enjoy more of these cards soon!

Randi
08-30-2012, 05:21 AM
RE: Mailday or Love Letter?
Just awesome I can't believe the quality of those, I'm going to freak when I see your posts in future of the Canucks' s ones if I don't have them already
---
_______________________________________________





Collecting all Canucks cards! Currently 6310/20359 31%

LETS TRADE!
User(s) browsing this thread: 1 Guest(s)