Share Thread:
08-22-2012, 04:47 PM
najay
Jr. Member


Posts: 215
Joined: Jul 2005
Start of a PC Mailday
So a few weeks ago I decided to start a PC of Mike Hart (partially because he was one of my favorite players, partially because his stuff is cheap
So I got my first mailday today with a little hart.
Hart /250
Johnson /99
Edwards/LT/McKnight /199
Best Studio /299
Best Stargazing /250
Best Dress For Success /299
Not much, but I like it!
---
I collect Detroit Lions, Detroit Pistons, and Former Michigan Wolverines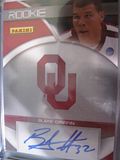 User(s) browsing this thread: 1 Guest(s)