Share Thread:
Whats wrong with this picture?
08-16-2012, 08:19 PM
RE: Whats wrong with this picture?
(08-16-2012 08:09 PM)

teemucollector8 Wrote: I actually had a black and red Wings jersey in highschool, but it was just a replica and I was never sure if they made an authentic one. That is weird, usually it's red or white. Now you can put it on Ebay as a "true 1 of 1" LOL
haha Ebay is where i found it, but i wont sell it its too unique
My girlfriend actually has one of the wings outdoor practice event black/red jerseys and its actually pretty sweet, but they never used them in games and steve wasnt on the team then...remember this card was made in 2001/02 so it has to be a jersey from before then...and like i said ive NEVER seen any other yzerman card with a black swatch....i doubt theyd use a jersey for ONE swatch in ONE card and never print anymore with black swatches lol....
08-16-2012, 10:15 PM
RE: Whats wrong with this picture?
08-19-2012, 05:28 PM
bonnev659
Sr. Member


Posts: 9,099
Joined: May 1997
RE: Whats wrong with this picture?
I can not see the photo
---
using tracking numbers (all US and some Can)
08-20-2012, 12:06 PM
RE: Whats wrong with this picture?
It's either from an all-star game or its a screw up. And it certainly wouldn't be the first time the wrong swatch got placed on a players card. UD isn't the only ones who have made these errors. I have a pacific patch from a senators player and it has a kings piece put in it. I even emailed pacific back in the day about it and they said to send it in for replacement as it was their error. (I didn't, I just kept it just because I didn't want to go through the hassle!)
---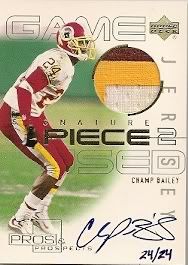 Collecting: Travis Fryman, Champ Bailey, Steve
Largent, Steve Yzerman, Brian Holzinger, Mike Johnson and Jordan Sigalet.
09-20-2012, 10:06 PM
RE: Whats wrong with this picture?
(08-16-2012 07:07 PM)

AudioVenture119 Wrote: Ok, so im an experienced collector of these cards, and this is the only one ive ever seen...a Steve Yzerman 2001/02 UD Ice First Rounders jersey card with a BLACK jersey swatch. Now we all know that Stevey never played with any other team than the Red Wings, and the Wings jerseys are entirely red and white. The back of these cards states that the jersey swatch is "used by Steve Yzerman in an official NHL game" I dont ever remember Steve wearing a black jersey in any wings game haha..so maybe an all star jersey peice? and if so why havent i seen any other Yzerman cards with black swatches?

what do you guys think??
Maybe it's from this game?
ha ha... ok, that was lame. Many All Star jerseys he wore had black in them, and that would qualify as an NHL game, so it's likely from one of those.
---
Please help me find one of these 05/06 Hejduk Patches #/50:


09-21-2012, 08:36 AM
(This post was last modified: 09-21-2012 08:41 AM by hckydv7.)
hckydv7
Member


Posts: 1,555
Joined: May 2007
RE: Whats wrong with this picture?
1993 All Star game-- jersey for his team was almost totally black.
1996 All Star Game had a lot of black.
09-23-2012, 11:46 AM
RE: Whats wrong with this picture?
It could still be from a real game and it was worn as a warm up jersey before the game started too
User(s) browsing this thread: 1 Guest(s)