Share Thread:
Holy Cow! Are Yu serious!!!
08-04-2012, 07:08 PM
shaunbaus
Jr. Member


Posts: 435
Joined: May 2005
Holy Cow! Are Yu serious!!!
Can't believe it. Went out to grab some dinner before the Rays game started. Went to Burger King down the road and Wal-Mart is across the street so figured I'd stop by to see if they put out anything new and maybe pick something up to give me something to do while I watch the game. Well they finally put out an open box and rack packs for 2012 Bowman Platinum so I grabbed 4 loose packs and 4 rack packs and some other stuff. So I can't wait so I start opening some packs in my car, get to the drive thru and open a few more. and behold... I landed a gold refractor auto of Yu Darvish numbered to 50! Just wow!!! Landed another auto of some other prospect from one of the rack packs and a nice Andrew Luck insert from my Prestige blaster. Just awesome!!!
08-04-2012, 09:19 PM
RE: Holy Cow! Are Yu serious!!!
Congrats dude!! would like to see a scan of it!!
---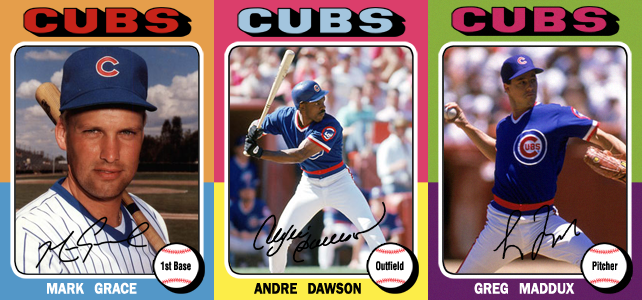 a big shout out to jbel4331 for the AWESOME '75 cards!!
PC:TRIBUTE & HERITAGE & CHROME.GRADED '75 TOPPS & VINTAGE
08-04-2012, 09:21 PM
86champs
Member


Posts: 1,015
Joined: Jun 2002
RE: Holy Cow! Are Yu serious!!!
That's awesome. Put a pic up when you get a chance.
---

CARD COUNT: (Met cards - 14880) (Piazza - 1594) (Wright - 706)
08-04-2012, 10:30 PM
shaunbaus
Jr. Member


Posts: 435
Joined: May 2005
RE: Holy Cow! Are Yu serious!!!
Wish I could. Don't have a scanner and don't use Photobucket and don't otherwise no how to post a photo.
So happy though, been buying so much of retail hoping to get something nice and I finally got something.
Question. I'm not to fond of Darvish as far as collecting so I'd prefer to move it and pick up something nice for my PC. I would consider throwing it up on Ebay however I've been just a buyer and have not put up one thing to sell on Ebay. Would it be better to just try and trade it at some point or would it be worth the risk to put up on Ebay. I'm fearing it would be risky trying to sell a card like this especially considering it would be my first attempt to sell something on there. I'm also worried about some of the horror stories I hear/see from others, like someone screwing me over saying they never received my end or something crazy like that. The card seems to be going for about $250, thougt it would be higher, so I think it would just be easier to try and trade it to someone on here. Any thoughts/opinions?
08-04-2012, 10:34 PM
(This post was last modified: 08-04-2012 10:35 PM by stera8.)
stera8
Member


Posts: 794
Joined: Jul 2012
RE: Holy Cow! Are Yu serious!!!
selling it would be a lot better monetary wise.... When you sell it remember ebay is going to take a small percentage and paypal takes even smaller...not sure if I'm able to say the percentages on here?

anyway. When you mail it...for about 10$ or 15 you can ship it first class, insure it, and get delivery confirmation where you see that someone signed for it. I sold a $465 computer processor and I paid the extra to make sure I could prove that the guy received the item
---


COLLECTING ALL JOEY GALLO AND ADDISON RUSSELL !!!
08-04-2012, 11:09 PM
RE: Holy Cow! Are Yu serious!!!
Hey are we neighbors??? Was the Walmart on 19? If so man I was just in there yesterday and refrained from buying any. I would say that because you wouldn't have a high rating in eBay that you prob won't get good hits on it. Who do you collect?
08-05-2012, 12:01 AM
petillo64
Member


Posts: 1,831
Joined: Jun 2012
RE: Holy Cow! Are Yu serious!!!
That's an excellent point about Ebay rating...

I've been trying to nab Cespedes auto's on the cheap over the past two months... With my watch list looking like a flood zone, I was paying attention solely to %'s on seller ratings, and more than anything, cost...

Turned out to get a $70 Cespedes auto... one that went for $110 hours before... The only difference was that the $110 had a rating of 100% with 1000+ sales... mine was a seller rating of 100% 38 sales... The dude shipped it in a PWE with forever stamps... It got here in perfect shape, but was still sketchy...

However, that being said, I have sold things at a super-premium on ebay, despite roughly 200 transactions total. I am very specific about the condition of the card, the manner in which it has been handled, and the exact specifics of how it will be shipped.

Personally, I would Ebay it with those details...
---
PC Players: Alex Bregman and Christian Yelich. Looking for any and every I don't have.
Other Players: Luis Ortiz Jr., Rowdy Tellez, Touki Toussaint
08-05-2012, 01:59 AM
shaunbaus
Jr. Member


Posts: 435
Joined: May 2005
RE: Holy Cow! Are Yu serious!!!
@ Yankees_Pride, I don't think we are. If you live in Florida then were neighbors in that sense but I dunno of a I'm guessin state road 19 in my area. I collect mostly Rays players, players mentioned in my trade preferences on my profile, other popular players/HOF'ers as well though. Strasburg, Harper and Trout among others, just not as big on the Darvish hype. I've got good ratings from being a buyer, but yea I have not sold anything on Ebay due to mostly fear I guess. lol... Even more fearful that being a first time seller I wouldn't gain a lot of interest and end up letting the card go way below what the value might be.

I dunno, its not lookin like this Darvish is going for as high of a premium as I had hoped like other cards have had, most other Gold ref. AU's from the set look to top out at around $250 it seems. Probably hold off on anything til Beckett lists a value to confirm it or give me some more hope that I can get more out of it. Thanks for all the input so far everyone.
08-05-2012, 06:53 AM
RE: Holy Cow! Are Yu serious!!!
Congratulations. Will love to see a scan.
User(s) browsing this thread: 1 Guest(s)