Share Thread:
'12 topps blaster, rack pack + 2 packs
08-03-2012, 09:07 PM
(This post was last modified: 08-03-2012 09:16 PM by charps.)
charps
Jr. Member


Posts: 463
Joined: Nov 1999
'12 topps blaster, rack pack + 2 packs
Results are
Jim Kelly Rookie Reprint
Roger Staubauch rookie reprint
Ryan Tannehill RC
Ryan Tannehill 57 topps
Mike Adams RC
Brian Quick RC
Harrison Smith RC
Brock Osweiler RC
Nice base cards of Peyton Manning, AJ Green, and some other rookies
I PC vikings stuff and have gotten a lot of harrison smith cards this year. I have to say, it has to be one of the most horribly photoshopped uniformed cards i have seen
Blaster Results
Captains Patch Darren McFadden (Pink) 10/99 (sweet card)
Brian Quick Rookie
Jim Jelly Reprint
Kendall Wright Rookie
Ryan Tanehill Rookie
(at this point im wondering why i bought a blaster as i have these cards from the packs
)
Brandon Weeden
Reiley Reiif
Mohamed Sanu
Justin Blackmon Prolific Playmakers
QB Immortals Dan Marino
Andrew Luck !
Tim Tebow
Jerome Simpson (did i mention the photoshopped vikings units look bad)
Mike Agnew
David Wilson
Sonny Jurgensen rookie reprint
Marvin McNutt
Brandon Taylor
Pairamount pairs Blackmon/Weeden
Lamar Miller
Peyton Manning
Pics soon
---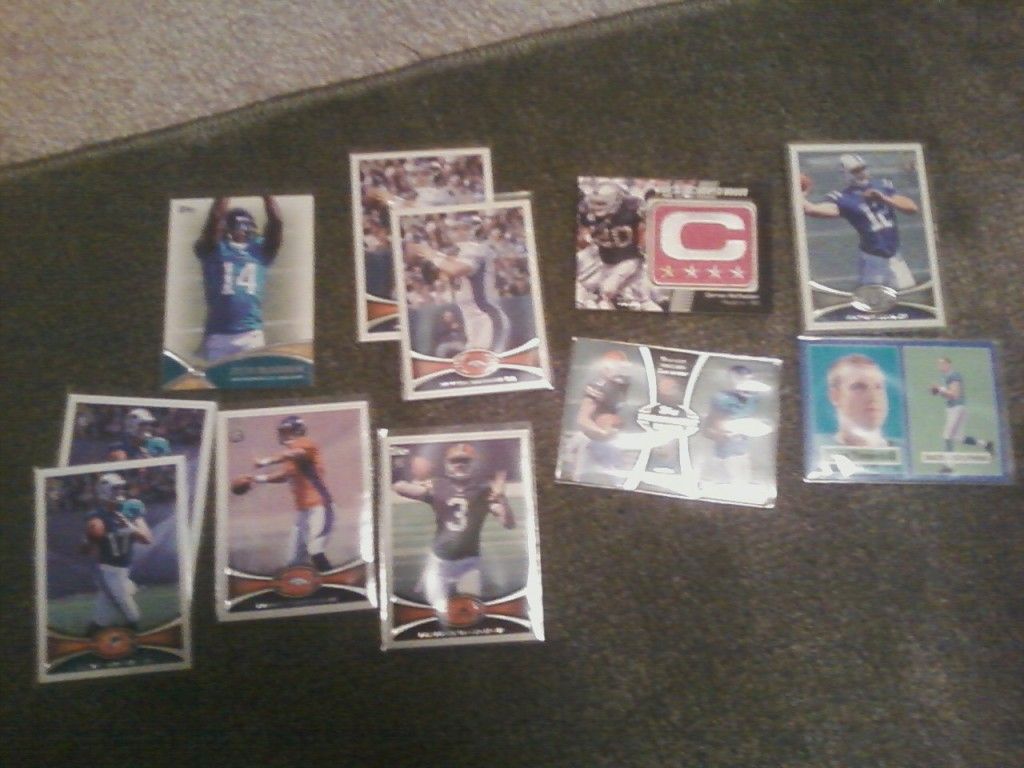 ---
User(s) browsing this thread: 1 Guest(s)