Share Thread:
My modest Danica collection
07-25-2012, 11:46 PM
dunnere
Member


Posts: 1,128
Joined: Apr 2005
My modest Danica collection
So, I am not really collecting Danica officially, but I have pulled three RU cards and a few parallels, so I have a collection, which I added to with some strategic purchases last week: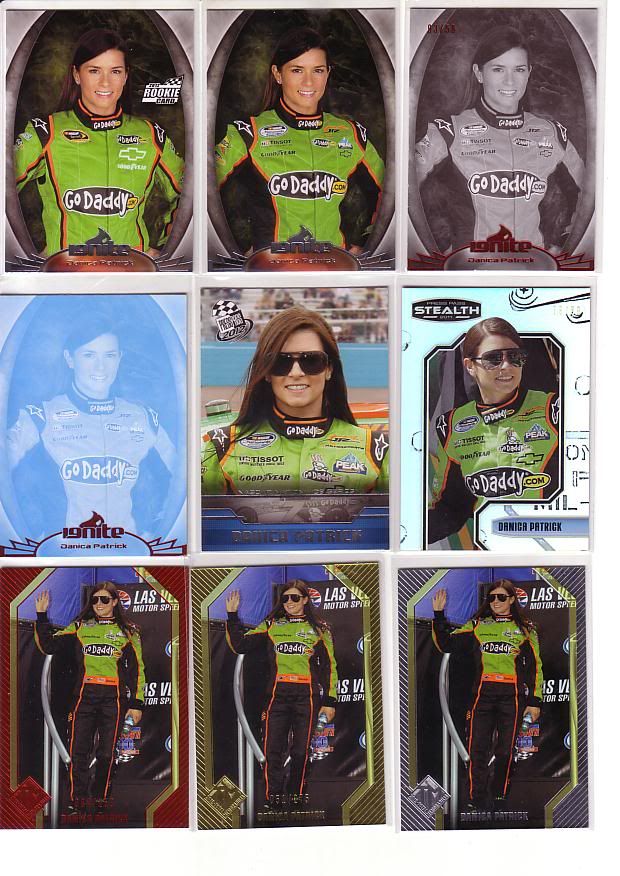 I completed the Total Memorabilia base rainbow out of the boxes I opened.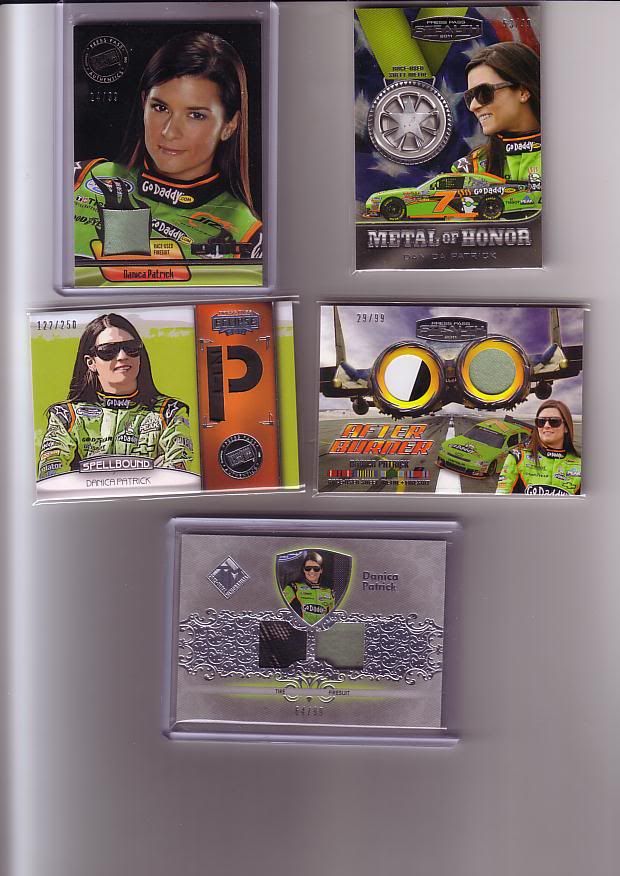 The two Stealth RU cards I got out of free packs from Dave & Adams - you can not beat that with a stick. The Eclipse was pack pulled, too. The TM I got with a Tony Stewart TM I needed on eBay, and the Ignite came with a Smoke, as well (combined shipping...got it for a good price).
That's it...
---
Looking for:
2012 Total Memorabilia Tony Stewart
Dual /5
Hot Rod Relics 1/1
Jumbo 1/1
Quad 1/1
Triple 1/1

05 Studio Portraits Bob Feller

I collect these guys:

http://www.dunnere.weebly.com
07-26-2012, 03:18 PM
RE: My modest Danica collection
Nice collection! It's better than mine.
I only have about 8 cards and none are MEM's. Of course all but 1 of mine were pack-pulled.
---
Always looking for: Ozzie Smith/Stan Musial/Lou Brock/STL Cardinals, NFL-CAR/GB/NE and NASCAR-Jimmie Johnson/Mark Martin

07-26-2012, 03:43 PM
RE: My modest Danica collection
I am jealous
, most of mine are regular base and inserts and only 4 RU cards.
Jerry
---
Collect: Jeff Gordon, Mark Martin, Danica Patrick


User(s) browsing this thread: 1 Guest(s)