Share Thread:
06-18-2012, 05:39 PM
TlionsFan
Jr. Member


Posts: 176
Joined: Apr 2012
RE: Help!!!
I second 12 GQ
---
Will ship first to proven Traders as I build my trade rep.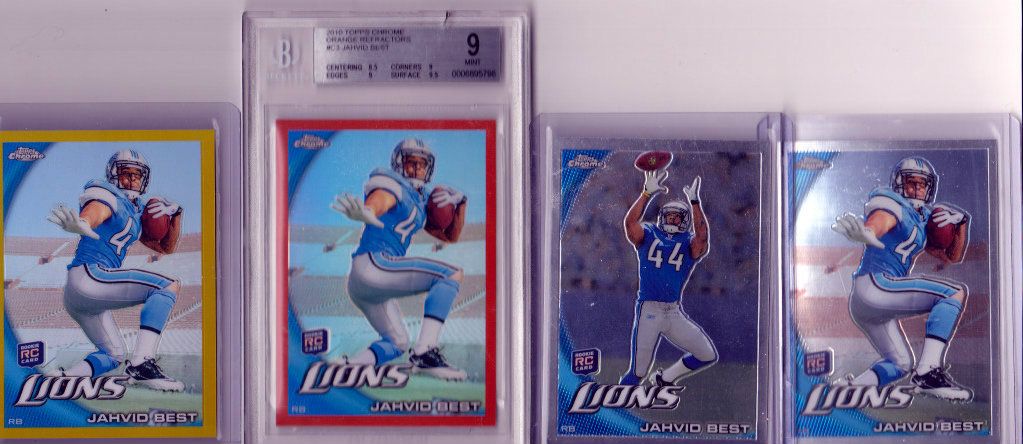 Will trade in your favor for this rainbow. Need: Purple/555,Red/25,ref,x-frac,superfractor, and plates
06-19-2012, 10:17 AM
daytonator
Sr. Member


Posts: 2,595
Joined: Aug 2008
RE: Help!!!
(06-18-2012 09:42 AM)

tfoley25 Wrote: I guess he is collecting for the big pull. He is interested in complete sets but loves the thrill of pulling a nice card out of packs. So what would you all suggest. Thanks
No, no, no, please have him buy Tier One. It has big pull potential at a higher rate with some jaw dropping game used.
---
http://s1014.photobucket.com/albums/af262/dayton310/

DO NOT TRADE: MGRUBER2 DO NOT TRADE: MGRUBER2
R.O.A. (DO NOT TRADE) THE GREAT 48
06-19-2012, 10:34 AM
RE: Help!!!
i would say, if he is looking for the big pull, to just buys singles because boxes aint guaranteed
---
onedollardutch.blogspot.com

06-20-2012, 07:14 PM
mjanooz
Member


Posts: 1,291
Joined: Jul 2010
RE: Help!!!
take the 200 by one powerball ticket... and put the rest in a college fund... or buy a Jeter or future hall of famer auto...and save the rest for ice cream and cigarettes....
---
Looking for Mike Trout, Aaron Judge and Derek Jeter...
06-20-2012, 07:34 PM
RE: Help!!!
I would probably do Museum Collection but that is because I don't go after the prospects much. Or maybe two boxes of Gypsy Queen would be nice. Four hits per box and sometimes more.
06-25-2012, 07:55 PM
uvaspina
Member


Posts: 2,052
Joined: Sep 2011
RE: Help!!!
This month's Beckett magazine said that Archives was the best bang for the buck so far this year. I haven't opened any, so I can't give a personal opinion. If you want some good hits and good value, Triple Threads is usually a good bet. Museum is nice too, if you're interested in high end.
---

Always looking for Verlander, Cabrera, Maybin, Mike Stanton (marlins), and Avisail Garcia.
*TRYING TO COMPLETE MY VERLANDER ROOKIE COLLECTION. 44/47. ONLY 3 TO GO!*
06-25-2012, 08:04 PM
RE: Help!!!
I think museum has been the nicest product of the year followed by tier one. Bowman is REALLY hit or miss. You most likely will pull 3-6 $4 autos. But with museum ive seen so many multiple big hit boxes its ridiculous.
---
06-28-2012, 11:20 PM
RE: Help!!!
when i first read the post i thought it said 200,000 thousand lol i was gonna say you could by an entire store lol
---

Thanks to Jbel4331 for my sig!!!!

Collecting 1964 Topps Venezuelan(completed), Cal Ripken Jr, Andres Galarraga, Odubel Herrera, Phillies and players from my sig. Also all Topps sets from the 80s, 90s, 2000s, 2010s
User(s) browsing this thread: 1 Guest(s)