Share Thread:
06-16-2012, 05:15 PM
9500 up for trade/sell
Alrighty folks its that time again another 500 added and in this 500 were some new 2012 cards. Again I will trade for anything as long as it is near equal value. I am also interested in any CUJO,BRETT HULL, or BRENDAN SHANAHAN if you have them. Come on by and shoot me an offer and hopefully we can make a trade or a sell, thanks for your time!!!
06-16-2012, 06:39 PM
RE: 9500 up for trade/sell
Any interest in this? Not sure how to add it to my org but if you've added 9500 maybe you can help. (I haven't traded in a while)...
---
Collecting Vintage football and all things Mickey Mantle.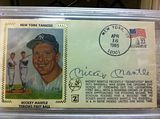 User(s) browsing this thread: 1 Guest(s)