Share Thread:
Recent Pick-ups: 2012 Topps S2, GQ, Bowman
06-10-2012, 11:30 PM
dbacks08
**MUST SEND FIRST**


Posts: 830
Joined: Jun 2009
Recent Pick-ups: 2012 Topps S2, GQ, Bowman
Bunch of new pick-ups...

2012 Bowman:

Notable Base:
Gerrit Cole chrome
Bryce Harper base & chrome

International:
Mike Murray, Jeimer Candelario, Will Swanner, Neftali Feliz, Mat Latos, Jeremy Hellickson

Bowman Best:
Bryce Harper, Bubba Starling, Rymer Liriano, Joe Panik, Matt Moore, Jose Bautista, Troy Tulowitzki, Justin Verlander, Tim Lincecum, Rymer Liriano (Refractor 10/99)

Silver Ice:
Danny Hultzen, Robinson Cano, Dan Haren

Blue Border:
John Axford (193/500), Cheslor Cuthbert (352/500), Edwar Cabrera (332/500), Brian McCann (167/500), Chipper Jones (104/500)

Orange Border:
Salvador Perez (071/250)

Refractor:
AJ Jimenez (136/500), Raul Alcantera (375/500)

Purple Refractor:
Brennan Smith (172/199)

Autos:
Matt Lipka base prospect auto, Sean Buckley base prospect auto, Brad Peacock base auto, Tyler Anderson base prospect auto

2012 Topps Series 2:

Notable base: Yu Darvish

Gold sparkles: Carlos Marmol, Albert Pujols, Rafael Dolis RC, Yoenis Cespedes RC, Alexei Ramirez, Dave Sappelt, Tyler Pastornicky RC, Coby Rasmus, Sergio Romo, Yu Darvish RC

Career Day inserts: Sandy Koufax, Evan Longoria, Dustin Pedroia, Jackie Robinson, Matt Kemp, Mickey Mantle

Gold Futures: Buster Posey, Chris Sale, Madison Bumgarner, Brandon Beachy, Randall Delgado, Jason Heyward, Lonnie Chisenhall, Dellin Betances

Gold Standard: Andre Dawson, Willie Mays, Chipper Jones (x2), Nolan Ryan, Mike Schmidt, Mickey Mantle

Mound Dominance: Verlander (x2), Koufax, Ryan, Feller, Gooden

Golden Moments: Hosmer, Bench, Molitor, Zimmerman, Yastrzemski, Mattingly, Rivera, Boggs (x2), Utley, Schmidt, Sandberg, Garvey

Cut Above: Verlander, H. Ramirez, Musial, Mays, Bautista, Robinson, Kemp

Golden Moments Auto: Andrew Carnigan

Golden Moments Relic: Dillon Gee blue jersey swatch

Black-Border: Dan Haren 31/61

Minis: Justin Upton, Verlander, King Felix, Carlos Santana, Pence, Weeks, McCann, Sandoval, Price, Strasburg, Brooks Robinson, Frank Robinson

Historical Stitches jumbo manufactured name patch: Ichiro

Pin Card: Mariano Rivera 2009 WS Champions

2012 Gypsy Queen

Base Variation SPs: Jesus Montero, Matt Moore, Derek Jeter, Carlos Gonzalez, CC Sabathia, David Freese, Joe DiMaggio, Roberto Clemente, Tony Gwynn

Future Stars: Brandon Beachy, Desmond Jennings

Hallmark Heroes: Bob Gibson, Cal Ripken Jr.

Glove Stories: Derek Jeter, Ken Griffey Jr., Trayvon Robinson, Willie Mays, Chris Young,

Moonshots: Babe Ruth, Curtis Granderson, Evan Longoria, Jose Bautista, Josh Hamilton, Willie Mays, Willie McCovey, Albert Pujols

Sliding Stars: McCutchen, Granderson, Pedroia, Ellsbury, Rollins, Jemile Weeks, Morgan, Braun

Mini Exclusives (#301-#350): Arencibia, Duke Snider, Cueto, Tulowitzki, Bobby Abreu

Mini Variation SPs: Sandoval, Hamilton, Ichiro

Straight Cut minis: Larry Doby, Cobb, Chacin, Tabata, Chipper Jones, Stubbs

Red Gypsy Back minis: Mays, Moore, Napoli, Axford, Price, Maybin

Green border mini: Ervin Santana

Black border mini: Anibal Sanchez, Hanley Ramirez

Sepia minis: Jimmy Rollins 72/99, Jayson Werth 58/99

Moonshots mini: Nelson Cruz

Glove Stories mini: Derek Jeter

Sliding Stars mini: Andrew McCutchen

Blue paper: Johnny Bench 452/599, Adrian Gonzalez 162/599

Auto: Johnny Cueto, Nathan Eovaldi

Framed jersey relic: Brian McCann


Pretty decent stuff, I think.
---
*Please note that in all of my future trades, I will require extra time to ship. I have no adequate transportation to a post office. If you don't want to wait, please do not trade with me.*
06-11-2012, 09:34 AM
RE: Recent Pick-ups: 2012 Topps S2, GQ, Bowman
Check me for the bowman blue's and orange
---
Collect Braun, Hamilton, Bautista, Posey, Stanton, Kemp, and Hart
Seral #, RC, GU , and Auto's

Trading. In your favor for auto rc's
06-11-2012, 06:19 PM
RE: Recent Pick-ups: 2012 Topps S2, GQ, Bowman
nice breaks, good to see you back on the boards!
---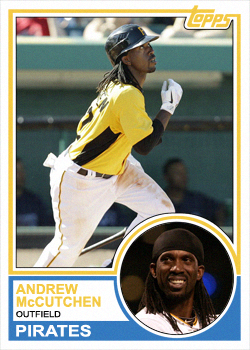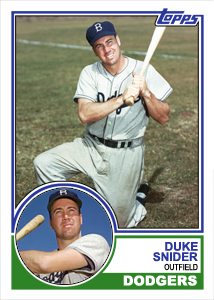 Collecting:Andrew McCutchen, Duke Snider & Brooklyn Dodgers
Avatar and Banner: jbel4331
I ship on weekends
User(s) browsing this thread: 1 Guest(s)