Share Thread:
Debate on who's a better player Kobe or Lebron
06-11-2012, 11:05 AM
(This post was last modified: 06-11-2012 11:30 AM by chrisa19978.)
RE: Debate on who's a better player Kobe or Lebron
(06-11-2012 07:00 AM)

bbills1999 Wrote: But if/when Lebron Wins his ring cant we also say he won them because he had Wade and Bosh to help him.. With them he wasnt winning them.
Yes but thats why its a team sport as no one can beat 5 people by themselfs and only one person can have the biggest impact on a team winning. Knowing what Lebron did the past series and how Wade played if it was not for him they would be home watching Boston play OKC. Kobe has always had a great supporting cast around him. Lebron till last year had no one and he still managed to make it to the playoffs every year and to the finals once with Clevland. My point with Shaq without him those 3 years where would the Lakers of been? Kobe could not take a team to the championship with 4 average players around him. He always had 2 to 3 great players and some decent players. No one wanted to go to Clevland so he had to use what he had. Look when he played for the Cav's it was Lebron vs. normally 3 great players and sometimes even more the further in the playoffs they went.
---
(06-11-2012 07:03 AM)

edescartes Wrote: You are choosing a rather difficult comparison. They play different positions. I understand your argument of Kobe not winning without Shaq, but then again who has won a championship without another all-star around him?? If we start from the beginning of the NBA Bill Russell had help during his 11 championships, Wilt Chamberlain had help, Magic Johnson had Kareem Abuld Jabbar and James Worthy, Larry Bird had Kevin Mchale and Robert Parish, Jordan had Pippen, Kobe had Shaq, Duncan had Robinson then Parker and Ginobili. Almost every multiple ring winner in the NBA has had a superstar next to him. The only team I can remember that won without two megastars were the Detroit Pistons in 2003 (Chauncey was the best player in that team in IMO). Winning a championship is still something very important to take into consideration. People that favor Kobe will have a very good comeback for you when Lebron wins a championship if you keep your mentality (LEBRON WOULD NOT HAVE WON WITHOUT TWO OTHER MEGASTARS, NOT ONE, TWO!! DWAYNE WADE AND CHRIS BOSH!!!!) I do not think Kobe is a better overall player, but his stats are more solid as of now. He has won more scoring titles, he has been to more all star games, he will play a few more seasons (we do not know if Lebron will stay healthy, in life nothing is certain). If Lebron stays healthy and wins at least two championships, then I would consider him a better player than Kobe. He has better defense and a better understanding of the again. His only problem, cluth!!!!!
Kobe wasn't clutch his whole career either and most of that came after he won a championship. What I hate is people bash him and compare him to Kobe and his 5 rings to Lebron still trying to get his first. People forget he played on a horrible team his first 6 or 7 year and this is only year 2 with a great team. But they bash him because he joined a great team and didn't win it by himself. Now he is expected to win 6 years in a row and if he dosen't he is a failure to people and they say Kobe is better which is far from the truth.
---
(06-11-2012 08:31 AM)

newfiecomicguy1 Wrote: I think Kobe is way more talented than Lebron, Lebron is just bigger. If I had to choose one (esp in their prime) I would take Kobe in a heart beat. I don't really like him but I think he is one of the best all-time.

Certain guys just find a way to win championships. They know how to finish off series and they just dominate when it counts. Jordan was the best at it but Kobe is another guy that gets it done. Lebron is still trying to figure it out. I love Ron Artest comments in the new slam magazine about his time with the Lakers. He said he would feed Shaq for the first 3 qtrs and than Kobe in the 4th. Basically it was Kobes game to finish as he was a master at it. They would give Kobe the ball and get out of the way and find a spot on the floor.
Kobe is not more talented and here we go with the size difference. Dosen't that mean Lebron should be slower and Kobe faster? If you just play in the 4th quarter then you can't be considered the greatest. Thanks for bringing up Michael Jordan as well because how long did it take for him to win his first championship? I believe it was 7 to 8 years but he was never critisized like they do Lebron. Jordan had his bad games and missed his shots as well. But I do consider Jordan to be better than Lebron. But with Lebron career far from being over who's to say he will not be considered better when his career ends.
---
(06-11-2012 10:53 AM)

tristanrules Wrote: The player that makes everyone else around him play better and raise their level of play.

That's the best player, Durant is far from the best player.
He is a glorified Ray Allen, and has accomplished nothing but overrated media praise.

Kobe is a better shooter? Not by a mile, does he take more shots? YES, but Lebron's percentage is much better.

Lebron just hit his prime, alot of people forget that.

If you have lebron, kobe and durant on a draft now, every single team would want Lebron over durant and kobe. Its a no brainer
But you can't get people to believe that because Lebron is either hated or loved after leaving the Cavs. I am sure we can pull up stats but people would still agure and there main arguement is Lebron is bigger and Kobe is clutch. This is all I have been hearing hear. I want Lebron to win because how they react to anything he dose wrong. God forbid him have 1 bad game as he will be bashed by eveybody. But if Kobe had a bad game they just talk about something else. Just like Wade who has played average of late he was not going to be blamed if they lost Lebron would have.
---
(06-11-2012 11:05 AM)

newfiecomicguy1 Wrote: If comparing them you need to use their prime. Lebron is in his prime Kobe has already peaked and is on the down swing of his career. Sure Kobe is still awesome but not the same as he was 5 years ago. Neither is in the same category as Jordan.
Why do people say Kobe is close to him. Even Jordan himself said this.
---
Derek Jeter Collector from 1992-1996. 305 out of 306 99% complete.

1450/1919 1990's Jeter cards 76%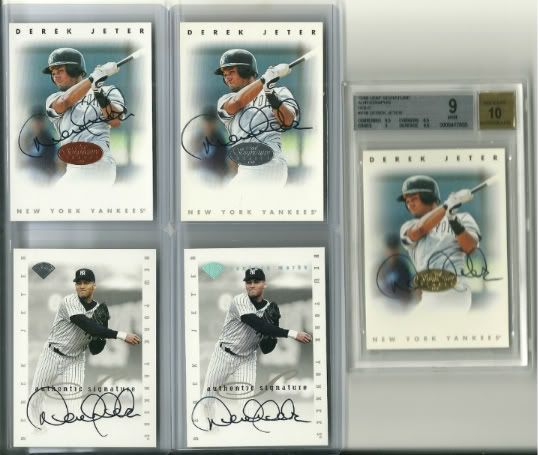 User(s) browsing this thread: 1 Guest(s)