Share Thread:
Opinions: Legends in Other Uniforms
06-08-2012, 04:02 PM
jonathani
Sr. Member


Posts: 2,533
Joined: May 2003
RE: Opinions: Legends in Other Uniforms
Since people do not want them too badly, sometimes you can pick them up on the cheap. I collect the player, not the uniform. Does it pain me to see MJ in a Wizards uni? Yes, but I still have plenty of cards from that part of his career, simply because he is Jordan. Of course, I do have baseball cards of the fellow, as well.

JonathanI
---
I appreciate Chicago players that begin competing within the city's sports organizations for whichever league they play and stay with these teams throughout their careers.
06-08-2012, 05:25 PM
RE: Opinions: Legends in Other Uniforms
(06-08-2012 08:55 AM)

bbills1999 Wrote: Do you guys like seeing Legends with cards where they are in Uniform other then the ones they are most known for?
I'm very fussy about my cards. I like to have one auto (or a very nice game used card) of each legendary player.
It would really annoy me if the card showed the player in the jersey of a team he barely played for, e.g. Olajuwon in Toronto, Ewing in Seattle, etc.
One of the few exceptions I've made is for Shaq; I saw him play for the Celtics (I went to his debut game, which was against LeBron who was making his debut for the Heat - I saw the players back stage in the locker room) so I am happy to have a card featuring him in his Celtics jersey.
06-08-2012, 05:53 PM
rjcj2017
Sr. Member


Posts: 6,013
Joined: Nov 2011
RE: Opinions: Legends in Other Uniforms
I see both sides of it, but mostly it doesn't bother me ... I've been lucky enough to pull MJ jersey cards of both the Bulls and Wizards, and even randomly pulled a Birmingham Barons bat card of him out of a UD minor league product a few years back — so technically, I have mem cards of every "pro" team he played for LOL ...

Also, I saw another member a couple of months ago post a break or redemption or something of a Dominique Wilkins jersey auto from the Clippers out of a 2011-12 Panini product.

I was down at school when he played for the Clips, and we'd get really cheap student tickets and watch him play at the good ol' Sports Arena.

So, seeing that card brought back some good memories.

I think it just gives everybody more choices/variety, which is a good thing.
06-08-2012, 07:28 PM
taffster74
Sr. Member


Posts: 3,143
Joined: Sep 2002
RE: Opinions: Legends in Other Uniforms
If your a die-hard team collector, it does matter, but if your a die-hard player collector - it doesn't. simple.
---



Collect Patrick Ewing, Jalen Rose, Kevin Garnett, LaMarcus Aldridge, Jeff Green

if you have less than 25 trades, I will ask you to send first.
06-09-2012, 04:20 AM
RE: Opinions: Legends in Other Uniforms
I would like to see Legends/HOfers in other uniforms. But majority of cards should be in the team they are most famous for. The jersey/patches should match the uniform that they are wearing in the photo that is on the card.
I would like to have an auto card of Karl Malone in a Lakers Uniform.. I have yet to find one.. & the one Beckett has listed, is a dual auto with kobe.. never seen the card, but I was told that K.Malone might be wearing another team's uniform, not a Lakers... too bad. I wanted it for my Lakers PC.
I have an Elite Black Box card that has a jersey of a team that the player never even played with. WTH. But after researching, found out that he was drafted by the team that is listed on the card & that is where the jersey is from... problem, is, he never played for that team, since he was traded 3 days after the draft.. therefore, I do not think there would be any (event worn) jerseys of that player.. forgot who it was off hand. it is listed on one of my threads, I think "elite black box case baerk"... I also opened up a Q/A with Panini, so they can explain where the jersey came from, but got no response. I also, left a comment on their facebook page awhile back, but again, no comment.... thanks Panini...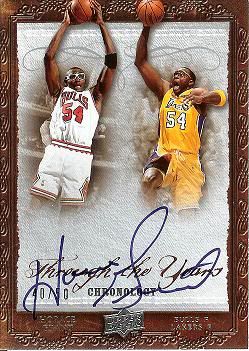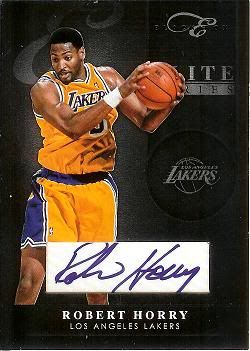 Both Elite Black cards are serial /10
---
NEED: SPA 08-09 "CITY NAME LETTERS" G, E, S 1/1 & /3 *ALL LAKAERS
NEED: ELITE BLACK BOX LAKERS AUTOS (KAREEM/10 & BAYLOR/24)
MY BUCKETT: http://photobucket.com/jpleazme
*United States Navy*
06-09-2012, 05:08 AM
RE: Opinions: Legends in Other Uniforms
Over the years, I've owned many different Bill Walton autos. However, I settled upon this one because I really like the fact it shows him in his Blazers jersey where he was an absolute beast (when he wasn't injured).
User(s) browsing this thread: 1 Guest(s)