Share Thread:
05-23-2012, 03:36 PM
RE: 12 Topps Archives
(05-23-2012 08:49 AM)

jnjbj Wrote: I preordered mine for $50 a box. thought that was pretty price, so I didn't pass on it. But your right, I would not have spent $100 a box.
You must have bought a preorder off of the Bay and someone got hosed because I bought this direct and it cost me a fair amount more than that!!
Jeremy
CommonGuy Sports
05-23-2012, 09:08 PM
(This post was last modified: 05-23-2012 09:08 PM by jnjbj.)
jnjbj
Member


Posts: 649
Joined: Apr 2004
RE: 12 Topps Archives
(05-23-2012 09:07 AM)

jtraven42 Wrote: 50 a box? Holy Crap, you sure that wasn't retail? Most hobby boxes are around 80-85!!!
Totally positive it wasn't retail. I thought the same, but they had like 6 cases and they were almost gone. Deal of the day for me. A case would have been great, but it was all I could afford.
---
If you have less than 25 trades. I ask that you ship first!
Collecting RC's / Prospects / USA / Aflac & Mike Stanton......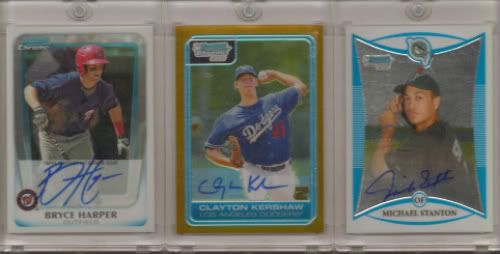 05-23-2012, 10:35 PM
RE: 12 Topps Archives
I would buy a box for 50 bucks to grab a Harper for the Pc, or Strasburg. Also like the Nolan Ryan card I seen. Pretty cool the story the lady hit the Darvish Auto, it didnt look to bad either with the topps 86 design. Most of these kids didnt even buy these packs in 86. But it is what it is, good luck guys.
---
img]http://i.imgur.com/xsX0M.png[/img
User(s) browsing this thread: 1 Guest(s)