Share Thread:
05-11-2012, 06:27 PM
Another Box of 11-12 BTP
I love this stuff! Wish there were more Caps in it. Here's what I got:
Not Pictures: Mike Smith 10th Anniversary (PC) Tim Thomas Masked Men Silver
Miikka Kiprusoff 10th Anniversary
Ilya Bryzgalov Masked Men
Craig Anderson Masked Men
Roberto Luongo La Belle Province Auto
Ty Rimmer/Carey Price Aspire Jerseys /140
Thomas Greiss Stars of the Game Auto
Tyler Bunz Future Stars Auto
J.S. Giguere/ Ilya Bryzgalov Cup Tandems Jerseys Gold /10
Sorry for the big pic, couldn't fit it all in the one scan.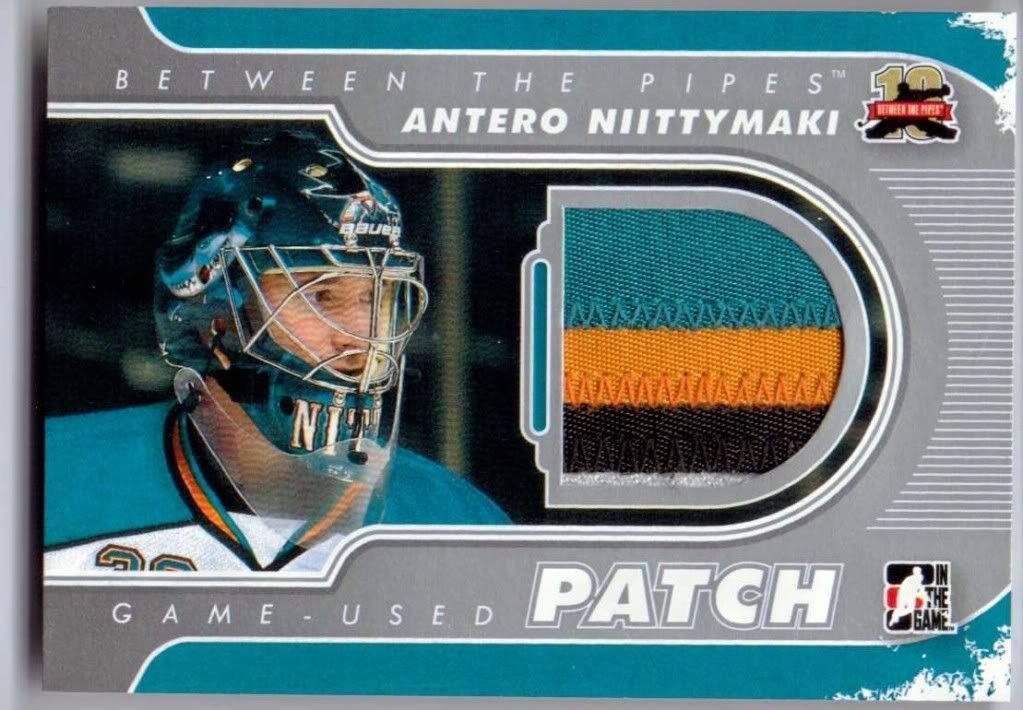 Antero Nittymaki Patch Silver /19
I wish it would've been a better player but who can complain about that patch? All will be FT when BV's come out. As always, comments are welcome.
-Ashley
---



http://s624.photobucket.com/home/Bloodinmyeyez82

My Collection Website:

http://www.offthepipe.weebly.com
05-11-2012, 06:32 PM
rayeates
Moderator


Posts: 6,612
Joined: Mar 2010
RE: Another Box of 11-12 BTP
Very cool box... but you can expect both bigger player's stuff to drop. Nitty did NOTHING in San Jose, and Bobby Lou is all but done in Van City! Hopefully you will be able to land something nice for them!

Randi
05-11-2012, 06:49 PM
RE: Another Box of 11-12 BTP
Ohh SNAP, id love a crack at that Niitty eventually. Yeah he did nothing in SJ, but we had Niemi at the same time. He was alright as back up season before the one just gone. If he gets healthy maybe hes got a couple years left in him.
---


Sig by tha_penguin

After Joe Thornton serial #1's

Joe Thornton PC: (515) 11.36% Joe Thornton #'d 01/xx: (37) 1.34%
Owen Nolan (260) 15.63%
Couture (37) Demers (26) Sateri (23)

AFTER: TOMAS HERTL, HARRI SATERI
05-11-2012, 08:00 PM
RE: Another Box of 11-12 BTP
Not bad
---


STAN MIKITA CUP FOUNDATIONS
MATT SMABY CUP PRINTING PLATES

BUCKET LINK
05-11-2012, 11:36 PM
swjrp10
Sr. Member


Posts: 6,180
Joined: Jan 2006
RE: Another Box of 11-12 BTP
great stuff!
---



11-12 UD Hockey w/ YGs: 438/500 (88%)



DO NOT TRADE LIST: chargers2427, mrmagnum75
05-11-2012, 11:38 PM
The-Joker
Jr. Member


Posts: 182
Joined: Apr 2012
RE: Another Box of 11-12 BTP
Nice 4clrs! Whether the player is stellar or not, still a beaut of a patch.
---

05-12-2012, 12:37 AM
RE: Another Box of 11-12 BTP
Can't go wrong pulling a patch like that, even if its not a super amazing player.
---

05-12-2012, 02:25 PM
(This post was last modified: 05-12-2012 02:26 PM by irbecards32.)
RE: Another Box of 11-12 BTP
Awesome Nitty... He kinda got screwed over in SJ after they signed Niemi... No matter how well he played at the start of last year, theyd always go right back to Niemi... Even when Nemo was stinkin up the place they wouldnt give Nitty a fair shot (Nittys mask was cool too)
---

Check us out for PC cards, cards for trade & cards for sale
05-14-2012, 07:44 AM
bonnev659
Sr. Member


Posts: 9,099
Joined: May 1997
RE: Another Box of 11-12 BTP
sweet Cup Tandems Jerseys gold!
---
using tracking numbers (all US and some Can)
User(s) browsing this thread: 1 Guest(s)