Share Thread:
10-11 Season Update w/ scans
03-21-2012, 02:20 PM
(This post was last modified: 03-21-2012 02:21 PM by buckunteer.)
buckunteer
Sr. Member


Posts: 3,287
Joined: Jun 2010
10-11 Season Update w/ scans
Thought I'd try another box of these since they've come back down some post-Linsanity. Easily the worst box yet. Didn't get an extra GU hit like I have in both previous boxes, and no gold parallel /24 like the Kobe I pulled my first go-around. Plus the auto was in the second pack ruining any suspense and there was a blank redemption card in there (is that supposed to happen?) which ticked me off too haha.
Anyway, all are for trade as usual.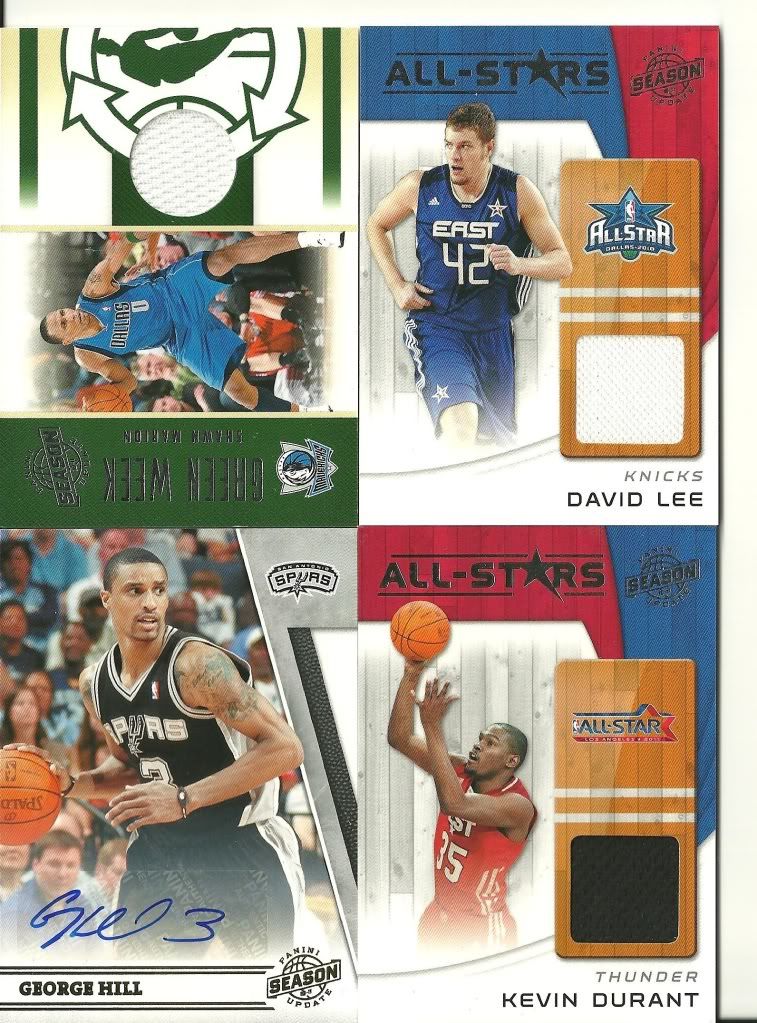 Oh, and this makes 4 Shawn Marion GU pieces in my collection now for some unknown reason. Maybe I should just reassemble his jersey haha.
---
I collect Michael Jordan, Mitch Richmond, and Ohio State players (football and basketball) in OSU gear. I strongly prefer 90's-era cards and use newer cards primarily for trade bait!



03-21-2012, 02:21 PM
RE: 10-11 Season Update w/ scans
congrats on the pulls
i can see david leechoke, jk
---

I will miss you bbills1999
Where are you XstreamInsanity/Jason?
03-21-2012, 03:59 PM
tperks76
Member


Posts: 514
Joined: Jul 2010
RE: 10-11 Season Update w/ scans
Tough break, but I could use the Durantula
---
Collecting Eric Hosmer and Alex Gordon



Do not trade list: charbs1111
03-21-2012, 04:04 PM
gjpoll1
Member


Posts: 893
Joined: Jul 2002
RE: 10-11 Season Update w/ scans
I'm also interested in the Durant all-star materials, lmk.
---
Looking for all types of rookie cards. Only trade with a d/c #. If you have less than 25 trades you must ship first. Thanks.




Banner Thanks to CoolBrees.
User(s) browsing this thread: 1 Guest(s)