Share Thread:
06-10-2012, 10:23 PM
(This post was last modified: 06-10-2012 10:25 PM by fesports.)
fesports
Beckett Marketplace Dealer


Posts: 61
Joined: Aug 2003
RE: Offer option
As a former marketplace dealer, i can tell you that there are (or were) plans to have a best offer option, but i believe that the plans only allow marketplace dealers to use the "best offer" option on a finite number of items.

As for cards being overpriced on the marketplace, I can also tell you that the vast majority of dealers price cards at the price they believe the card to be worth. It's there opinion, just like you have your opinion and beckett has their own opinion. And more times than not, the dealers get the price they are asking for because there is a buyer for every card at almost any price.

I know it's hard to believe, but as a dealer i saw cards sell DAILY at and above Beckett value...and from a business perspective, once the card is in their inventory it doesn't cost them any more money to let it sit at 2 or 3 times it's perceived value until the right buyer comes along. With COMC and eBay, every month brings a new listing fee and a small cut to their profit. If you don't like their prices, that's fair...but don't hate on them for running their business to make the best profit they can.
06-12-2012, 10:24 AM
RE: Offer option
See im a dealer...I own a store and I find it my job to supply collectors with quality cards for a reasonable cost...not non rare cards for (x) amount times book value. Thats what separates me from dealers who are greedy and take advantageof their customers needs.
06-12-2012, 06:04 PM
RE: Offer option
While FESports has a true point that I am sure some dealers on here follow. In my personal opinion this is why you see alot of cards you would perceive as overpriced. When we list cards we chose a % of book and it gets put in our Beckett inventory of any where from 400,000 cards (me the small dealer here) to 30,000,000 (Burbank the big dealer here) now our % on the card is supposed to stay unless we change it but the $ should automatically adjust with the current Beckett Value. And that is just not the case I see cards all the time when I try and rego through some stale inventory that hasn't sold to find out the prices just never adjusted. Also when we list a item that player may be on fire and selling over book on ebay so we list them at a higher % and then he breaks his leg but still has a decent following of collectors so our prices for him may be way over the current going rate. The fact is unless we try to reprice our entire inventory every so often ( while you think should be no problem it would be a nightmare) but burbank did it last year and it took him 4 months 5-6 days a week and 8-10 hours a day to do it)

So the moral of the story is if you want a card that you think is over priced it might just be that and the dealer would gladly take your offer if you sent him a nice quick email. Yes I am aware it would be easier if Beckett had implemented a Best offer option but it is what it is.

Also dosent it seem that most of the Best offer people on Ebay price it way above the going rate just to see what you offer anyway.

Jeremy
CommonGuy Sports
Your Friendly Beckett Marketplace Dealer
06-12-2012, 09:36 PM
RE: Offer option
i may off on this, but there are many things technological that are patented and/or trademarked. many of the everyday things on commerce sites we take for granted are actually patented. this may be one of those areas
---
onedollardutch.blogspot.com

01-10-2013, 02:56 PM
(This post was last modified: 01-10-2013 02:56 PM by briankort.)
briankort
Member


Posts: 1,096
Joined: May 2011
RE: Offer option
Offers are always good. The seller can alwas say no or he can realize that a card has been sitting in the marketplace for 3 years without any movement and decide to take less for the card.

Adding an offer feature will not hurt anyone. It will however increase sales and profits for sellers and Beckett and make a lot of collectors happy.
---
ebayID Brian60187 - Collecting PSA 10 RC's
http://s1238.photobucket.com/user/brianl...ll%20Trade
02-27-2013, 01:08 AM
RE: Offer option
is there a rule aganst emailing or communicating to the seller to make a offer. if not call or email them and ask them. I think at least some vendors would be willing to make a deal with you espessaly if you have more than 1 or 2 cards you are getting to help sweeten the deal you know they are human and want to make a sale. Only thing I would suggest with the offer is be reasonable thats just my opinion though
03-04-2013, 02:23 PM
RE: Offer option
Burbank sportscards is overpriced everywhere they sell not just the marketplace, but not way overpriced like some are plus they do have good shipping options, like $3 flat or something. That being said, I haven't bought from them before and only once or twice on the marketplace. I usually forget about it simply because they are just outmatched on good deals and I never think about going there as a result.
---


Cris Carter Collector 1660/2351
John Randle Collector 349/568
Pro Set Collector

http://s696.photobucket.com/albums/vv327...e%20Cards/
03-20-2013, 10:12 AM
RE: Offer option
It's hit or miss and I have bought off burbank and made a profit on the cards I bought. I believe I bought 2 of the same card which I already had at $50.00 each and within 2 weeks of buying them I sold both on ebay for $100.00 each so not everything he has is a bad price.
---
Derek Jeter Collector from 1992-1996. 305 out of 306 99% complete.

1450/1919 1990's Jeter cards 76%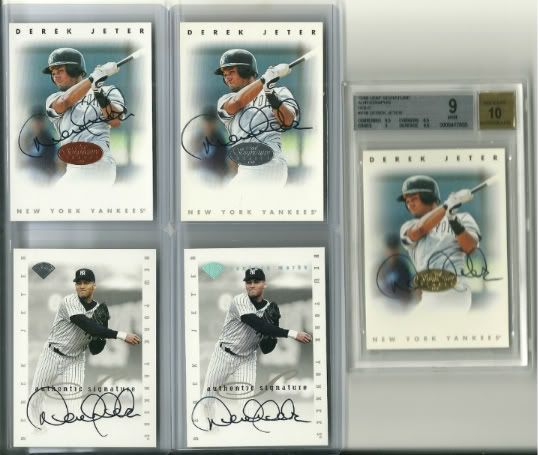 03-21-2013, 01:37 PM
(This post was last modified: 03-21-2013 01:37 PM by greg2424.)
greg2424
Member


Posts: 2,024
Joined: Oct 2002
RE: Offer option
A "best offer" option would be great, as would a quick method of contacting the seller while viewing a particular card like e-bay has it set up.
---
MY BUCKET
MY TRADEPAGE
06-25-2013, 02:53 PM
RE: Offer option
I personally have spoken to a local (well, just over 120 miles away) dealer who is also a marketplace dealer and they informed me that they have their cards priced at BV and aren't likely to change them mostly because of the labor that is required to search for the cards. For instance, you make an order of 100 cards to a place that has 400,000 cards, there is no machine that can easily grab them. And while we'd like them to be sorted pretty well, some of the dealers have ever changing inventory and they aren't as well kept as we'd like. So I can see a reason for them to be close to BV at times (like less than $1 cards), but for higher dollar cards, I'd suspect them to be in a better kept up order.
---

3,850+ diff Pistons cards
User(s) browsing this thread: