Share Thread:
Second 2012 Topps Retail Break.....another SP.
02-01-2012, 10:45 PM
krykslr
Member


Posts: 1,154
Joined: Aug 2010
Second 2012 Topps Retail Break.....another SP.
My girlfriend surprised me with a trip to Wal-Mart to get some more 2012 Topps.....we ended up with a blaster, 5 rack packs, and 2 loose packs.....here's what I ended up pulling:

a stack of base cards

5 Golden Giveaway Cards

Commemorative Patch: Roger Maris

Wal-Mart Blue Border: Drew Pomeranz, Nyjer Morgan, Domonic Brown, Miguel Olivo, Eli Whiteside, Brandon Belt, Yadier Molina, Nolan Reimold, Michael Brantley, Pablo Sandoval, Ben Zobrist, Mike Pelfrey

Gold Sparkle Parallel: Liam Hendriks, Andrew Carignan, Mike Minor, Jason Bourgeois, Chris Schwinden

1975 Minis: Michael Young (x2), Jason Heyward (x2), Adrian Gonzalez, Jay Bruce, David Price, Jered Weaver, Curtis Granderson

Golden Greats: Lou Gehrig, Nolan Ryan, Willie Mays, Joe DiMaggio (#21), Joe Dimaggio (#25), Derek Jeter (#26), Derek Jeter (#27), Albert Pujols (x2)

Golden Moments: Ryan Braun, Lance Berkman, Albert Pujols, Roger Maris, John Smoltz, Asdrubal Cabrera, Dustin Pedroia

Gold Futures: Dustin Ackley, Craig Kimbrel, Julio Teheran, J.P. Arencibia, Mark Trumbo, Dee Gordon

Gold Standard: Bob Gibson, Frank Robinson, Ernie Banks, John Smoltz

Timeless Talents: Chase Utley/Dustin Ackley, Willie Mays/Matt Kemp, Felix Hernandez/Michael Pineda, Barry Larkin/Asdrubal Cabrera

Classic Walk-Offs: Mickey Mantle, Jim Thome, Derek Jeter

And finally.....

Eric Hosmer Gatorade SP
---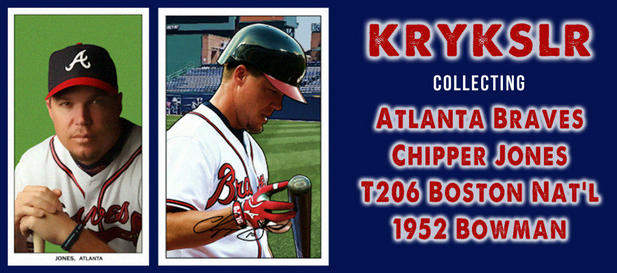 02-01-2012, 10:59 PM
RE: Second 2012 Topps Retail Break.....another SP.
Was that ur second Homer? If its for trade, lmk.
Thanks
User(s) browsing this thread: 1 Guest(s)