Share Thread:
2012 Topps Retail Blaster Box
02-01-2012, 12:36 PM
2012 Topps Retail Blaster Box
Here is my box break from a 2012 Topps Walmart retail box. All cards listed are available.

CLASSIC WALK-OFFS INSERTS
CW-2 CARLTON FISK

COMMEMORATIVE PATCH
ROBERTO CLEMENTE

GOLD FUTURES INSERTS
GF-7 STARLIN CASTRO
GF-16 MIKE TROUT

GOLDEN GREATS INSERTS
GG-42 CAL RIPKEN
GG-75 BABE RUTH

GOLDEN MOMENTS INSERTS
GM-6 RED SCHOENDIEST
GM-14 FELIX HERANDEZ

GOLD STANDARD INSERTS
GS-1 NOLAN RYAN

1987 MINI TOPPS
TM-5 HOWIE KENDRICK
TM-6 DUSTIN ACKLEY
TM-13 JAYSON WERTH

TIMELESS TALENTS INSERTS
TT-6 FELIX HERNANDEZ-MICHAEL PINEDA
TT-11 JOHNNY BENCH-BRIAN MCCANN

WALMART BLUE BORDER
JOHN AXFORD
ALBERTO CALLASPO
YUNEL ESCOBAR
FREDDIE FREEMAN
KELVIN HERRERA
PAUL KONERKO
MATT LAPORTA
RUSSELL MARTIN
JAMES MCDONALD
RYAN RABURN
BEN REVERE
MARK TRUMBO
---
Collecting Lewis-Clark State Baseball Players.
My Jersey Collection: http://www.lcscbaseballhof.com/
Collecting Eastern Washington University Football Players
02-01-2012, 12:46 PM
RE: 2012 Topps Retail Blaster Box
shoot....I told myself I was only going to bust GQ this year, but this set looks like a lot of fun...pretty cool inserts. Can you check me for the Clemente? Did you get the number or the signature?
---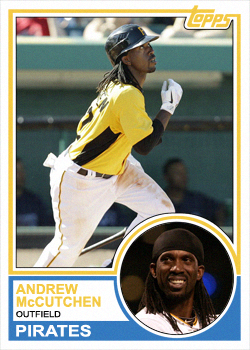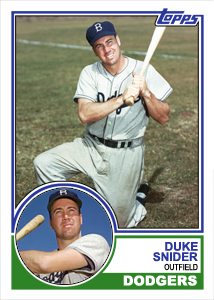 Collecting:Andrew McCutchen, Duke Snider & Brooklyn Dodgers
Avatar and Banner: jbel4331
I ship on weekends
02-01-2012, 01:00 PM
RE: 2012 Topps Retail Blaster Box
I got the 21 number Clemente.
---
Collecting Lewis-Clark State Baseball Players.
My Jersey Collection: http://www.lcscbaseballhof.com/
Collecting Eastern Washington University Football Players
User(s) browsing this thread: 1 Guest(s)