Share Thread:
2011 Bowman Draft 10 Case Break and Contest Thread [CONTESTS CLOSED]
01-14-2012, 11:24 PM
(This post was last modified: 01-14-2012 11:24 PM by pyweed.)
pyweed
Member


Posts: 1,758
Joined: Aug 1998
RE: 2011 Bowman Draft 10 Case Break and Contest Thread [CONTESTS CLOSED]
Case #6, Box #12
Blue /499: George Springer
Blue /499: Steve Cishek
Blue refractor /199: Joe DeMers
Auto: Matt Barnes
USA auto: Trevor Clifton
Grade: D
Comments: Two autos and a blue, but not a money winner. Not complaining, though – still carried by the purple Kolten Wong auto.
Base auto leaderboard:
1 – Joe Panik
1 – Daniel Vogelbach
1 – Dylan Bundy
1 – Tyler Anderson
1 – Sonny Gray
1 – Robert Stephenson
1 – Kolten Wong
1 – Brandon Martin
1 – Jose Fernandez EXCH
1 – Keenyn Walker
1 – Trevor Bauer
1 – Javier Baez
1 – Franscisco Lindor
1 – Taylor Guerrieri
1 – Matt Barnes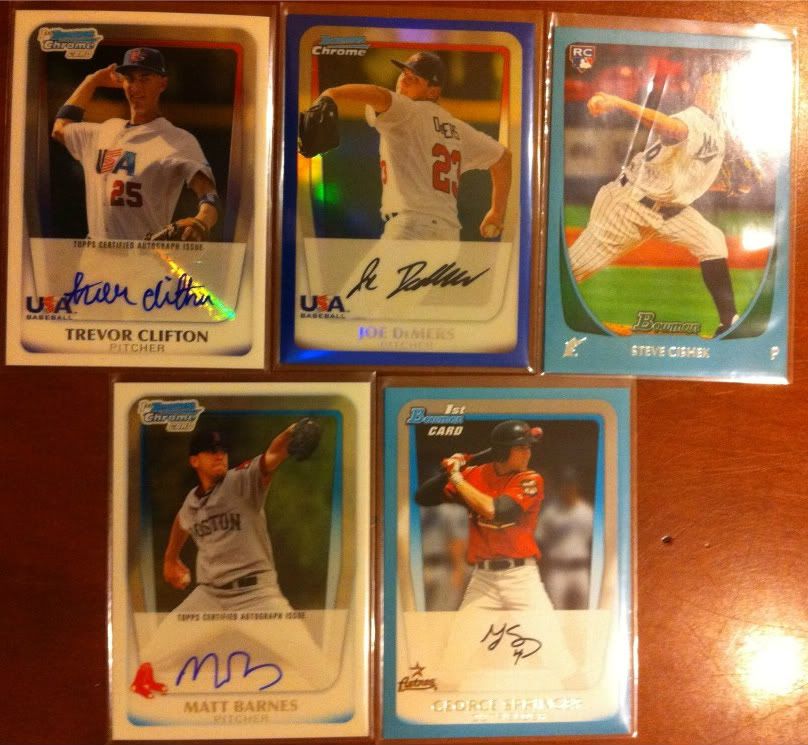 Case #6 Summary
Grade: B
Comments: This was a C or C- case without the big hit. With the hit I got excellent value – enough, actually to bring me all the way back to even on this break. Whether I'm happy with my overall purchase price will depend entirely on what happens in the final four cases. The contest outcome is also totally up for grabs at this point, except to the extent that the tiebreak favors whichever contestants predicted the biggest Patriots blowout.
---
(01-14-2012 11:04 PM)

magneto2 Wrote: That Kolten Wong is sweeter than my plate auto of him! Nice breaks this case!
Thanks. Nothing wrong with a plate auto, though!
User(s) browsing this thread: 1 Guest(s)