Share Thread:
2011 Bowman Draft 10 Case Break and Contest Thread [CONTESTS CLOSED]
01-06-2012, 09:53 PM
(This post was last modified: 01-06-2012 10:05 PM by pyweed.)
pyweed
Member


Posts: 1,758
Joined: Aug 1998
RE: 2011 Bowman Draft 10 Case Break and Contest Thread [CONTEST #1 CLOSED]
Case #1, Box #6
Blue /499: Levi Michael
Auto: Bubba Starling EXCH
Grade: C
Comments: Nice to get one of these early in the break. Without any color to support it, we're just looking at an average value box, however.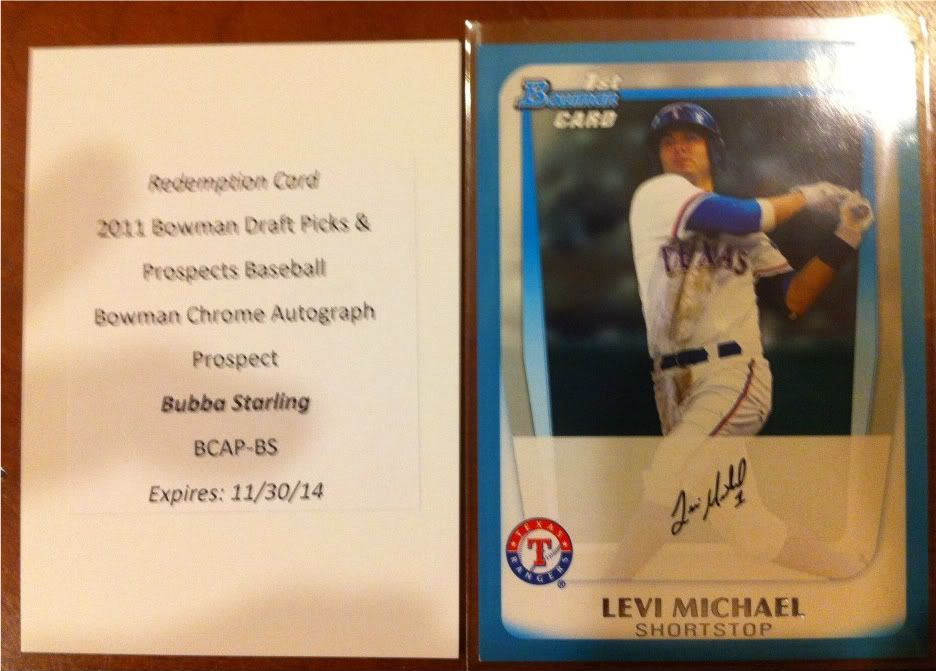 ---
(01-06-2012 09:46 PM)

natejeffries Wrote: Vogel and Panik are studs. I would upgrade to a C+.

---
I like Panik too, but his cash value is weakish.
Pretty low scoring game so far. I hope K State shows more of an offense in the second half.
---
Case #1, Box #7
Blue /499: Paul Goldschmidt
Blue /499: Chase Larsson
Blue refractor /199: Craig Kimbrell
Gold refractor auto /50: Matt Barnes
Blue refractor USA auto /99: Austin Meadows
Grade: A+
Comments: Yowza. Barnes gold may be the best card I see in quite some time. It will make up for a couple F grade boxes all by itself. Adding to it is some more sweet USA auto color. With regard to the contest, it seems unlikely I'll get another gold or better auto, so taking a clear lead is telattt, who was the only one to pick Barnes as the lowest numbered prospect auto. Telattt, you can still root for me to hit a super auto ... of Barnes.
Tentative contest winner card: Matt Barnes / telattt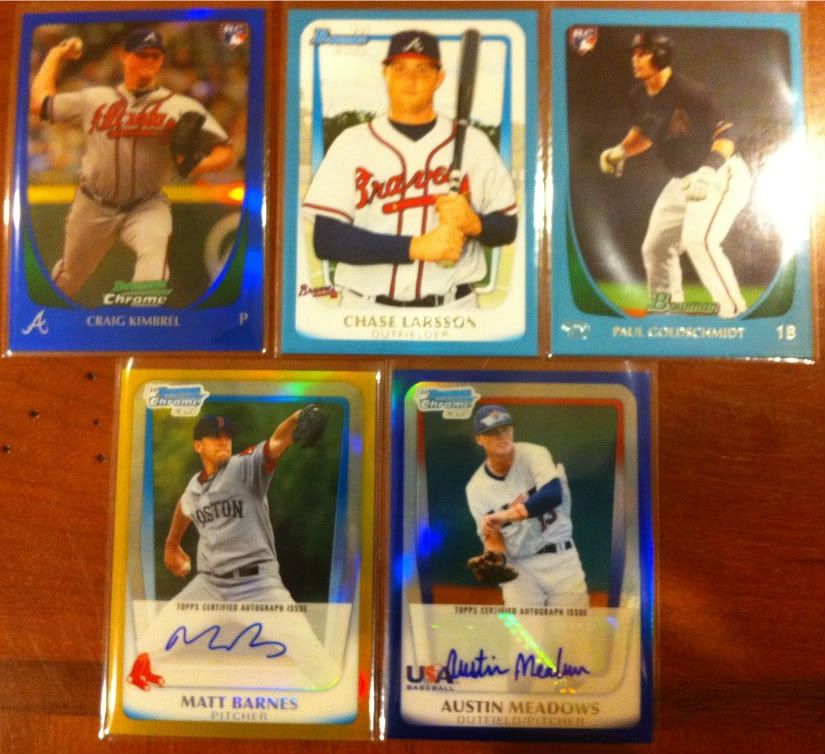 User(s) browsing this thread: 1 Guest(s)