Share Thread:
2011 Bowman Draft 10 Case Break and Contest Thread [CONTESTS CLOSED]
01-06-2012, 08:33 PM
(This post was last modified: 01-06-2012 08:44 PM by pyweed.)
pyweed
Member


Posts: 1,758
Joined: Aug 1998
RE: 2011 Bowman Draft 10 Case Break and Contest Thread [CONTEST #1 CLOSED]
Case #1, Box #1
Blue /499: Adrian Houser
Orange refractor /25: Ryan Adams
Refractor auto /500: Brandon Nimmo
Orange refractor USA auto /25: Keegan Thompson
Grade: A+
Comments: Boom: out of the gate an orange auto! It's a USA auto, but still – that's a powerful card. I'm also happy with the Nimmo refractor auto and the orange rookie, but I'm going to need plenty like that to get value, as the base sets look pretty grim. For example, I think the box gets only a C- in value (considering I paid $50.83 per box delivered) without the Thompson orange. There are going to be a handful of grade F boxes in every case, so I need to stockpile value where I can.
Tentative contest winner card: Brandon Nimmo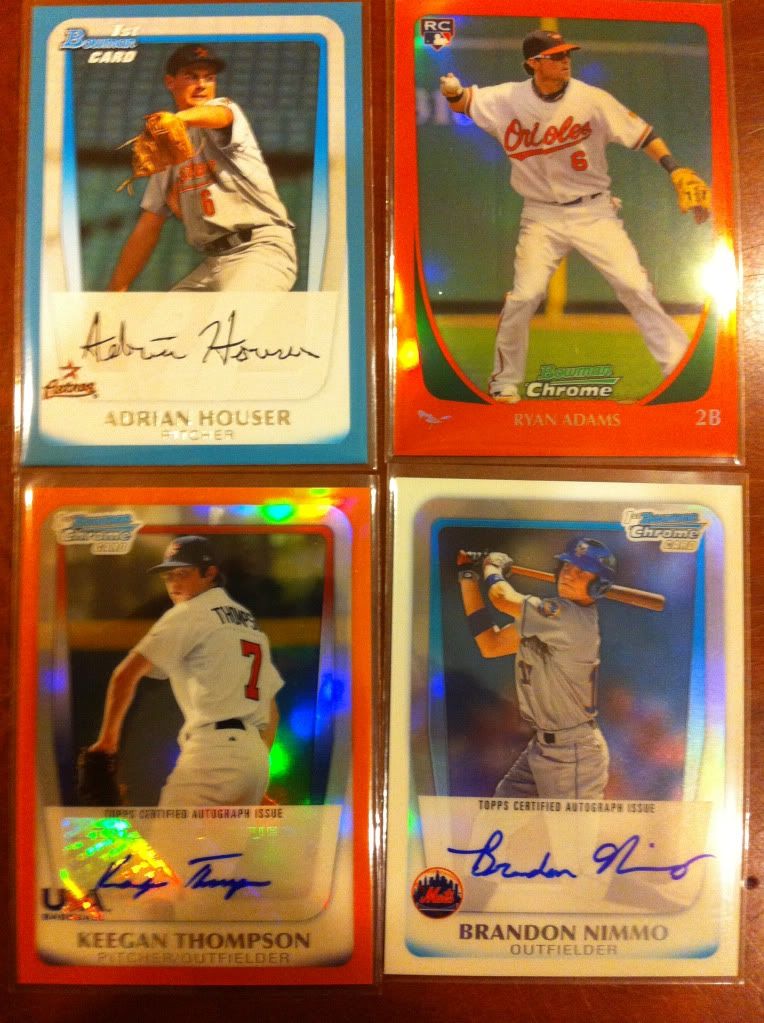 ---
Case #1, Box #2
Blue /499: Cory Gearrin
Blue /499: Jace Peterson
Blue refractor /199: Keenyn Walker
Auto: Cory Spangenberg
Grade: F
Comments: And here's the illustration of my point above. Together boxes 1 & 2 give me above average value, but #2 alone is a stinker.
Tentative contest winner card: Brandon Nimmo
User(s) browsing this thread: 1 Guest(s)